Regional Territories 4
This section contains monthly articles on over two dozen territories. To relive those wonderful days of old, click here.
Wrestlers 4
Enter this section for bios/profiles of various wrestlers from the regional days. To find more out about your favorite pro wrestler, click here.
Stories 4
This section contains stories from the pros themselves told exclusively to Kayfabe Memories. Want to know more as told from the wrestlers themselves? Click here.
Old School Book Reviews4
Click here to find various book reviews from old school wrestlers.
KM Links 4
For tons of links to old school related sites, click
here
.
KM Micro Wrestlers4
What are Micro Wrestlers? Click here
to find out.
KM Interviews... 4
Click here to read exclusive interviews with stars from the regional territories.
www.kayfabememories.com is © 2004 AtomDesigns. All promotional art, characters, logos and other depictions are © their respective owners. All Rights Reserved.
All contents save Wrestler Stories are © Kayfabe Memories.
Website designed and maintained by AtomDesigns © 2004 . If you experience any problems with this site or have any questions, please contact the Webmaster.
"The Strap."
"The 10 Pounds of Gold."
"The Most Prestigious Prize in Sports Today!"
There are a lot of names and phrases used to describe them and they are probably the most recognizable item used in professional wrestling over the years other than the ring. They are championship belts and over the years they have become more than just a symbol of the person holding a promotion or alliance's championship, they have become a symbol of the business itself.
To some people in wrestling, belts are simply "just another prop" and nothing more. To others, they are true prizes which can be "won", even if not always in a "legit contest" (or "shoot"), although many have been rumored to have been won in shoots over the years. Those that think of titles as "just props" are perhaps the most unfortunate in the business, in my opinion. All of the great champions have stressed their pride over the years in winning major titles and holding particular belts and most either still have those belts or replicas of those titles in their possession. A recent example would be the "The Game" magazine recently published by the WWF prior to HHH's return to the ring. One photo of Levesque's home showed a framed and mounted WWF Heavyweight Championship Belt and a replica of the WWF Intercontinental Title that he also held. (Note: The WWF title in that photo is a "real" belt, made and designed by Joe Marshall of J-Mar. The "old" WWF IC title belt is a design that was made for the WWF by Reggie Parks, but the belt in the photo is also done by J-Mar.)
Another example is the famous NWA "Dome Globe" World Championship Belt that was used over the years by Ric Flair, Terry Funk, Harley Race and others. That belt is on display at Flair's Gold's Gym in Charlotte, NC. That belt even made a reappearance with Flair, along with a replica of the belt called the "Big Gold" on one of the last WCW Nitros before the end of that promotion.
As one long-time wrestler told me, "Whoever says that belts don't mean anything has no sense of history and little appreciation for this business. The person that holds a strap is the top person in that promotion or either is the 'go to' guy at that point. Regardless of the set-up that gets you there, you're the person that the promotion believes can put (butts) in seats by being the champion and that's what's important." Mick Foley, in his first book "Mankind: Have A Nice Day" and his second book, "Foley is Good", referred to a promotion's biggest title as being similar to the "Best Actor" award in the Oscars. I can't see many actors (outside of Marlon Brando) treating the little gold statue with the sword as "just a prop."
More...

KM DVD/VHS Store 4
Click here to purchase DVD or VHS products direct from the official distributors.
KM Replica Masks 4
Click here to purchase pro quality replica wrestling masks of all your favorite old school masked wrestlers.
KM Store 4
The KM Store now features products featuring the GCW logo as well as some other very cool images. To see what's new and to purchase T-Shirts, ball caps, mouse pads and more, click here.
KM Message Board 4
Want to chat with other fans of regional wrestling? This message board has forums for over two dozen promotions. Click here.
KM Belt Gallery 4
This section contains an extensive title belt gallery... images of heavyweight, tag, U.S. and various regional title belts. To view it, click here.
Old School Tape Review 4
Reviews of various PPV's, commercial tapes and regional wrestling TV shows are available in this section. To read more, click here.
Website designed & maintained by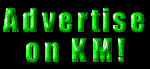 Thanks for visiting!