Regional Territories 4
This section contains monthly articles on over two dozen territories. To relive those wonderful days of old, click here.
Wrestlers 4
Enter this section for bios/profiles of various wrestlers from the regional days. To find more out about your favorite pro wrestler, click here.
Stories 4
This section contains stories from the pros themselves told exclusively to Kayfabe Memories. Want to know more as told from the wrestlers themselves? Click here.
Old School Book Reviews4
Click here to find various book reviews from old school wrestlers.
KM Links 4
For tons of links to old school related sites, click
here
.
KM Micro Wrestlers4
What are Micro Wrestlers? Click here
to find out.
KM Interviews... 4
Click here to read exclusive interviews with stars from the regional territories.
www.kayfabememories.com is © 2004 AtomDesigns. All promotional art, characters, logos and other depictions are © their respective owners. All Rights Reserved.
All contents save Wrestler Stories are © Kayfabe Memories.
Website designed and maintained by AtomDesigns © 2004 . If you experience any problems with this site or have any questions, please contact the Webmaster.
- Jim Zordani
In February of 1970, the AWA reached a working agreement with the IWE (International Wrestling Enterprise) promotion in Japan. The relationship between the AWA and IWE started when Verne Gagne made his Japanese wrestling debut on 02/03/70 in Hiroshima battling Strong Kobayashi to a draw. Gagne and Kobayashi wrestled two more times on the tour going to a double countout on 02/05/70 in Osaka and with Gagne defeating Kobayashi on 02/06/70 in Tokyo. Verne also beat the Great Kusatsu on 02/07/70 in Choski and on 02/09/70 in Morioka. Gagne had one more match on his first Japanese tour gaining a victory over Thunder Sugiyama on 02/08/70 in Utsuomiya. For the next five years, AWA stars would sporatically tour the IWE promotion. In return, Kobayashi and Kusatsu each would have three month stays in the AWA during 1971.
After finishing his first tour of Japan, Verne Gagne returned to the AWA resuming his schedule of title defenses. The first challenger to battle Gagne upon Verne's return to the AWA was Blackjack Lanza. Gagne downed Lanza by countout on 04/08/70 in Milwaukee, Wisconsin to retain the AWA title. Verne would meet Lanza four more times over the next several months. Lanza would always give a terrific accounting of himself during his matches against Gagne but like many other men before and after him never could defeat Verne for the AWA title.
The next major star to oppose Gagne was one of Verne's old rivals, Eduardo Carpentier. Carpentier was known as The Flying Frenchman because of his high flying style and French Canadian heritage. Gagne and Carpentier engaged in several scientific struggles during the final few months of 1970. Because both Verne and Eduardo were babyfaces, fans were often torn for which man to cheer. In cases like this, Verne would employ a subtle heelish type style as the champion doing whatever it took to hang onto the AWA heavyweight championship.
1971 saw both Strong Kobayashi and the Great Kusatsu come over from Japan to the AWA with hopes of beating Verne Gagne for the AWA strap. Kobayashi received six title shots against Gagne in the first half of 1971 facing Verne in such cities as Minneapolis, Chicago, Denver and Milwaukee. Kusatsu opposed Verne three times in Omaha, Nebraska during late 1971 and early 1972.
More...
If you'd like to discuss the AWA region with other fans, please visit the KM Message Board

KM DVD/VHS Store 4
Click here to purchase DVD or VHS products direct from the official distributors.
KM Replica Masks 4
Click here to purchase pro quality replica wrestling masks of all your favorite old school masked wrestlers.
KM Store 4
The KM Store now features products featuring the GCW logo as well as some other very cool images. To see what's new and to purchase T-Shirts, ball caps, mouse pads and more, click here.
KM Message Board 4
Want to chat with other fans of regional wrestling? This message board has forums for over two dozen promotions. Click here.
KM Belt Gallery 4
This section contains an extensive title belt gallery... images of heavyweight, tag, U.S. and various regional title belts. To view it, click here.
Old School Tape Review 4
Reviews of various PPV's, commercial tapes and regional wrestling TV shows are available in this section. To read more, click here.
Website designed & maintained by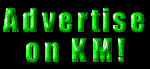 Thanks for visiting!