Regional Territories 4
This section contains monthly articles on over two dozen territories. To relive those wonderful days of old, click here.
Wrestlers 4
Enter this section for bios/profiles of various wrestlers from the regional days. To find more out about your favorite pro wrestler, click here.
Stories 4
This section contains stories from the pros themselves told exclusively to Kayfabe Memories. Want to know more as told from the wrestlers themselves? Click here.
Old School Book Reviews4
Click here to find various book reviews from old school wrestlers.
KM Links 4
For tons of links to old school related sites, click
here
.
KM Micro Wrestlers4
What are Micro Wrestlers? Click here
to find out.
KM Interviews... 4
Click here to read exclusive interviews with stars from the regional territories.
www.kayfabememories.com is © 2004 AtomDesigns. All promotional art, characters, logos and other depictions are © their respective owners. All Rights Reserved.
All contents save Wrestler Stories are © Kayfabe Memories.
Website designed and maintained by AtomDesigns © 2004 . If you experience any problems with this site or have any questions, please contact the Webmaster.
- Jim Zordani
The Crusher brought in his longtime rival Mad Dog Vachon to challenge AWA tag team champions Nick Bockwinkel and Ray Stevens during January of 1974.
Crusher and Vachon defeated Bockwinkel and Stevens in a one fall no disqualification match held at the Milwaukee Auditorium on January 19th, 1974 to apparently win theAWA tag team titles. However the AWA ruled the wrong man was pinned and the titles were returned to Bockwinkel and Stevens. Crusher and Mad Dog also downed Nick Bockwinkel and Ray Stevens on February 17th, 1974 in St Paul, Minnesota but didn't capture the AWA tag straps because it was a non title match.
The Crusher and Mad Dog Vachon weren't the only thorns in the sides of Bockwinkel and Stevens. Billy Robinson continued to team with Red Bastien and Geoff Portz with hopes of ending Nick and Ray's AWA tag team title reign. Robinson along with Bastien or Portz came close on numerous occasions to unseating Nick Bockwinkel and Ray Stevens. Some how, some way the crafty pair of Bockwinkel and Stevens would always manage to retain their coveted tag team titles.
Larry Hennig had been a star in the AWA for several years, was one of the best heels in the history of the promotion and feuded with Verne Gagne on many occasions. Hennig held the AWA tag team titles in the past with Duke Hoffman and Harley Race. Once Race left the AWA in the late 1960s, Larry teamed frequently with Lars Anderson during the early 1970s.
When Larry returned to the AWA in early 1974 after a stint in the WWWF, it was decided Hennig needed a gimmick change in order to keep himself high on the cards. He was billed as Pretty Boy Larry Hennig in the AWA going back several years to his partnership with Handsome Harley Race. The gimmick alteration now saw him known as Larry The Axe Hennig and he sported a red beard. The Axe was Hennig's finishing maneuver where he would whip his opponent into the ropes and hit his opponent in the head with his forearm (think of a quarterback's throwing motion). Hennig reformed his alliance with Lars Anderson who was now using his real name Larry Heiniemi. In Hennig's absence, Heiniemi teamed with Buddy Wolff. So it was now a three man unit of Hennig, Heiniemi and Wolff. When not teaming with Heiniemi or Wolff, Larry Hennig often tormented the talented young team of the High Flyers Greg Gagne and Jumping Jim Brunzell. What better way was there to get under the skin of his old adversary Verne Gagne than by mauling his young son Greg and Greg's partner Jim Brunzell. Hennig had several bouts against Greg and Jim and even battled them in handicap matches. Finally Verne Gagne was drawn into the feud and a six man tag team match was signed for July 13th, 1974 in Minneapolis Minnesota pitting Hennig, Heiniemi and Wolff against Verne Gagne, Greg Gagne and Jim Brunzell.
During the 6 man tag bout, Larry Hennig was attempting to hit Greg Gagne in the head with an elbow smash.
Gagne rolled out of the way and Hennig hit Heiniemi in the arm instead. Heiniemi and Wolff felt Hennig had hit Heiniemi purposefully so they left Hennig to battle Verne, Greg and Jim on his own. Larry Hennig ended up losing the match and in an interview conducted after the bout he said "you have to give the Gagnes credit, they stick together."
Because of the chicanery used by Nick Bockwinkel and Ray Stevens to retain their tag team titles, the AWA appointed Greg Gagne as the special referee for Nick and Ray's tag title defense against Billy Robinson and The Crusher at the Brown County Arena in Green Bay, Wisconsin on July 21st, 1974. In addition to naming Greg Gagne the special referee, the AWA ordered that the AWA tag title bout between the team of Bockwinkel and Stevens and the team of Billy Robinson and The Crusher be a no disqualification match. That night in Green Bay, Billy Robinson and the Crusher defeated Nick Bockwinkel and Ray Stevens to win the AWA tag team titles.
More...
If you'd like to discuss the AWA region with other fans, please visit the KM Message Board

KM DVD/VHS Store 4
Click here to purchase DVD or VHS products direct from the official distributors.
KM Replica Masks 4
Click here to purchase pro quality replica wrestling masks of all your favorite old school masked wrestlers.
KM Store 4
The KM Store now features products featuring the GCW logo as well as some other very cool images. To see what's new and to purchase T-Shirts, ball caps, mouse pads and more, click here.
KM Message Board 4
Want to chat with other fans of regional wrestling? This message board has forums for over two dozen promotions. Click here.
KM Belt Gallery 4
This section contains an extensive title belt gallery... images of heavyweight, tag, U.S. and various regional title belts. To view it, click here.
Old School Tape Review 4
Reviews of various PPV's, commercial tapes and regional wrestling TV shows are available in this section. To read more, click here.
Website designed & maintained by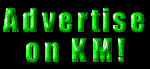 Thanks for visiting!