Regional Territories 4
This section contains monthly articles on over two dozen territories. To relive those wonderful days of old, click here.
Wrestlers 4
Enter this section for bios/profiles of various wrestlers from the regional days. To find more out about your favorite pro wrestler, click here.
Stories 4
This section contains stories from the pros themselves told exclusively to Kayfabe Memories. Want to know more as told from the wrestlers themselves? Click here.
Old School Book Reviews4
Click here to find various book reviews from old school wrestlers.
KM Links 4
For tons of links to old school related sites, click
here
.
KM Micro Wrestlers4
What are Micro Wrestlers? Click here
to find out.
KM Interviews... 4
Click here to read exclusive interviews with stars from the regional territories.
www.kayfabememories.com is © 2004 AtomDesigns. All promotional art, characters, logos and other depictions are © their respective owners. All Rights Reserved.
All contents save Wrestler Stories are © Kayfabe Memories.
Website designed and maintained by AtomDesigns © 2004 . If you experience any problems with this site or have any questions, please contact the Webmaster.
- Jim Zordani
The first few months of 1979 featured AWA champion Nick Bockwinkel defending the coveted strap against old adversaries like Billy Robinson, Verne Gagne, The Crusher and Greg Gagne. Nick defeated Billy on January 7th in Green Bay, Wisconsin and again on January 12th in Rockford, Illinois. Bockwinkel and Robinson battled to no contests (double countouts or double disqualifications) on January 28th in Minneapolis, on February 1st in Winnipeg, Manitoba, Canada and on February 24th in Milwaukee. Verne Gagne beat Nick by disqualification on February 10th in Chicago. The Crusher won by disqualification over Bockwinkel on March 21st in Stevens Point, Wisconsin. Greg Gagne also beat Nick Bockwinkel by disqualification on March 7th in Davenport, Iowa.
Getting disqualified or counted out of the ring in order to retain the AWA title was nothing new for Nick Bockwinkel. He'd been doing that for a number of years by this point. What was different in 1979 for Nick Bockwinkel was the absence of longtime manager Bobby The Brain Heenan. Heenan had been suspended indefinitely by AWA television matchmaker Wally Karbo on an edition of All Star Wrestling in early 1979. Karbo's role on television was very similar to that of a troubleshooting commissioner.
Whenever something chaotic would happen on All Star Wrestling, the AWA's weekly television program, Wally Karbo would come out to solve the problem.
Karbo often "suspended" wrestlers or managers when they were leaving the AWA for another territory. The case of Heenan was different than a performer just leaving for another territory. Verne Gagne had purchased an interest in Georgia Championship Wrestling based in Atlanta so Heenan, Blackjack Lanza and eventually The Crusher were sent to Georgia in an attempt to boost business there.
Verne Gagne recruited his long time nemesis Mad Dog Vachon to be his tag team partner in February of 1979. The reason given was Verne needed a partner that would fight as dirty as AWA tag team champions Ray Stevens and Pat Patterson did. In addition to teaming with Gagne, Mad Dog received several title shots against AWA champion Nick Bockwinkel. After Vachon and Gagne won the AWA tag team titles from Stevens and Patterson on June 6th, 1979 in Winnipeg, Mad Dog Vachon had to defend the AWA tag team titles with Verne Gagne and thus AWA his title shots against Bockwinkel were few and far between.
With Bobby Heenan "suspended" and working in Georgia along with Blackjack Lanza, Bockwinkel allied himself with Bobby Duncum, Stevens and Patterson teaming with all three men at different times against Vachon and Gagne. For those who are wondering why Bockwinkel would once again team with Ray Stevens after the two had a falling out and a major feud a few years before, it was never fully explained. After an absence of several months, Stevens returned to the AWA with Patterson as his partner and they were heels.
Eventually they got together with Bockwinkel and Duncum to battle common enemies. That's all there was to it.
In the Spring of 1979, Jim Brunzell fled the AWA to compete in the Mid-Atlantic region for Jim Crockett Promotions. Brunzell's departure left Greg Gagne without a regular tag team partner but also allowed Greg ample opportunity to go after the AWA heavyweight championship held by Nick Bockwinkel. Nick and Greg battled numerous times during the second half of 1979 all around the AWA circuit in cities such as Minneapolis, Milwaukee, Green Bay, Denver, Rockford, Omaha and Winnipeg. Try as he might, Greg Gagne was unable to lift the AWA strap from Nick Bockwinkel.
Nick Bockwinkel had two tours of duty in the Mid-Atlantic region for Jim Crockett promotions in 1979. Bockwinkel who was billed as AWA champion in his matches for Crockett appeared at arena shows and on Crockett's flagship TV program World Wide Wrestling wearing the AWA belt.
More...
If you'd like to discuss the AWA region with other fans, please visit the KM Message Board

KM DVD/VHS Store 4
Click here to purchase DVD or VHS products direct from the official distributors.
KM Replica Masks 4
Click here to purchase pro quality replica wrestling masks of all your favorite old school masked wrestlers.
KM Store 4
The KM Store now features products featuring the GCW logo as well as some other very cool images. To see what's new and to purchase T-Shirts, ball caps, mouse pads and more, click here.
KM Message Board 4
Want to chat with other fans of regional wrestling? This message board has forums for over two dozen promotions. Click here.
KM Belt Gallery 4
This section contains an extensive title belt gallery... images of heavyweight, tag, U.S. and various regional title belts. To view it, click here.
Old School Tape Review 4
Reviews of various PPV's, commercial tapes and regional wrestling TV shows are available in this section. To read more, click here.
Website designed & maintained by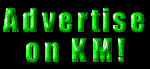 Thanks for visiting!