Regional Territories 4
This section contains monthly articles on over two dozen territories. To relive those wonderful days of old, click here.
Wrestlers 4
Enter this section for bios/profiles of various wrestlers from the regional days. To find more out about your favorite pro wrestler, click here.
Stories 4
This section contains stories from the pros themselves told exclusively to Kayfabe Memories. Want to know more as told from the wrestlers themselves? Click here.
Old School Book Reviews4
Click here to find various book reviews from old school wrestlers.
KM Links 4
For tons of links to old school related sites, click
here
.
KM Micro Wrestlers4
What are Micro Wrestlers? Click here
to find out.
KM Interviews... 4
Click here to read exclusive interviews with stars from the regional territories.
www.kayfabememories.com is © 2004 AtomDesigns. All promotional art, characters, logos and other depictions are © their respective owners. All Rights Reserved.
All contents save Wrestler Stories are © Kayfabe Memories.
Website designed and maintained by AtomDesigns © 2004 . If you experience any problems with this site or have any questions, please contact the Webmaster.
- Jim Zordani

It's time once again to pay tribute to the most underappreciated wrestlers in the AWA. Of course I'm referring to the preliminary wrestlers, the guys who would lose weekly on All Star Wrestling. If you did not read my first column on the AWA's enhancement performers, you can do so by clicking here .

It took me a long time to understand how crucial the preliminary wrestlers were to the success of the AWA. I saw these guys lose badly week after week on All Star Wrestling and thought to myself these undercard wrestlers are pathetic. Then one day it clicked for me. I realized the role of a jobber was to make the star wrestler look tremendous. The undercard performer would do whatever it took to make his opponent look superior. That was his job. Lets now profile some AWA enhancement performers.

Dick Reynolds- Real name Dick Raniewicz. Wrestled in the AWA from the late 70s to the early 80s. Worked as a high school teacher in Greenfield, a suburb of Milwaukee, Wisconsin. Reynolds was a talented wrestler. He just never got the big break in pro wrestling needed to rise above opening match status.

Armando Rodriguez- Long-time partner of Cesar Pabon. Worked in the AWA throughout the 70s and early 80s May have been trained by Billy Goelz. Also used the name Rod Rodriguez. Wrestled frequently on the Wisconsin independent circuit from the early 60s onward. Later in his career he wore a toupee.

Billy Howard- An AWA staple throughout the 70s and early 80s. Wrestled in many different territories but rarely made it past the undercard. A respected performer who would often work against young AWA stars who were thought to have a bright future like Curt Hennig and Ric Flair. Howard's job in those matches was to teach the youngsters how to work. Retired in 1984. Makes appearances at the Cauliflower Alley Club reunion from time to time. Lives in Burlington, Wisconsin.

Rick Ferrera- Prelim guy in the AWA during the 70s. Worked as Igor Putski, "cousin" of Ivan Putski, for LeRoy McGuirk's Tri State promotion. Refereed for Watts after Watts took over the territory from McGuirk. Retired from wrestling during the mid 80s and opened a gym in central Louisiana. Passed away in 1996.

Treach Phillips- AWA enhancement performer in 1971 and 1972. Real name Henry Phillips. Born on August 19th, 1929. Learned amateur wrestling while in the Navy during the late 1940s. Earned the nickname The Treacherous One during his time in the Navy. Received an honorable discharge in 1951 and started his pro wrestling career later that year in Salt Lake City for promoter Dave Reynolds. Was trained by Johnny Demchuck. Stood 5 foot 7 and weighed 226 pounds. Competed in many different territories often as a light heavyweight. Held the Tennessee version of the Southern tag team titles with Sputnik Monroe in 1960, the Georgia version of the tag team titles with Mark Starr in 1963 and the Oklahoma version of the Southern tag team titles with Karl Von Stroheim in 1967. Treach was winding down his career by the time he entered the AWA in late 1971. Wrestled in the AWA for about a year and even appeared on the first card I ever attended live in May of 1972. After his stint in the AWA, Treach returned to Tennessee where he became a correctional officer at the Shelby County Penal Farm. Treach continued to wrestle part time for the next few years before retiring from wrestling and concentrating solely on his job at the penal farm. Treach was heavily involved in the Cauliflower Alley Club and was the recording secretary for the Gulf Coast Wrestler's Reunion. Treach died of heart failure on September 30, 1995 at the age of 66.

Johnny Heidman- Real Name Johnny Heidemann. AWA undercard grappler during 1973. Born in New York City on December 26, 1920. Started amateur wrestling when he was 14 years old. Trained for his pro wrestling debut by Tony Milano. Mostly used his given name during his pro wrestling career but did team with Frank Marconi as the masked Executioners and with Frankie Cain as the masked Infernos in Arizona. Usually weighed in around 192 pounds. Had his greatest success working for Jim Crockett Sr. in the Carolinas. Also toured Japan twice battling such stars as Inoki and Toyonobori. Retired from pro wrestling in 1991 and became a county sheriff. More...

If you'd like to discuss the AWA region with other fans, please visit the KM Message Board

KM DVD/VHS Store 4
Click here to purchase DVD or VHS products direct from the official distributors.
KM Replica Masks 4
Click here to purchase pro quality replica wrestling masks of all your favorite old school masked wrestlers.
KM Store 4
The KM Store now features products featuring the GCW logo as well as some other very cool images. To see what's new and to purchase T-Shirts, ball caps, mouse pads and more, click here.
KM Message Board 4
Want to chat with other fans of regional wrestling? This message board has forums for over two dozen promotions. Click here.
KM Belt Gallery 4
This section contains an extensive title belt gallery... images of heavyweight, tag, U.S. and various regional title belts. To view it, click here.
Old School Tape Review 4
Reviews of various PPV's, commercial tapes and regional wrestling TV shows are available in this section. To read more, click here.
Website designed & maintained by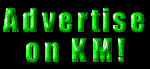 Thanks for visiting!