Regional Territories 4
This section contains monthly articles on over two dozen territories. To relive those wonderful days of old, click here.
Wrestlers 4
Enter this section for bios/profiles of various wrestlers from the regional days. To find more out about your favorite pro wrestler, click here.
Stories 4
This section contains stories from the pros themselves told exclusively to Kayfabe Memories. Want to know more as told from the wrestlers themselves? Click here.
Old School Book Reviews4
Click here to find various book reviews from old school wrestlers.
KM Links 4
For tons of links to old school related sites, click
here
.
KM Micro Wrestlers4
What are Micro Wrestlers? Click here
to find out.
KM Interviews... 4
Click here to read exclusive interviews with stars from the regional territories.
www.kayfabememories.com is © 2004 AtomDesigns. All promotional art, characters, logos and other depictions are © their respective owners. All Rights Reserved.
All contents save Wrestler Stories are © Kayfabe Memories.
Website designed and maintained by AtomDesigns © 2004 . If you experience any problems with this site or have any questions, please contact the Webmaster.
- Jim Zordani
During the 40+ months I've been writing AWA historical pieces for Kayfabe Memories, I've learned so many more things about the AWA that I didn't know before. In other words, the more you research the more you learn. It's the purpose of this particular column to answer some frequently asked questions about Verne Gagne and how the AWA was formed.
When was the AWA formed? The AWA essentially was the old NWA Minnesota promotion under a new name. The only difference was the AWA recognized its own World Champion instead of the NWA champion. The AWA was formed in August of 1960.
What was the first official AWA card? The first AWA card was held on August 9, 1960 in Minneapolis, Minnesota. Results of that card are as follows.
Tiny Mills and Stan Kowalski beat Verne Gagne and Joe Scarpello by disqualification
Jack Pesek beat Jim Grabmire
Roy McClarty beat Don Colt
Bob Rasmussen beat George Grant
Tiny Mills and Stan Kowalski were in the main event of the first AWA card. Were they the first AWA tag team champions? Mills and Kowalski known together as Murder Incorporated were the final tag team champions of the NWA Minnesota promotion. When the NWA Minnesota promotion became the AWA, Tiny Mills and Stan Kowalski were billed as the first AWA tag team champions. In other words the Minnesota version of the NWA World Tag Team Titles was renamed the AWA Tag Team Titles.
The NWA Minnesota promotion keeps coming up. What was the reasoning behind the NWA Minnesota promotion becoming the AWA? This is the 64 thousand dollar question. Tony Stecher was the promoter in Minneapolis, Minnesota for several years. When Tony died, his son Dennis took over the reigns of the promotion. Verne Gagne and some investors bought the Minneapolis promotion from Dennis Stecher in the late 1950s. Wally Karbo was the matchmaker under both Tony and Dennis Stecher. When Gagne bought the promotion from Dennis Stecher, Wally Karbo was then listed as the promoter. Verne was actually the promoter and Karbo was his partner. But for cosmetic purposes and the illusion of kayfabe, Karbo was listed as the promoter.
Verne Gagne was never going to be the NWA champion. It just wasn't in the cards. So Verne and his investors bought the Minneapolis promotion from Dennis Stecher with the plan being to make Verne Gagne the territory's World Heavyweight Champion. That's exactly what happened in the summer of 1960. In May of 1960, Verne Gagne issued a challenge to NWA champion Pat O'Connor. Gagne never had any intention of wrestling O'Connor. The Minneapolis promotion wasn't going to book O'Connor on their cards. Gagne's public challenge of the NWA champion O'Connor and O'Connor not appearing in Minneapolis to accept the challenge was just a way for the Minneapolis promotion to proclaim Verne Gagne the World Heavyweight Champion. On August 16th, 1960 after 90s days had passed since Gagne challenged O'Connor to a match, Verne Gagne was named the first AWA champion because O'Connor had failed to defend the NWA championship against Verne Gagne.
Isn't there another theory on why the AWA was created? In October of 1956, United States Attorney General Herbert Brownell, Jr. announced that the National Wrestling Alliance and its member promoters had been investigated and charged with monopolization of professional wrestling by blacklisting, boycotting, coercion and other illegal tactics. Among the NWA member promoters at that time were NWA president Sam Muchnick from St. Louis, Missouri and Dennis Stecher from Minneapolis, Minnesota. The NWA said they would comply with the ruling of the Justice Department headed by Herbert Brownell Jr. A few years later during 1960 in order for the NWA to get around monopolization charges again by the Justice Department, the Minnesota promotion now owned by Verne Gagne who purchased it from Dennis Stecher became the AWA, a supposed opposition group to the NWA. The fact the NWA now had opposition in the AWA was eveidence the NWA was not a monopoly. Keep in mind this is just a plausible theory. Even though the theory makes sense, it has never been confirmed by anyone.

KM DVD/VHS Store 4
Click here to purchase DVD or VHS products direct from the official distributors.
KM Replica Masks 4
Click here to purchase pro quality replica wrestling masks of all your favorite old school masked wrestlers.
KM Store 4
The KM Store now features products featuring the GCW logo as well as some other very cool images. To see what's new and to purchase T-Shirts, ball caps, mouse pads and more, click here.
KM Message Board 4
Want to chat with other fans of regional wrestling? This message board has forums for over two dozen promotions. Click here.
KM Belt Gallery 4
This section contains an extensive title belt gallery... images of heavyweight, tag, U.S. and various regional title belts. To view it, click here.
Old School Tape Review 4
Reviews of various PPV's, commercial tapes and regional wrestling TV shows are available in this section. To read more, click here.
Website designed & maintained by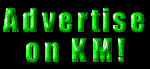 Thanks for visiting!