Regional Territories 4
This section contains monthly articles on over two dozen territories. To relive those wonderful days of old, click here.
Wrestlers 4
Enter this section for bios/profiles of various wrestlers from the regional days. To find more out about your favorite pro wrestler, click here.
Stories 4
This section contains stories from the pros themselves told exclusively to Kayfabe Memories. Want to know more as told from the wrestlers themselves? Click here.
Old School Book Reviews4
Click here to find various book reviews from old school wrestlers.
KM Links 4
For tons of links to old school related sites, click
here
.
KM Micro Wrestlers4
What are Micro Wrestlers? Click here
to find out.
KM Interviews... 4
Click here to read exclusive interviews with stars from the regional territories.
www.kayfabememories.com is © 2004 AtomDesigns. All promotional art, characters, logos and other depictions are © their respective owners. All Rights Reserved.
All contents save Wrestler Stories are © Kayfabe Memories.
Website designed and maintained by AtomDesigns © 2004 . If you experience any problems with this site or have any questions, please contact the Webmaster.
- Jim Zordani
Nick Bockwinkel was first in line to challenge the new AWA champion Rick Martel. Even though Martel had beaten Bockwinkel in a number one contenders match to earn a shot at then AWA champion Jumbo Tsuruta, Rick in the minds of many AWA onlookers including myself wasn't the real champion because he had beaten Jumbo Tsuruta and not Nick Bockwinkel for the title. Nick was still the man whether or not he had the belt. Martel would have to prove himself worthy as champion by beating Bockwinkel. That's pretty much the storyline the AWA went with although they didn't portray Martel as weak or Bockwinkel as strong as many fans did. Rick however did prove himself by beating Nick Bockwinkel several times in matches held all around the AWA circuit during July and August of 1984. Here is a listing of Rick Martel's AWA title defenses against Nick Bockwinkel in 1984.
5/14/84 Montreal- Rick Martel beat Nick Bockwinkel
7/14/84 Indianapolis- Rick Martel beat Nick Bockwinkel
7/15/84 St. Paul- Rick Martel beat Nick Bockwinkel
7/21/84 Chicago- Rick Martel beat Nick Bockwinkel COR
7/22/84 Green Bay- Rick Martel beat Nick Bockwinkel
8/14/84 Quebec City- Rick Martel beat Nick Bockwinkel
9/13/84 Denver- Rick Martel beat Nick Bockwinkel
9/20/84 Winnipeg- Rick Martel beat Nick Bockwinkel
9/22/84 Milwaukee- Rick Martel beat Nick Bockwinkel
9/28/84 Las Vegas- Rick Martel beat Nick Bockwinkel
12/23/84 Montreal- Rick Martel beat Nick Bockwinkel
You notice right away Martel defended the AWA title in Montreal against Bockwinkel the night after Rick won the strap from Jumbo Tsuruta. The other match of consequence was Rick beating Nick on July 15, 1984 in the AWA's home base of St. Paul, Minnesota at the Civic Center. When Rick wasn't facing Nick on AWA cards, Martel's most frequent challenger to the AWA title was Bockwinkel's tag team partner Mr. Saito.
The AWA booked Martel strangely in its home base of St. Paul Minnesota. After Rick's victory over Bockwinkel on the July 15th card, the next two wrestlers to challenge Martel in St. Paul were Brad Rheingans on September 9th and Billy Robinson on November 22nd. Rheingans while a very skilled competitor had been a mid carder forever and nobody gave him a chance to beat Martel. Brad also wasn't very charismatic. Outside of a few people that wanted to see a scientific wrestling clinic between two wrestlers lacking in the charisma department, there was no reason for the majority of AWA fans to get excited about the Martel/Rheingans matchup. The bout ended in a draw. What a great way to get your new champion over by having him go to a draw with an uncharismatic midcarder. Now I understand the old wrestling adage that if you present a beatable champion fans might pay to see him wrestle because they think each match could result in a title change. Perhaps tha t was Verne Gagne's theory by having Rick Martel go to a draw with Brad Rheingans.
Billy Robinson was an AWA legend having challenged both Verne Gagne and Nick Bockwinkel for the AWA title on countless occasions. By November of 1985 though, Billy had slowed down a few steps and his once impressive skills had diminished. Robinson could still put on a good match given the right opponent but was no longer the tremendous wrestler he used to be. Robinson had also turned heel and just was not believable in that role. Billy had battled to a draw with Curt Hennig on the August 12th card in St. Paul, had beaten Steve Regal on the September 9th St. Paul card and had won by disqualification over Tony Atlas on the September 30th St. Paul card. More...

KM DVD/VHS Store 4
Click here to purchase DVD or VHS products direct from the official distributors.
KM Replica Masks 4
Click here to purchase pro quality replica wrestling masks of all your favorite old school masked wrestlers.
KM Store 4
The KM Store now features products featuring the GCW logo as well as some other very cool images. To see what's new and to purchase T-Shirts, ball caps, mouse pads and more, click here.
KM Message Board 4
Want to chat with other fans of regional wrestling? This message board has forums for over two dozen promotions. Click here.
KM Belt Gallery 4
This section contains an extensive title belt gallery... images of heavyweight, tag, U.S. and various regional title belts. To view it, click here.
Old School Tape Review 4
Reviews of various PPV's, commercial tapes and regional wrestling TV shows are available in this section. To read more, click here.
Website designed & maintained by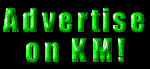 Thanks for visiting!