Regional Territories 4
This section contains monthly articles on over two dozen territories. To relive those wonderful days of old, click here.
Wrestlers 4
Enter this section for bios/profiles of various wrestlers from the regional days. To find more out about your favorite pro wrestler, click here.
Stories 4
This section contains stories from the pros themselves told exclusively to Kayfabe Memories. Want to know more as told from the wrestlers themselves? Click here.
Old School Book Reviews4
Click here to find various book reviews from old school wrestlers.
KM Links 4
For tons of links to old school related sites, click
here
.
KM Micro Wrestlers4
What are Micro Wrestlers? Click here
to find out.
KM Interviews... 4
Click here to read exclusive interviews with stars from the regional territories.
www.kayfabememories.com is © 2004 AtomDesigns. All promotional art, characters, logos and other depictions are © their respective owners. All Rights Reserved.
All contents save Wrestler Stories are © Kayfabe Memories.
Website designed and maintained by AtomDesigns © 2004 . If you experience any problems with this site or have any questions, please contact the Webmaster.
Larry Latham
Someone asked about Larry Latham in a post on the GCW portion of the site recently and it triggered a funny story. Larry did indeed work in Georgia and was a pretty good hand. He was used here as a opener to mid-card worker.
Larry was funny in the ring as well as out of the ring. He had this yell he let out when he was selling in the ring and it became the source of a teasing chant by the fans anytime he appeared. Larry after leaving Georgia became half of the team of The Moondogs along with Randy Colley.
I first met Larry when I was in the Mobile territory. I worked as a baby-face and Larry was half the Cajuns tag-team so we did not get to know each other very well, but when I came to Georgia I got to spend some time with him. He related this story one night in the dressing room and had everybody in the room on the floor.
Seems he was in a bar one night down in Louisiana having a few adult beverages. I must stress a few, as he was feeling no pain (His words, not mine). He was leaning against the bar talking with some other patrons when this guy bumped into him. It was a pretty good bump so he whirled around only to see this guy being dragged away by the arm. The dragger was a women and according to Larry was snatching this guy pretty good. He said he thought to himself what a wimp this guy was letting a woman snatch him around like a puppy on a leash.
He related to us he stayed for a while longer and then decided to go home. As he was walking to his car this same guy bumped into him again in the parking lot. Larry said his mind told him the guy was doing it on purpose as it was the same guy and the second time it had happened. He said he decked the guy and proceeded to work him over pretty good. He said he thought it odd that the guy did not fight back. He told us how he bowed up thinking about how bad he must be, that his reputation as a professional wrestler must have made this wimp of a man too afraid to fight back. He eventually got tired of hitting this guy, so he got in his car and went home.
Not very funny , huh ?
An hour later at home there was a knock at his door. It was the police with a warrant for his arrest. Larry said he began to rant and rave about this wimp and how the guy had sought him out to provoke him because he was a professional wrestler and somebody was always wanting to take a shot at him.
The police then shared with him that the guy was totally blind... couldn't see a lick.
The lady wasn't snatching him, she was leading him.
He had beat up a blind man.

KM DVD/VHS Store 4
Click here to purchase DVD or VHS products direct from the official distributors.
KM Replica Masks 4
Click here to purchase pro quality replica wrestling masks of all your favorite old school masked wrestlers.
KM Store 4
The KM Store now features products featuring the GCW logo as well as some other very cool images. To see what's new and to purchase T-Shirts, ball caps, mouse pads and more, click here.
KM Message Board 4
Want to chat with other fans of regional wrestling? This message board has forums for over two dozen promotions. Click here.
KM Belt Gallery 4
This section contains an extensive title belt gallery... images of heavyweight, tag, U.S. and various regional title belts. To view it, click here.
Old School Tape Review 4
Reviews of various PPV's, commercial tapes and regional wrestling TV shows are available in this section. To read more, click here.
Website designed & maintained by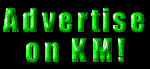 Thanks for visiting!