Regional Territories 4
This section contains monthly articles on over two dozen territories. To relive those wonderful days of old, click here.
Wrestlers 4
Enter this section for bios/profiles of various wrestlers from the regional days. To find more out about your favorite pro wrestler, click here.
Stories 4
This section contains stories from the pros themselves told exclusively to Kayfabe Memories. Want to know more as told from the wrestlers themselves? Click here.
Old School Book Reviews4
Click here to find various book reviews from old school wrestlers.
KM Links 4
For tons of links to old school related sites, click
here
.
KM Micro Wrestlers4
What are Micro Wrestlers? Click here
to find out.
KM Interviews... 4
Click here to read exclusive interviews with stars from the regional territories.
www.kayfabememories.com is © 2004 AtomDesigns. All promotional art, characters, logos and other depictions are © their respective owners. All Rights Reserved.
All contents save Wrestler Stories are © Kayfabe Memories.
Website designed and maintained by AtomDesigns © 2004 . If you experience any problems with this site or have any questions, please contact the Webmaster.
- Jeff Luce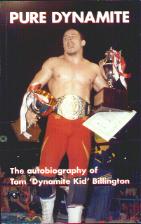 From humble beginnings, to international notoriety, "The Dynamite Kid" Tom Billington paid his dues. Now, Billington is no longer competing in the squared circle, and this is thoroughly chronicled in Pure Dynamite, as a wrestling career of abuse has left "The Dynamite Kid" a shell of his former self.
Pure Dynamite is Billington's way of bringing the fan into his world. As a young boy in Lancashire, England, Billington was a rough and tumble youth, who had his share of scrapes. A review of Billington's family history indicates that "The Dynamite Kid" had fighting in his blood. His father was a former amateur boxer, who actually recorded a win over Jim Sullivan, who would go onto win a World Championship in boxing. Not far from Lancashire, was the town of Wigan, a renowned shoot wrestling Mecca. As most youngsters from this area, it was only a matter of time before Billington made his way to the infamous Ted Betley's training ground. This is where "The Dynamite Kid" would be born so to speak.
When he was ready to turn pro, "The Dynamite Kid" was more than a worker, he was a shooter. Wrestling was his way of avoiding the back breaking work of the coal mines; little did Billington know that wrestling would be just as back breaking. His first shot in the pro ranks was working for Max Crabtree. Working in England did not exactly set Billington's bank account of fire, and he soon made his way to Canada.
It was in Canada, working for Stu Hart, that "The Dynamite Kid" began taking steroids to get bigger. Actually, it was a tour through Germany, in which Sylvester Ritter, "The Junkyard Dog" gave Billington an introduction to the muscle producing drug: Dianabol. Ironic that "The Dynamite Kid" was a shooter in the ring and out. It was also in Canada that Billington was introduced to another drug, speed, by none other than Jake "The Snake" Roberts. After doing some good business in Canada with Bret Hart, the legend of "The Dynamite Kid" was heading for the place that would get his name known world wide, Japan.
In his first tour, Billington was not enthralled with the Land of the Rising Sun, but subsequent tours of the island nation proved very lucrative for "The Dynamite Kid," both financially and for his in-ring experience. Working against Tatsumi Fujinami was like a breath of fresh air for Billington, as Fujinami could match holds with "The Dynamite Kid." Now in Japan it was usual for foreign wrestlers to be the bad guys, but "Kido" as the Japanese fans affectionately called him, was an exception to that rule.
During this time, "The Dynamite Kid" was spending his time working between Calgary and Japan. He also did a shot in Hawaii. Soon "The Dynamite Kid's" cousin, who would go onto to become one of the biggest names in the sport, Davey Boy Smith, joined Billington in Calgary. It was Smith's own cousin that started him on his collision course with death, by supplying him with steroids. First they feuded; then they teamed. Eventually they went to Japan as a team.
Portland was "The Dynamite Kid's" next stop, and it was here that he became a member of Rip Oliver's clan. He was stilling doing shots in Japan and Calgary too.
One interesting aspect of the book is that Billington kayfabes his time in Japan, but shoots on all his other wrestling tales.
More...

KM DVD/VHS Store 4
Click here to purchase DVD or VHS products direct from the official distributors.
KM Replica Masks 4
Click here to purchase pro quality replica wrestling masks of all your favorite old school masked wrestlers.
KM Store 4
The KM Store now features products featuring the GCW logo as well as some other very cool images. To see what's new and to purchase T-Shirts, ball caps, mouse pads and more, click here.
KM Message Board 4
Want to chat with other fans of regional wrestling? This message board has forums for over two dozen promotions. Click here.
KM Belt Gallery 4
This section contains an extensive title belt gallery... images of heavyweight, tag, U.S. and various regional title belts. To view it, click here.
Old School Tape Review 4
Reviews of various PPV's, commercial tapes and regional wrestling TV shows are available in this section. To read more, click here.
Website designed & maintained by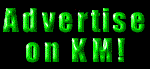 Thanks for visiting!