Regional Territories 4
This section contains monthly articles on over two dozen territories. To relive those wonderful days of old, click here.
Wrestlers 4
Enter this section for bios/profiles of various wrestlers from the regional days. To find more out about your favorite pro wrestler, click here.
Stories 4
This section contains stories from the pros themselves told exclusively to Kayfabe Memories. Want to know more as told from the wrestlers themselves? Click here.
Old School Book Reviews4
Click here to find various book reviews from old school wrestlers.
KM Links 4
For tons of links to old school related sites, click
here
.
KM Micro Wrestlers4
What are Micro Wrestlers? Click here
to find out.
KM Interviews... 4
Click here to read exclusive interviews with stars from the regional territories.
www.kayfabememories.com is © 2004 AtomDesigns. All promotional art, characters, logos and other depictions are © their respective owners. All Rights Reserved.
All contents save Wrestler Stories are © Kayfabe Memories.
Website designed and maintained by AtomDesigns © 2004 . If you experience any problems with this site or have any questions, please contact the Webmaster.
- Vince Fahey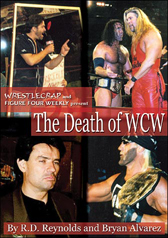 Normally, KM doesn't review books that have anything to do with the more current wrestling scene. I'm making an exception this time. I could say since the book actually begins its story towards the end of KM's time frame that it becomes fair game, but honestly, that's only a small part of this book. The reason for the exception is because this book is so damn good and so damn interesting that I think it deserves reviewing and should be read by every wrestling fan out there, old school and new.
The Death of WCW by RD Reynolds and Bryan Alvarez is a wholly engrossing book that takes a real strong and hard look at the demise of what was the second largest wrestling organization in the world. It's a shocking reminder of just how bad this promotion got and how badly it was run. For many of us who "lived" through this and watched it week after week, this book does an incredible job of organizing everything in a chronological order, laying it all out for us to, unfortunately, relive.
Starting at the point when Jim Crockett, Jr. sold WCW to the Turner organization, the book takes us through those horrible early days in the '90s. The birth of the nWo is recounted and finally the book brings us to the end days and the travesty that was Vince Russo. As you read through all this, you'll at different times laugh, drop your jaw and shake your head at the often rampant stupidity that engulfed this company. There were times I was completely amazed at the flagrant inconsistencies that were prevalent in the day to day… hell, match to match… operation of this once great promotion.
Obviously, there are several individuals who can be singled out as being catalysts for this near decade-plus debacle, whether it be for reasons of greed, ego, or both. What struck me though is how difficult it must have been to have been working for WCW during some of this time. Sure, during the early days of the nWo, things were good but as it continued to spiral downward, oh how bad it must have gotten. How some of these guys hung on, people like Sting or Ric Flair, who both could have likely jumped to the WWE, stuck it out, I can't imagine.
With such a comprehensive look as this one is, I was surprised to see no mention of the Wolfpack… the offshoot "good guys" of the nWo. This was a significant part of this angle and surely should warrant some inclusion and discussion. Outside of that, this book was spectacular and is very highly recommended to any an all wrestling fans.

KM DVD/VHS Store 4
Click here to purchase DVD or VHS products direct from the official distributors.
KM Replica Masks 4
Click here to purchase pro quality replica wrestling masks of all your favorite old school masked wrestlers.
KM Store 4
The KM Store now features products featuring the GCW logo as well as some other very cool images. To see what's new and to purchase T-Shirts, ball caps, mouse pads and more, click here.
KM Message Board 4
Want to chat with other fans of regional wrestling? This message board has forums for over two dozen promotions. Click here.
KM Belt Gallery 4
This section contains an extensive title belt gallery... images of heavyweight, tag, U.S. and various regional title belts. To view it, click here.
Old School Tape Review 4
Reviews of various PPV's, commercial tapes and regional wrestling TV shows are available in this section. To read more, click here.
Website designed & maintained by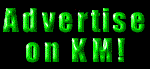 Thanks for visiting!