Regional Territories 4
This section contains monthly articles on over two dozen territories. To relive those wonderful days of old, click here.
Wrestlers 4
Enter this section for bios/profiles of various wrestlers from the regional days. To find more out about your favorite pro wrestler, click here.
Stories 4
This section contains stories from the pros themselves told exclusively to Kayfabe Memories. Want to know more as told from the wrestlers themselves? Click here.
Old School Book Reviews4
Click here to find various book reviews from old school wrestlers.
KM Links 4
For tons of links to old school related sites, click
here
.
KM Micro Wrestlers4
What are Micro Wrestlers? Click here
to find out.
KM Interviews... 4
Click here to read exclusive interviews with stars from the regional territories.
www.kayfabememories.com is © 2004 AtomDesigns. All promotional art, characters, logos and other depictions are © their respective owners. All Rights Reserved.
All contents save Wrestler Stories are © Kayfabe Memories.
Website designed and maintained by AtomDesigns © 2004 . If you experience any problems with this site or have any questions, please contact the Webmaster.
- Vince Fahey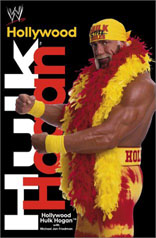 If you grew up in the 80's, then you found yourself smack dab in the middle of Hulkamania. There was a time, it seemed you couldn't turn anywhere without being reminded of Hulk Hogan. Everyone, from the 4 year-old down the street to the elderly folks at the retirement home, they all knew who Hulk Hogan was.
Love him or hate him, any true wrestling fan has to admit that Hogan had a huge and overall positive impact on pro wrestling that no other wrestler past or present has had. Even though wrestling, as it was previously known, went through a complete and utter change from the way it was, it also hit the mainstream in a way that it never had before.
Many have since vilified Hogan... and it was never something I could quite understand. To be clear, I wasn't a Hulkamaniac. But I certainly cannot deny that he was an exciting and charismatic performer. He may've not been the best technical wrestler but there was something visceral and exciting about his in-ring performance and his many promos.
With the cooperation of Simon and Schuster, KM has been provided a copy of Hogan's recently released, self-titled book. After reading pretty much all of the other wrestling bios that have hit the market in the last several years, I can say that I enjoyed this one as much if not more than many of them.
The book starts out with Hogan's earliest years... as a child named Terry Bollea. He touches on his youth, about how he grew to become a fan of wrestling. He talks about how he became involved in a rock band and via that got introduced to several wrestlers in the Florida area who encouraged him to give pro wrestling a try. After some tough times, including having his legs broken the very first day by trainer Hiro Matsuda, Bollea finally got his chance to wrestle. He began working some small matches in Florida, and eventually moved onto the Pensacola, Alabama, Georgia and Tennessee regions.
After working these areas, Bollea got discouraged and returned home, thinking he was done with wrestling. However, with the prodding of Terry Funk, Bollea ended up heading to New York to meet with Vince McMahon, Sr. He got a shot with the WWWF and worked some small matches there, getting a taste of a bigger promotion. Then, Hogan was approached by Sylvester Stallone about a part in his movie Rocky 3. Hogan accepted but did not get McMahon Sr.'s blessing. Given an ultimatum to do the movie or continue working for the WWWF, Hogan took the movie and was told he'd never work for the McMahon's again.
Though only playing a small part in Rocky 3, the exposure did two things for Hogan. One, it created a recognition in many peoples eyes, so that when Hogan returned to wrestling, this time for the AWA, people knew who he was. Secondly, it gave Hogan a taste for movie-making.
Hogan debuted for the AWA as a heel, or at least that was the plan but soon the fans were cheering him and Hogan soon became the main foil for AWA Heavyweight Champion Nick Bockwinkel. It soon became apparent that the fans wanted to Hogan to become the AWA champ, but for whatever reason, promoter Verne Gagne never delivered. It would be one of the biggest mistakes he ever made.
With mounting frustration over his situation, Hogan received a call from Vince McMahon. Surprised, but also curious as to why McMahon would want to talk to a man he vowed never to let work in the WWWF again, Hogan called. However, he found that it wasn't Vince Sr. he was talking to but rather Vince's son, who had recently bought the company from his father. He had a different view of the business and wanted to bring Hogan back into the company and expand on the Hulkamania concept that had began building in the AWA. Seeing opportunity, as well as dealing with a lot of frustrations over the way he was being handled in the AWA, Hogan made the jump back to the WWF and wrestling history as it had been known irrevocably changed.
Most people know the basic history from this point... of how Hogan won the WWF Heavyweight belt from the Iron Shiek and how pro wrestling became so popular... how Hulkamania went crazy and became a household word during the mid-late 80's. More...

KM DVD/VHS Store 4
Click here to purchase DVD or VHS products direct from the official distributors.
KM Replica Masks 4
Click here to purchase pro quality replica wrestling masks of all your favorite old school masked wrestlers.
KM Store 4
The KM Store now features products featuring the GCW logo as well as some other very cool images. To see what's new and to purchase T-Shirts, ball caps, mouse pads and more, click here.
KM Message Board 4
Want to chat with other fans of regional wrestling? This message board has forums for over two dozen promotions. Click here.
KM Belt Gallery 4
This section contains an extensive title belt gallery... images of heavyweight, tag, U.S. and various regional title belts. To view it, click here.
Old School Tape Review 4
Reviews of various PPV's, commercial tapes and regional wrestling TV shows are available in this section. To read more, click here.
Website designed & maintained by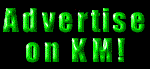 Thanks for visiting!