Regional Territories 4
This section contains monthly articles on over two dozen territories. To relive those wonderful days of old, click here.
Wrestlers 4
Enter this section for bios/profiles of various wrestlers from the regional days. To find more out about your favorite pro wrestler, click here.
Stories 4
This section contains stories from the pros themselves told exclusively to Kayfabe Memories. Want to know more as told from the wrestlers themselves? Click here.
Old School Book Reviews4
Click here to find various book reviews from old school wrestlers.
KM Links 4
For tons of links to old school related sites, click
here
.
KM Micro Wrestlers4
What are Micro Wrestlers? Click here
to find out.
KM Interviews... 4
Click here to read exclusive interviews with stars from the regional territories.
www.kayfabememories.com is © 2004 AtomDesigns. All promotional art, characters, logos and other depictions are © their respective owners. All Rights Reserved.
All contents save Wrestler Stories are © Kayfabe Memories.
Website designed and maintained by AtomDesigns © 2004 . If you experience any problems with this site or have any questions, please contact the Webmaster.
- Vince Fahey

Secrets of the Iron Claw is the biography of wrestler Jack Adkisson, better known to wrestling fans as Fritz Von Erich. The Von Erich family and Texas wrestling have become synonymous in many fans minds. They ruled the wrestling scene during the 80's and even today, their impact is still felt.
This recently released book was written by Ron Mullinax, a former Marine and longtime wrestling and Fritz Von Erich fan. Through chance meeting with Kevin Von Erich, Mullinax was introduced to his idol. Eventually, the two struck up a companionship, and once Von Erich became ill with cancer, Mullinax offered to move into Fritz' home to assist him. The two became even closer, sharing walks, watching football, drinking Scotch and just being friends. According to the book's introduction, Fritz told Ron one day, "Why don't you write a book about me, from me to all my fans around the world like you, Ron? Let everyone hear the Von Erich story from me." Over time, Ron began to keep notes of his time with Fritz. Conversations, memories, stories… all eventually became part of the book that Mullinax would later write.
The Von Erichs, as popular as they were and still are, incite strong emotions in fans. Because of the many tragedies that befell the family, emotions run high when fans get together to discuss what happened. I was glad to see that Mullinax wasn't looking at cashing in on the sad history of the Von Erichs. Regardless of how interesting it may be, it's still a sore spot with Von Erich fans and non-Von Erich fans alike… those of you who have spent anytime on the WCCW forum on the KM message board can attest to that.
That said, Mullinax tells the story in Fritz' own words. For many fans, Von Erich history starts with when Kevin began to wrestle. However, Fritz had quite an active career and Mullinax gives the reader info from Von Erich's early career. It's an interesting evolvement as we read how Fritz got started in the business, to becoming the evil Fritz Von Erich character…. We learn how the Iron Claw came about, and we learn how Fritz met his ex-wife Doris and how they began a family, that would soon dominate Texas wrestling.
Unfortunately, much of the book is really a glossing over of the Fritz Von Erich story. Mullinax finds himself going into tangents about all the Von Erich boys, and the book becomes more of a look at the Von Erichs in general versus a book specifically about Fritz Von Erich. This doesn't necessarily damage the book in any way, but rather pulls attention and focus away from the main person it should be about. What ends up happening is we get a book that's interesting, but doesn't cause us to learn anything new or enlightening about the Von Erich family or the World Class promotion. The other downside is that via Fritz' words, we're essentially kayfabed regarding the pro wrestling business and to some degree, Von Erich history. Dave Meltzer, of the Wrestling Observer, said it best in his review of the book, "It reads like an 80's Apter mag." More...

KM DVD/VHS Store 4
Click here to purchase DVD or VHS products direct from the official distributors.
KM Replica Masks 4
Click here to purchase pro quality replica wrestling masks of all your favorite old school masked wrestlers.
KM Store 4
The KM Store now features products featuring the GCW logo as well as some other very cool images. To see what's new and to purchase T-Shirts, ball caps, mouse pads and more, click here.
KM Message Board 4
Want to chat with other fans of regional wrestling? This message board has forums for over two dozen promotions. Click here.
KM Belt Gallery 4
This section contains an extensive title belt gallery... images of heavyweight, tag, U.S. and various regional title belts. To view it, click here.
Old School Tape Review 4
Reviews of various PPV's, commercial tapes and regional wrestling TV shows are available in this section. To read more, click here.
Website designed & maintained by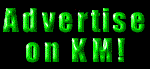 Thanks for visiting!