Regional Territories 4
This section contains monthly articles on over two dozen territories. To relive those wonderful days of old, click here.
Wrestlers 4
Enter this section for bios/profiles of various wrestlers from the regional days. To find more out about your favorite pro wrestler, click here.
Stories 4
This section contains stories from the pros themselves told exclusively to Kayfabe Memories. Want to know more as told from the wrestlers themselves? Click here.
Old School Book Reviews4
Click here to find various book reviews from old school wrestlers.
KM Links 4
For tons of links to old school related sites, click
here
.
KM Micro Wrestlers4
What are Micro Wrestlers? Click here
to find out.
KM Interviews... 4
Click here to read exclusive interviews with stars from the regional territories.
www.kayfabememories.com is © 2004 AtomDesigns. All promotional art, characters, logos and other depictions are © their respective owners. All Rights Reserved.
All contents save Wrestler Stories are © Kayfabe Memories.
Website designed and maintained by AtomDesigns © 2004 . If you experience any problems with this site or have any questions, please contact the Webmaster.
- Vince Fahey
Harley Race is something of an enigma to me. He's got this huge reputation and legend in wrestling, yet the majority of that rep is pre-WWF King stuff, and outside of his match from Starrcade '83, that's all I've seen. I feel as if I've missed something. It's at times like this that the lack of tape footage seems all the more obvious. After reading Harley's book, I'd really like to see some of his earlier work in the mid-late 70s, or to see what he was like as a team with Larry Hennig. Unfortunately, all that is lost to time and lack of foresight and those matches reside only in the minds of the fans lucky enough to have watched them when they were happening.
In any case, I enjoyed Harley's book. Because I know so little about his career, much of the info is fresh and new to me. His work in Amarillo with the Funk family was quite interesting as I didn't realize he had such a large role there. The photo gallery is a nice addition. Looking over the pictures, I realized how many looks Harley has had over the years. Again, I'm most familiar with the King "phase" but from bleached blond short to mutton chops and permed Afro, Harley changed looks almost as many times as he held the NWA Championship.
Honestly, while overall, I enjoyed the book, I did feel that so much more detail could have been included. More detail regarding his ownership of the Central States region, more detail from his time in the AWA, more detail, more detail... Harley covers a lot of topics, but it's more of a glossing over than anything else. For me, this certainly doesn't detract from the book. The inclusion of detail would have only made it better.
I'm very pleased to see Sports Publishing turn an eye towards the wrestling industry. It's going to be the smaller publishers like this who will be bringing us biographies from workers who DO NOT work for the WWE. That's not a slam on those books at all. I've enjoyed all of the bios from old school stars that have come from the WWE and Simon and Schuster. However, S&S simply won't be doing bios on someone not working for the WWE. We need smaller publishers like Sports Publishing to bring us other bios by equally important workers such as the recently released Terry Funk and Dusty Rhodes books.
As with pretty much everything I've reviewed form KM, I would definitely recommend this book. Whether you're a fan of Harley's or not, you're going to learn some things you didn't know and you'll get a glimpse of the man who some have called one of the truly toughest SOBs to enter the squared circle.


KM DVD/VHS Store 4
Click here to purchase DVD or VHS products direct from the official distributors.
KM Replica Masks 4
Click here to purchase pro quality replica wrestling masks of all your favorite old school masked wrestlers.
KM Store 4
The KM Store now features products featuring the GCW logo as well as some other very cool images. To see what's new and to purchase T-Shirts, ball caps, mouse pads and more, click here.
KM Message Board 4
Want to chat with other fans of regional wrestling? This message board has forums for over two dozen promotions. Click here.
KM Belt Gallery 4
This section contains an extensive title belt gallery... images of heavyweight, tag, U.S. and various regional title belts. To view it, click here.
Old School Tape Review 4
Reviews of various PPV's, commercial tapes and regional wrestling TV shows are available in this section. To read more, click here.
Website designed & maintained by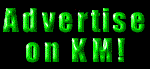 Thanks for visiting!