Regional Territories 4
This section contains monthly articles on over two dozen territories. To relive those wonderful days of old, click here.
Wrestlers 4
Enter this section for bios/profiles of various wrestlers from the regional days. To find more out about your favorite pro wrestler, click here.
Stories 4
This section contains stories from the pros themselves told exclusively to Kayfabe Memories. Want to know more as told from the wrestlers themselves? Click here.
Old School Book Reviews4
Click here to find various book reviews from old school wrestlers.
KM Links 4
For tons of links to old school related sites, click
here
.
KM Micro Wrestlers4
What are Micro Wrestlers? Click here
to find out.
KM Interviews... 4
Click here to read exclusive interviews with stars from the regional territories.
www.kayfabememories.com is © 2004 AtomDesigns. All promotional art, characters, logos and other depictions are © their respective owners. All Rights Reserved.
All contents save Wrestler Stories are © Kayfabe Memories.
Website designed and maintained by AtomDesigns © 2004 . If you experience any problems with this site or have any questions, please contact the Webmaster.
- Vince Fahey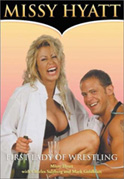 Ok... I admit it. Back in '88-'89, I was a huge Missy mark. Easily, she was the most attractive woman in wrestling, IMO. I was surprised to see her pop-up in ECW in '95, and she still looked good, though definitely NOT the Missy Hyatt I remember from those Memphis/Birmingham days.
When word of her book first began to circulate, I was interested... but wary. Missy, in the last several years, has been caught up in some less-than-polite topics of conversation and I was concerned with it being nothing more than a sleazy tell-all book. Thanks to the fine folks at ECW Press, I'm able to find that the book is much more than I thought.
The book starts out with Missy discussing her early years as a fan of the sport. She became hooked at the age of 17, after passing by a TV that her dad was flipping channels on. She saw a glimpse of Georgia Championship Wrestling and told her dad to go back. She ended up watching the rest of the program and was hooked from then on (this was during the period when Tommy Rich was the number one babyface in the promotion).
She began to go to live shows as often as she could, and by hanging out and eventually selling programs, she met Jake Roberts, whom she began to date. After a false attempt to get into wrestling and an eventual breakup with Roberts, Missy met John Tatum a year later. It was Tatum who would eventually get Missy into the wrestling business when they moved together to Dallas and began working for World Class.
Missy describes her early days in wrestling, going a bit in-depth about her feud with Sunshine. It's pretty common knowledge what eventually happens from here. Missy and Tatum move onto Bill Watt's UWF, where Missy ends up with Eddie Gilbert. The book goes on, covering her stay in the UWF, her brief flirt with the WWF, then Memphis, Alabama, WCW and finally catches up to recent events with ECW and the various indies.
Throughout, Missy gives some interesting insight into her career and life, ... and of those around her. It was a pretty enjoyable read through all this. There is some cattiness, especially towards the end where Missy veers a bit towards a tell-all sort of book, but thankfully, the majority of the book is a bit more substantial and provides some good background info.
There are pictures throughout the book and it's amazing to note the change in Missy's appearance. I wish I could say that the Missy Hyatt who was so attractive in 1988, is still the same so attractive Missy Hyatt in 2002. Unfortunately, that isn't the case and the photos in the book show examples of that. Too much plastic surgery took away the Missy I remember.
That aside, I quite enjoyed this book and found it had some great info. Missy Hyatt was in the first wave of what could be known as female valets. While the valets today are essentially nothing more than eye candy, Missy and her peers back in the late 80's showed that women could have a more important role than what they presently do.
Whether you were a Missy fan, or just a fan of professional wrestling, this book, IMO, is worthy of being added to your library of wrestling books. Recommended.
Order
Missy Hyatt, First Lady of Wrestling
from



KM DVD/VHS Store 4
Click here to purchase DVD or VHS products direct from the official distributors.
KM Replica Masks 4
Click here to purchase pro quality replica wrestling masks of all your favorite old school masked wrestlers.
KM Store 4
The KM Store now features products featuring the GCW logo as well as some other very cool images. To see what's new and to purchase T-Shirts, ball caps, mouse pads and more, click here.
KM Message Board 4
Want to chat with other fans of regional wrestling? This message board has forums for over two dozen promotions. Click here.
KM Belt Gallery 4
This section contains an extensive title belt gallery... images of heavyweight, tag, U.S. and various regional title belts. To view it, click here.
Old School Tape Review 4
Reviews of various PPV's, commercial tapes and regional wrestling TV shows are available in this section. To read more, click here.
Website designed & maintained by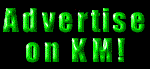 Thanks for visiting!