Regional Territories 4
This section contains monthly articles on over two dozen territories. To relive those wonderful days of old, click here.
Wrestlers 4
Enter this section for bios/profiles of various wrestlers from the regional days. To find more out about your favorite pro wrestler, click here.
Stories 4
This section contains stories from the pros themselves told exclusively to Kayfabe Memories. Want to know more as told from the wrestlers themselves? Click here.
Old School Book Reviews4
Click here to find various book reviews from old school wrestlers.
KM Links 4
For tons of links to old school related sites, click
here
.
KM Micro Wrestlers4
What are Micro Wrestlers? Click here
to find out.
KM Interviews... 4
Click here to read exclusive interviews with stars from the regional territories.
www.kayfabememories.com is © 2004 AtomDesigns. All promotional art, characters, logos and other depictions are © their respective owners. All Rights Reserved.
All contents save Wrestler Stories are © Kayfabe Memories.
Website designed and maintained by AtomDesigns © 2004 . If you experience any problems with this site or have any questions, please contact the Webmaster.
- Vince Fahey

Talk about a book coming out of the chute feuled by controversy... Within a week of his book's release, Ole Anderson, half of the famed and feared Minnesota Wrecking Crew, wrestler, booker, owner, and now author of his new autobiography, Inside Out, had old-school wrestling fans talking in fevered pitches.

Most old-school fans have come to know that Ole is simply.... Ole. He's a brash, outspoken individual who won't take guff from anyone. This book, in Ole's own words, does nothing to dissuade that opinion. However, it does at least give you some insight into why he is like he is. Does that necessarily make his demeanor correct? Maybe not. But instead of not having a clue why Ole is, the reader is given a really in-depth look into the life of Ole Anderson and his career in professional wrestling. And make no mistake... it is a fascinating look.

The book opens with the usual pre-wrestling history of Ole Anderson, nee Alan Rogowski. Ole tells us of his formative years as he grows up during the 1950s, and how he finally came to be involved in pro wrestling with the help of Verne Gagne. The book takes off from there as Ole discusses his debut in wrestling, his brief time in the Calgary territory and then moves onto discussing what would bring Ole his earliest and greatest fame, teaming with Lars and Gene Anderson as part of the Minnesota Wrecking Crew. As Ole leads us through his life, he takes opportunities to relay thoughts and opinions on other wrestlers like Johnny Valentine, Lou Thesz, Ric Flair, Bill Watts, and much more. He discusses his experiences and activities of the day-to-day grind of a pro wrestler who worked during the days pre-Vincent K. McMahon and the era of Hulkamania, and it is those sections of the book where the real interest lies.

Ole literally schools the reader on how it was to be a worker during the hey-day of both the Crockett and Georgia promotions. He brings us closer to the inner workings of the business side of pro wrestling than any other book has previously. Mind you, while this book isn't what I would term a "kiss-and-tell" sort of book, where Ole slams people left and right, he doesn't shy away from his opinion of certain workers. Where it shines though is how open Ole is about how it was to book and promote a territory. You want details? Ole shares them... what the paydays were like, how money was collected, how promoters cheated the boys, it's all here, and it's all fascinating.

I could go on and on here, but it's easier to say, read this book. Any old-school fan who wants an inside look at the business of pro wrestling will not regret it. Is Ole harsh? Yeah... but as I read this, I felt that I was getting the real deal. He wasn't romanticizing anything.... Ole has always been someone unafraid to say things as he saw them... so why bother to lie throughout this? I don't feel he does. For anyone wanting to look past the gruff and abrasive exterior of Ole Anderson, this is a book you must read. It is completely engrossing and utterly engaging, and is a worthy and necessary addition to any wrestling fans library.


Very

highly recommended.

To order, Inside Out by Ole Anderson, click here.

KM DVD/VHS Store 4
Click here to purchase DVD or VHS products direct from the official distributors.
KM Replica Masks 4
Click here to purchase pro quality replica wrestling masks of all your favorite old school masked wrestlers.
KM Store 4
The KM Store now features products featuring the GCW logo as well as some other very cool images. To see what's new and to purchase T-Shirts, ball caps, mouse pads and more, click here.
KM Message Board 4
Want to chat with other fans of regional wrestling? This message board has forums for over two dozen promotions. Click here.
KM Belt Gallery 4
This section contains an extensive title belt gallery... images of heavyweight, tag, U.S. and various regional title belts. To view it, click here.
Old School Tape Review 4
Reviews of various PPV's, commercial tapes and regional wrestling TV shows are available in this section. To read more, click here.
Website designed & maintained by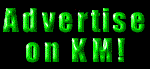 Thanks for visiting!