Regional Territories 4
This section contains monthly articles on over two dozen territories. To relive those wonderful days of old, click here.
Wrestlers 4
Enter this section for bios/profiles of various wrestlers from the regional days. To find more out about your favorite pro wrestler, click here.
Stories 4
This section contains stories from the pros themselves told exclusively to Kayfabe Memories. Want to know more as told from the wrestlers themselves? Click here.
Old School Book Reviews4
Click here to find various book reviews from old school wrestlers.
KM Links 4
For tons of links to old school related sites, click
here
.
KM Micro Wrestlers4
What are Micro Wrestlers? Click here
to find out.
KM Interviews... 4
Click here to read exclusive interviews with stars from the regional territories.
www.kayfabememories.com is © 2004 AtomDesigns. All promotional art, characters, logos and other depictions are © their respective owners. All Rights Reserved.
All contents save Wrestler Stories are © Kayfabe Memories.
Website designed and maintained by AtomDesigns © 2004 . If you experience any problems with this site or have any questions, please contact the Webmaster.
- Vince Fahey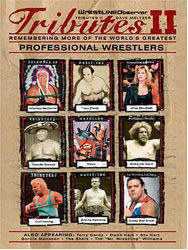 Tributes 2, like its predecessor, provides in depth articles on wrestlers who have passed away.
The articles are compiled from Dave Meltzer's widely read Wrestling Observer and covers wrestlers from Lou Thesz to Road Warrior Hawk.
Let me get my criticisms out first: Having not been a reader of the Wrestling Observer, I was not familiar with the format of these pieces. Whereas many "obituary" type pieces might be straight forward chronological recaps of the subjects life, many of the pieces in Tributes 2 seem to be more "random snapshots" of the person's life or career. By this, I mean there often is not a linear progression to some of the pieces.
The other difficulty I had with the pieces were that many of them seemed to end quite abruptly. There was no wrapping up, no paragraph or sentence that tied together the entire piece or summed up the subject. Often, the ending paragraph just seemed to dangle there as if more was meant to come.
These criticisms aren't meant to be petty. I have the utmost respect for Meltzer and what he's done with The Wrestling Observer. He's always been kind to KM and I appreciate that he does pieces like these and that he's gathered them into two volumes. But as a reader, these two criticisms I noted consistently jumped out at me while reading.
Aside from this, the book is well done. Meltzer provides tons of great info throughout each piece and covers a wide range of stars like Thesz who represents the 40s and 50s, Valentine, Wahoo and Woods who represent the 60s and 70s, and Hawk, Hennig and Gordy who represent the 80s.
The greatest impact this book has is emphasizing just who we have lost recently. All the individuals represented in this book, save Andre the Giant, have all died within the last four years and it's a who's who of wrestling. The saddest thing of all is, it's only a partial list. On top of that, six of the individuals in this book died much, much too young.
What Meltzer has created with both Tributes volumes is a lasting imprint of the workers who lay within the pages. In a business where much too much of its history is lost, be it to time or kayfabe, at least via these books, some part of the workers careers are held onto, noted and recognized.
The added attraction to this book is an enclosed DVD that contains an interview with Meltzer. The interview sticks to topics and questions regarding those wrestlers covered in the book and is approximately one hour. A nice extra addendum to an already well done book.
Order
Tributes 2
from



KM DVD/VHS Store 4
Click here to purchase DVD or VHS products direct from the official distributors.
KM Replica Masks 4
Click here to purchase pro quality replica wrestling masks of all your favorite old school masked wrestlers.
KM Store 4
The KM Store now features products featuring the GCW logo as well as some other very cool images. To see what's new and to purchase T-Shirts, ball caps, mouse pads and more, click here.
KM Message Board 4
Want to chat with other fans of regional wrestling? This message board has forums for over two dozen promotions. Click here.
KM Belt Gallery 4
This section contains an extensive title belt gallery... images of heavyweight, tag, U.S. and various regional title belts. To view it, click here.
Old School Tape Review 4
Reviews of various PPV's, commercial tapes and regional wrestling TV shows are available in this section. To read more, click here.
Website designed & maintained by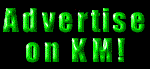 Thanks for visiting!