Regional Territories 4
This section contains monthly articles on over two dozen territories. To relive those wonderful days of old, click here.
Wrestlers 4
Enter this section for bios/profiles of various wrestlers from the regional days. To find more out about your favorite pro wrestler, click here.
Stories 4
This section contains stories from the pros themselves told exclusively to Kayfabe Memories. Want to know more as told from the wrestlers themselves? Click here.
Old School Book Reviews4
Click here to find various book reviews from old school wrestlers.
KM Links 4
For tons of links to old school related sites, click
here
.
KM Micro Wrestlers4
What are Micro Wrestlers? Click here
to find out.
KM Interviews... 4
Click here to read exclusive interviews with stars from the regional territories.
www.kayfabememories.com is © 2004 AtomDesigns. All promotional art, characters, logos and other depictions are © their respective owners. All Rights Reserved.
All contents save Wrestler Stories are © Kayfabe Memories.
Website designed and maintained by AtomDesigns © 2004 . If you experience any problems with this site or have any questions, please contact the Webmaster.
-
Peter Staniforth
Iím absolutely thrilled to have this interview, and itís one of those occasions where Iím going to keep my input to a respectful minimum; and let the man in question do all the talking. I remember when I first saw pictures of him, and I remember when I first saw him wrestle; still to this day. This man is truly a class act, and professional wrestling could dearly use more like him today. With a past and present that is truly both fascinating and inspiring, I proudly bring to you; an interview with a man who to me personifies the term Ďlegendí Ė D.C. Drake.
PETER : Thank you for this interview, and the time taken to do it. Can I start by asking you about your childhood?
D.C. : I was born and raised in the Lehigh Valley area of Pennsylvania. At the age of 8 years old, I was diagnosed with ulcer disease that eventually led to bleeding ulcers in my adolescence. This disease kept my weight very low and led to a number of other illnesses. Despite being sickly as a child, I was still able to participate in amateur wrestling and played American Legion baseball. It was my dream as a youth to play professional baseball, however as I moved into high school, my father suffered a serious back injury in his workplace leading to many years of surgery and disability for him. Being the oldest child of four, I felt a responsibility to go to work and help to contribute to the family income. Throughout high school, I worked 40 hour weeks at a gas station in an attempt to do my part in keeping our family stable. These work hours put an end to any thoughts of organized high school team sports which led me into the gym and working out with weights to get my Ďathletic fixí. Throughout all of this, I remained a huge fan of professional wrestling, especially enjoying the matches televised on Channel 29 from Philadelphia that featured Florida Championship Wrestling and Gordon Solie.
PETER : These must have been difficult times. I find wrestling is a wonderful release in times such as these. So, how did life progress from here?
D.C : After graduating high school, I went to college; initially as a criminal justice major. This led to my employment with the New Jersey Department of Corrections where I stayed for nearly 10 years. During this time, I had a continued fascination with pro wrestling, continued to work out, and also enrolled in a wrestling training school in Jersey City; New Jersey. Educationally, I completed college; switching from criminal justice to psychology and mental health major and went on to get my graduate degree in counseling psychology and eventually licensed as a certified addictions counselor. Because my enthrallment with professional wrestling never waned, I started the Continental Wrestling Alliance in the Lehigh Valley in the early 1980ís; securing Twin County Cable as our television outlet. I used money I earned in a part time job to help fund this effort, which eventually became financially overwhelming. Bob Raskin, a New Jersey promoter approached me and offered to take over the financial and administrative operations of the organization and I was more than happy to relinquish this responsibility. I then moved into the booker role and concentrated on the television production. The CWA later became the National Wrestling Federation. In the mid 1980ís, Raskin brought in an entertainment booking agency out of Philadelphia to do the promotions and selling of NWF shows. At this point, the NWF began to grow.
PETER : Which must have been exciting, to watch the promotion grow and become larger.
D.C. : It was. I left the Department of Corrections in 1987, and started working with Raskin Sports Productions and Creative Entertainment as a wrestler, booker, and television producer. We were able to take the NWF from a Northeastern United States promotion thanks to the Sports Channel networks, local broadcast stations and satellite television. My days usually consisted of television editing either in New York or Philadelphia, trying to stay in shape so my wrestling skills did not suffer; and writing television scripts to keep our product competitive. We eventually hired Paul Heyman to be our television host, and started using many big name stars. As a television producer, my most satisfying time came when we received ratings numbers from the Albany, NY area showing that we were beating the then WWF in that market. Shortly thereafter, a number of events transpired within the organization leading to money problems and the departure of some of the partners in the product. More...

KM DVD/VHS Store 4
Click here to purchase DVD or VHS products direct from the official distributors.
KM Replica Masks 4
Click here to purchase pro quality replica wrestling masks of all your favorite old school masked wrestlers.
KM Store 4
The KM Store now features products featuring the GCW logo as well as some other very cool images. To see what's new and to purchase T-Shirts, ball caps, mouse pads and more, click here.
KM Message Board 4
Want to chat with other fans of regional wrestling? This message board has forums for over two dozen promotions. Click here.
KM Belt Gallery 4
This section contains an extensive title belt gallery... images of heavyweight, tag, U.S. and various regional title belts. To view it, click here.
Old School Tape Review 4
Reviews of various PPV's, commercial tapes and regional wrestling TV shows are available in this section. To read more, click here.
Website designed & maintained by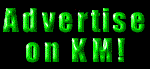 Thanks for visiting!