Regional Territories 4
This section contains monthly articles on over two dozen territories. To relive those wonderful days of old, click here.
Wrestlers 4
Enter this section for bios/profiles of various wrestlers from the regional days. To find more out about your favorite pro wrestler, click here.
Stories 4
This section contains stories from the pros themselves told exclusively to Kayfabe Memories. Want to know more as told from the wrestlers themselves? Click here.
Old School Book Reviews4
Click here to find various book reviews from old school wrestlers.
KM Links 4
For tons of links to old school related sites, click
here
.
KM Micro Wrestlers4
What are Micro Wrestlers? Click here
to find out.
KM Interviews... 4
Click here to read exclusive interviews with stars from the regional territories.
www.kayfabememories.com is © 2004 AtomDesigns. All promotional art, characters, logos and other depictions are © their respective owners. All Rights Reserved.
All contents save Wrestler Stories are © Kayfabe Memories.
Website designed and maintained by AtomDesigns © 2004 . If you experience any problems with this site or have any questions, please contact the Webmaster.
-Tim S. Dills

Recap
In part one of this interview, Jerry Jarrett discussed his beginnings in the business. Other topics of discussion included Jerry's mother, Christine Jarrett, Nick and George Gulas, Roy Welch, Tojo Yamamoto, Jerry Lawler, Eddie Graham, Bobby Shane and others. Jarrett also described one long night in July 1976 when Sam Bass, Pepe Lopez and Frank Hester died in a fiery automobile accident after a Memphis house show. Jarrett also talked some about his new project, NWA TNA.
Preview
In the conclusion of this two part interview, Jerry Jarrett continues to discuss the golden days of territory wrestling in Tennessee. In part two, Jarrett discusses Jackie Fargo, Jerry Lawler, Jimmy Valiant, Bill Dundee, The Fabulous Ones, Jimmy Hart, Lou Thesz, Jim Cornette and other stars who worked the area over the years. He also comments on former business partners Buddy Fuller and Nick Gulas. Jarrett also talks about his son, Jeff as well as more about NWA TNA.
Dills: The Jerry Lawler-Jackie Fargo feud turned some heads in 1974. Please describe why this feud clicked the way it did with fans.
Jarrett: Jackie Fargo was the veteran superstar going against the cocky new superstar in Jerry Lawler. There was a natural underlying heat between the two men because the situation was real. There is always a bit of jealousy between the outgoing star and the new star that is trying to take his place. Lawler and Fargo were always civil to each other and most of the time were sincerely friends. However, we all also knew of the underlying heat. I simply wrote the story line to match reality and it was box office magic. The only time this underlying heat almost got out of hand was during an interview that Lawler told the fans that Fargo was an old man and should face the fact that Lawler had replaced him as top gun. Jackie was fit to be tied when Lawler came backstage and let Lawler know in no uncertain terms how he felt.
Dills: Jerry Lawler got a big push at one point in the mid 1970s when you brought in stars from other areas for him to face with the idea being he was climbing the ladder of top contenders to a world title shot. He would battle these guys in a top ten situation. This seemed to be a rather unique way to get a heel Lawler over as a serious title contender, and also gave him a background in the next decade or so of chasing the world title, giving meaning to the title in the area. How did this idea come about and how hard was it to come up with ten guys from other places to bring in and still give it the feel of specialness for the fans?
Jarrett: I called the series of matches, 'Quest for the Title'. I had always had great respect for the championship title. I held it in the same awe as the national champion in baseball, or basketball. As a child I would watch as Lou Thesz walked through the arena to the dressing room with the same awe as I did the night the great Yankee players, Yogi [Berra] and Whitey Ford came to the matches in Nashville. When I booked Dory Funk and Jack Brisco in towns years later as a promoter, I felt the same respect as I did as a child towards the champion. So when I first thought of the 'Quest for the Title', I held the idea in a kind of awe inspiring thought. I had gained respect in many circles in the wrestling business and I began calling friends in the business. I was very direct in each call and told them of my idea to create Lawler as a real title contender. More...

KM DVD/VHS Store 4
Click here to purchase DVD or VHS products direct from the official distributors.
KM Replica Masks 4
Click here to purchase pro quality replica wrestling masks of all your favorite old school masked wrestlers.
KM Store 4
The KM Store now features products featuring the GCW logo as well as some other very cool images. To see what's new and to purchase T-Shirts, ball caps, mouse pads and more, click here.
KM Message Board 4
Want to chat with other fans of regional wrestling? This message board has forums for over two dozen promotions. Click here.
KM Belt Gallery 4
This section contains an extensive title belt gallery... images of heavyweight, tag, U.S. and various regional title belts. To view it, click here.
Old School Tape Review 4
Reviews of various PPV's, commercial tapes and regional wrestling TV shows are available in this section. To read more, click here.
Website designed & maintained by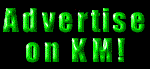 Thanks for visiting!