Regional Territories 4
This section contains monthly articles on over two dozen territories. To relive those wonderful days of old, click here.
Wrestlers 4
Enter this section for bios/profiles of various wrestlers from the regional days. To find more out about your favorite pro wrestler, click here.
Stories 4
This section contains stories from the pros themselves told exclusively to Kayfabe Memories. Want to know more as told from the wrestlers themselves? Click here.
Old School Book Reviews4
Click here to find various book reviews from old school wrestlers.
KM Links 4
For tons of links to old school related sites, click
here
.
KM Micro Wrestlers4
What are Micro Wrestlers? Click here
to find out.
KM Interviews... 4
Click here to read exclusive interviews with stars from the regional territories.
www.kayfabememories.com is © 2004 AtomDesigns. All promotional art, characters, logos and other depictions are © their respective owners. All Rights Reserved.
All contents save Wrestler Stories are © Kayfabe Memories.
Website designed and maintained by AtomDesigns © 2004 . If you experience any problems with this site or have any questions, please contact the Webmaster.
- Serge Niles
When you talk about Maritime Wrestling Legends and most popular wrestler in the Maritimes, the name Leo Burke normally comes to mind. Burke as wrestled in the Maritimes since the early 70's and he would always stand up for what was right, and never backed down from a challenge. But, in 1992 that all changed.
Atlantic Grand Prix Wrestling was now known as Canadian Championship Wrestling, and they where on a role. Burke and Petitpas started the year by winning the CCW Tag Team Titles, and one of the best teams in the Maritimes where dominating the Tag Team scene, however, that's where strange things began happening.
In the month of June, Burke and Petitpas where upset by the team of the Cuban Assassin and Butcher Vachon, when Paul Peller made his return to wrestling by hitting Leo Burke with a pair of brass knuckles costing the team of Burke and Petitpas the Tag Titles.
In the following weeks, Burke began a quest to capture the CCW Heavyweight Title from the "Texas Outlaw" Rick Patterson. In those matches, Burke was more aggressive and would often break the rules resulting in a few DQ loses to the champ, but most importantly Burke was like a madman in the ring. After a few failed attempts, Burke finally captured the title in Sydney, NS and in the process he injured Patterson, forcing him to leave the Maritimes.
Now Burke was champion and everybody thought that the old Leo Burke would be back, but Burke continued his uncontrollable tactics and would barely stop at nothing to hold on to the title, but this was just the beginning of the shocking events that where about to happen.
During this spell, Todd McPhee was on a quest to capture the Jr. Heavyweight title from "Bad Boy" Eddy Watts, and it appeared that McPhee had captured the title in a Steel Cage Match in Cocagne, NB. But, a complaint by Goldie Rogers and Bobby Blaze resulted in McPhee getting weighted in the ring, and it was determined that McPhee was over the weight limit, and the title would return to Watts. McPhee went ballistic in the cage and began hitting everything in sight, Watts, Rogers, Blaze and referee Danny Marsh all got hammered. The Soaring Eagle and Leo Burke came out from the back to try to calm McPhee, but both got hammered by the enraged McPhee. Burke got up, and immediately applied the sleeper hold on McPhee trying to calm him down, the Soaring Eagle grabbed McPhee's arms to try to help, but Burke released the hold and clobbered Eagle. The crowd was stunned, and didn't know what to do with what was happening. Following this, Burke took the microphone and told McPhee that he was sick and tired of getting hit, when he's trying to help and issued a challenge to McPhee for the following week.
That week arrived, and everybody in the arena was buzzing about the possible wrestling clinic we where about to witnessed. The match started out cleanly, and went a good 10 minutes with both men putting on a display. Then, Burke took advantage of McPhee while punching him in the ropes. Burke then took every dirty trick he knew, and he wouldn't shy away from using them to keep his advantage. McPhee did manage to fight back, but Burke got the pin with his feet on the ropes. The crowd was stunned, that Burke would use the ropes for leverage during the pin. McPhee issued another challenge to Burke, and won the title in PEI, but re-lost the title in Halifax 2 days later.
A rematch was set for Cocagne, the following week, and this time Burke got disqualified for hitting McPhee with a chair. Burke continued his assault on McPhee with the chair, until the Acadian Giant (Kurrgan) came out from the back. Burke quickly bailed from the ring, and watched for an opportunity. Burke, then snuck in the ring, and smashed a chair to the back of the Acadian Giant, but that shot did not faze him. Burke, then immediately ran for cover in a neutral dressing room. This would set up a series of match between the now hated Leo Burke and the Acadian Giant. They would go at it, and tear into each other like there was no tomorrow. Burke would be having trouble against the Giant, and when everything would appear to be over for Burke, he got help from an old friend....Paul Peller. Peller would become a close ally to Burke as they would do anything possible to attack the Giant and take him out. The Giant would get help from Leo's former tag team partner Stephen Petitpas. Every time, Petitpas would charge the ring, Burke would leave and would not want any contact with Petitpas, and would state: "Stephen, I've got nothing against you, and this as nothing to do with you." Then he would leave to the dressing room. More...

KM DVD/VHS Store 4
Click here to purchase DVD or VHS products direct from the official distributors.
KM Replica Masks 4
Click here to purchase pro quality replica wrestling masks of all your favorite old school masked wrestlers.
KM Store 4
The KM Store now features products featuring the GCW logo as well as some other very cool images. To see what's new and to purchase T-Shirts, ball caps, mouse pads and more, click here.
KM Message Board 4
Want to chat with other fans of regional wrestling? This message board has forums for over two dozen promotions. Click here.
KM Belt Gallery 4
This section contains an extensive title belt gallery... images of heavyweight, tag, U.S. and various regional title belts. To view it, click here.
Old School Tape Review 4
Reviews of various PPV's, commercial tapes and regional wrestling TV shows are available in this section. To read more, click here.
Website designed & maintained by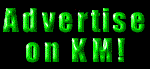 Thanks for visiting!