Regional Territories 4
This section contains monthly articles on over two dozen territories. To relive those wonderful days of old, click here.
Wrestlers 4
Enter this section for bios/profiles of various wrestlers from the regional days. To find more out about your favorite pro wrestler, click here.
Stories 4
This section contains stories from the pros themselves told exclusively to Kayfabe Memories. Want to know more as told from the wrestlers themselves? Click here.
Old School Book Reviews4
Click here to find various book reviews from old school wrestlers.
KM Links 4
For tons of links to old school related sites, click
here
.
KM Micro Wrestlers4
What are Micro Wrestlers? Click here
to find out.
KM Interviews... 4
Click here to read exclusive interviews with stars from the regional territories.
www.kayfabememories.com is © 2004 AtomDesigns. All promotional art, characters, logos and other depictions are © their respective owners. All Rights Reserved.
All contents save Wrestler Stories are © Kayfabe Memories.
Website designed and maintained by AtomDesigns © 2004 . If you experience any problems with this site or have any questions, please contact the Webmaster.
- Serge Niles
The summer months in Atlantic Canada, featured some great wrestling action. Atlantic Grand Prix Wrestling was the Hotbed of professional wrestling in the Maritimes, since the early 60's. Every Saturday Night at 11pm, at the beginning of the 70's was a must watch time, in practically every house in the Maritimes. Whether you lived in New Brunswick, Nova-Scotia or PEI. When that familiar beat began on the TV, you would practically stop what you where doing, and enjoy an hour of Pro Wrestling action.
Emile Dupree, better known to US Fans as Golden Boy Dupree, was the promoter and owner of Atlantic Grand Prix Wrestling. Dupree was very well respected in the wrestling business, and some of the stars he got to come over in the 70's was proof of that. From John Studd, Randy Savage, Lanny Poffo, Angelo Poffo and Andre the Giant. Dupree would run weekly shows every summer between May and Thanksgiving Weekend in October. You could hear long time announcer Bill McCaullah inform that fans that the Stars of Atlantic Grand Prix Wrestling would be in Moncton, NB on Monday nights, Halifax, NS on Thursday's and Berwick, NS on Saturday evening. In between these regular stops, you would have some stops in other towns or village across the Atlantic Provinces, you would often see Antigonish, NS, Summerside, PEI, St-John, NB, Sydney, NS and many more small villages.
Every summer, we would have our returning heroes and heels. From the lights of Leo Burke, Stephen Petitpas, the Beast, Bobby Bass, Killer Karl Krupp and the Cuban Assassin. To stars, that would only come on certain summers like "Rotten" Ron Starr, "Bulldog" Bob Brown, The Spoiler, Ron Ritchie, "Dr. D" David Shultz and many, many more.
There was 2 major titles every summer, that they would compete for. The US Heavyweight Title and North American Tag-Team Titles. Secondary titles, as the European Heavyweight Title (Mostly held by Killer Karl Krupp) and the Maritime Heavyweight Title (which was mostly held by Stephen Petitpas, in the middle to late 80's) were defended regularly. The U.S. Heavyweight title became known as International Heavyweight Title in the middle to late 80's.
On a couple of occasions the NWA World Title would be defended on local stops, during the summer months in regular stops. Some that I remember off hand was Leo Burke defeating Terry Funk, in Halifax, NS at 55 minutes, by DQ, when Funk threw Burke over the top rope. Ric Flair also came down a few times to defend his title against the very best that the Maritime wrestling scene had to offer.
During the upcoming months, I will hopefully educate all of you, in what the Maritimes had to offer. From their greatest matches, to the year that a new promotion almost shut down Atlantic Grand Prix Wrestling.
I hope that you will enjoy these monthly columns.
NEXT MONTH:
I will be recapping the year of 1980. Giving you a taste of the action and feuds that where headlining the Atlantic Region.

KM DVD/VHS Store 4
Click here to purchase DVD or VHS products direct from the official distributors.
KM Replica Masks 4
Click here to purchase pro quality replica wrestling masks of all your favorite old school masked wrestlers.
KM Store 4
The KM Store now features products featuring the GCW logo as well as some other very cool images. To see what's new and to purchase T-Shirts, ball caps, mouse pads and more, click here.
KM Message Board 4
Want to chat with other fans of regional wrestling? This message board has forums for over two dozen promotions. Click here.
KM Belt Gallery 4
This section contains an extensive title belt gallery... images of heavyweight, tag, U.S. and various regional title belts. To view it, click here.
Old School Tape Review 4
Reviews of various PPV's, commercial tapes and regional wrestling TV shows are available in this section. To read more, click here.
Website designed & maintained by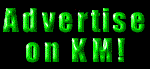 Thanks for visiting!