Regional Territories 4
This section contains monthly articles on over two dozen territories. To relive those wonderful days of old, click here.
Wrestlers 4
Enter this section for bios/profiles of various wrestlers from the regional days. To find more out about your favorite pro wrestler, click here.
Stories 4
This section contains stories from the pros themselves told exclusively to Kayfabe Memories. Want to know more as told from the wrestlers themselves? Click here.
Old School Book Reviews4
Click here to find various book reviews from old school wrestlers.
KM Links 4
For tons of links to old school related sites, click
here
.
KM Micro Wrestlers4
What are Micro Wrestlers? Click here
to find out.
KM Interviews... 4
Click here to read exclusive interviews with stars from the regional territories.
www.kayfabememories.com is © 2004 AtomDesigns. All promotional art, characters, logos and other depictions are © their respective owners. All Rights Reserved.
All contents save Wrestler Stories are © Kayfabe Memories.
Website designed and maintained by AtomDesigns © 2004 . If you experience any problems with this site or have any questions, please contact the Webmaster.
- Tony D.

Mark and Jay Youngblood came into the Central States area early in 1984 to work the loop. On February 2, 1984 in Kansas City, they beat the team of Bill Howard and Paul Kelly. On February 3 in St. Louis, they defeated the team of Roger "Nature Boy" Kirby
and Scott Ferris.

On February 16, 1984 in Kansas City, Mark and Jay Youngblood faced The Grapplers. We join the match already in progress. Sonny Myers is the Referee and Kevin Wall and Rick Stewart are the commentators. Grappler #1 has Jay Youngblood in a sleeper. Jay turned the sleeper into a top wristlock. Grappler #1 made a blind tag to Grappler #2. As Jay holds Grappler #1 in an armbar, Grappler #2 with a knee to the back of Jay Youngblood. Grappler #2 pushed Jay in the ropes and Jay bounced off the ropes with his back to Grappler #2 who plants a vicious forearm into Jay's back. Jay with a headbutt that stunned Grappler #2 but Jay has taken too much punishment to tag Mark Youngblood. Grappler #2 with an elbowdrop and a camel clutch on Jay. Jay was able to break the camel clutch and send Grappler #2 out of the ring through the ropes at the same time. Jay doesn't know where he is and Grappler #2 is able to get back in the ring and give Jay a forearm in the back and Grappler #2 makes the tag to Grappler #1. Grappler #1 with a kneedrop on Jay and Grappler #1 with an Irish whip and a backdrop on Jay. Grappler #1 with a Boston crab near the corner where Mark Youngblood is waiting to be tagged in. Grappler #2 enters the ring and distracts Referee Sonny Myers just as Jay is able to make the tag to his brother. As Sonny Myers is getting Grappler #2 to go to his own corner, Grappler #1 pulls Jay toward the corner of The Grapplers. Mark Youngblood punches Grappler #1 and Referee Sonny Myers didn't see the tag and he makes Mark to go his own corner. This allows The Grapplers to switch and Grappler #2 puts Jay in the Boston Crab. The Grapplers are identical except for the fact that Grappler #1 wears the loaded Orthopedic Boot. Sonny Myers must have noticed the boots and he orders Grappler #1 to get back in the ring since he's the legal man.

Grappler #1 with an atomic kneedrop on Jay. Grappler #1 goes for the pin but he only gets a one count. Grappler #1 with a bearhug. Jay is trying to undo the mask of Grappler #1. More...

If you'd like to discuss the Central States region with other fans, please visit the KM Message Board

KM DVD/VHS Store 4
Click here to purchase DVD or VHS products direct from the official distributors.
KM Replica Masks 4
Click here to purchase pro quality replica wrestling masks of all your favorite old school masked wrestlers.
KM Store 4
The KM Store now features products featuring the GCW logo as well as some other very cool images. To see what's new and to purchase T-Shirts, ball caps, mouse pads and more, click here.
KM Message Board 4
Want to chat with other fans of regional wrestling? This message board has forums for over two dozen promotions. Click here.
KM Belt Gallery 4
This section contains an extensive title belt gallery... images of heavyweight, tag, U.S. and various regional title belts. To view it, click here.
Old School Tape Review 4
Reviews of various PPV's, commercial tapes and regional wrestling TV shows are available in this section. To read more, click here.
Website designed & maintained by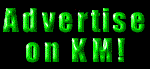 Thanks for visiting!