Regional Territories 4
This section contains monthly articles on over two dozen territories. To relive those wonderful days of old, click here.
Wrestlers 4
Enter this section for bios/profiles of various wrestlers from the regional days. To find more out about your favorite pro wrestler, click here.
Stories 4
This section contains stories from the pros themselves told exclusively to Kayfabe Memories. Want to know more as told from the wrestlers themselves? Click here.
Old School Book Reviews4
Click here to find various book reviews from old school wrestlers.
KM Links 4
For tons of links to old school related sites, click
here
.
KM Micro Wrestlers4
What are Micro Wrestlers? Click here
to find out.
KM Interviews... 4
Click here to read exclusive interviews with stars from the regional territories.
www.kayfabememories.com is © 2004 AtomDesigns. All promotional art, characters, logos and other depictions are © their respective owners. All Rights Reserved.
All contents save Wrestler Stories are © Kayfabe Memories.
Website designed and maintained by AtomDesigns © 2004 . If you experience any problems with this site or have any questions, please contact the Webmaster.
- Mark Wilson
Hello wrestling fans, and welcome to another edition of All Star Wrestling. My name is Mark Wilson, and I will be your host for the next 780+ words. I recently popped in some of my old wrestling tapes from the mid-80's and was surprised how clear they still were. So, after some contemplation, and honestly, since the Oakland Raiders season was in the tank after the first game this year, I contacted my close, personal friend Vince Fahey (actually, we've never met, don't know anything about one another, and quite possibly might not be able to stand each other's company, but that never stopped old school wrestlers from kidding us about their personal relationships with other wrestlers, did it? : )
Anyway, I am honored to be able to provide some of my memories of the Central States area. Throughout my youth, the Central States was often my only connection to my favorite wrestling federation, the NWA. Living in the country, I rarely got to see World Championship Wrestling, which often featured my favorite wrestler, Ric Flair. I can remember practically swallowing my tongue when I heard that Kerry Von Erich had beaten Ric Flair for the title. Even worse, the news came almost a month after the title changed hands. Such was the state of Central States wrestling.
The Central States shows were taped two at a time at the Memorial Hall in Kansas City, Missouri. Often, a wrestler who was promised over two shows was summarily forgotten when a new round of shows were taped. However, I've come to appreciate the Central States over time, because of its own uniqueness.
Now, onto the show.
The following show was aired roughly in early April 1986. I will be using the advertisements for local cards as time markers. Prior to this show, an advertisement for wrestling in the Memorial Hall in Joplin, MO on Tuesday, April 29. The main event was to be Central States champion Bulldog Bob Brown (managed by Slick, yes, that Slick) vs. seven time World Champion Harley Race. The Midnight Rockers, Shawn Michaels and Mary Janetty were to face the Central States tag team champions, Brad and Bart Batten. If I remember correctly, I attended that card. I remember Race and Brown wrestling each other, as midway through the match, Race positioned Bulldog for a piledriver, and proceeded to pull the Bulldog's trunks into a wedgie before the move, to the delight of the crowd. Folks, you can't buy that kind of entertainment! Kevin Wall rattles off the local shows, with the Batten Twins standing by. The Battens were identical twins, though if you saw them enough, you would know who was whom. After plugging the tag match with the Rockers, Race allegedly told the Battens to come out there and tell Bob Brown that Harley was going to take care of business. Sure he did. See what I mean?
Opening montage. The visual images are from various matches, some of which transpired in other places: Dusty Rhodes cross body blocking Harley Race to win the NWA title, Ric Flair vs. Kerry Von Erich in Texas Stadium (in which Von Erich won the title), Stan Hansen backdropping someone, then a Central States match involving Hansen and Baron Von Raschke, Hansen clotheslining someone else, Barry Windham vs. Roger Kirby, Von Erich dropkicking Flair, some women's wrestling, One Man Gang in a squash from Florida, a tag match involving Crazy Luke Graham, some Japanese action, and another killer clothesline from Hansen. Pan to a large crowd in Memorial Hall in Kansas City. Now we see the Grapplers working on Ron Ritchie in the corner (with Bobby Whitlock refereeing, sometime announcer in Leroy McGuirk's Tri State promotion), Flair suplexing someone, and a rapid montage of stills culminating with the backslide by Kerry Von Erich on Flair to capture the title.
Kevin Wall and Rick Stuart are our hosts. The backdrop is some artistic expression of the Central States NWA logo, made by a fan if I remember correctly. Not too bad, though it only lasted a few weeks. The first match will be TV champion Akio Sato vs. Tommy Wright, the last man eliminated in a tournament a couple of weeks prior by Sato. Kamala the Ugandan Giant will also be on the program. Bulldog Bob Brown will defend the Central States title against Crusher Jerry Blackwell. The tag team of Rufus R. Jones and Butch Reed will also see action against the Dream Team. Yes!!! I forgot about this match!!!
More...

KM DVD/VHS Store 4
Click here to purchase DVD or VHS products direct from the official distributors.
KM Replica Masks 4
Click here to purchase pro quality replica wrestling masks of all your favorite old school masked wrestlers.
KM Store 4
The KM Store now features products featuring the GCW logo as well as some other very cool images. To see what's new and to purchase T-Shirts, ball caps, mouse pads and more, click here.
KM Message Board 4
Want to chat with other fans of regional wrestling? This message board has forums for over two dozen promotions. Click here.
KM Belt Gallery 4
This section contains an extensive title belt gallery... images of heavyweight, tag, U.S. and various regional title belts. To view it, click here.
Old School Tape Review 4
Reviews of various PPV's, commercial tapes and regional wrestling TV shows are available in this section. To read more, click here.
Website designed & maintained by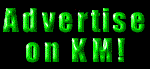 Thanks for visiting!