Regional Territories 4
This section contains monthly articles on over two dozen territories. To relive those wonderful days of old, click here.
Wrestlers 4
Enter this section for bios/profiles of various wrestlers from the regional days. To find more out about your favorite pro wrestler, click here.
Stories 4
This section contains stories from the pros themselves told exclusively to Kayfabe Memories. Want to know more as told from the wrestlers themselves? Click here.
Old School Book Reviews4
Click here to find various book reviews from old school wrestlers.
KM Links 4
For tons of links to old school related sites, click
here
.
KM Micro Wrestlers4
What are Micro Wrestlers? Click here
to find out.
KM Interviews... 4
Click here to read exclusive interviews with stars from the regional territories.
www.kayfabememories.com is © 2004 AtomDesigns. All promotional art, characters, logos and other depictions are © their respective owners. All Rights Reserved.
All contents save Wrestler Stories are © Kayfabe Memories.
Website designed and maintained by AtomDesigns © 2004 . If you experience any problems with this site or have any questions, please contact the Webmaster.
- Eric Westlund
These are the events of International Championship Wrestling from the time of late 1981 to the early part of the next year. There was little change in the talent pool of the promotion making it easy for Angelo Poffo, the promoter, to keep a grasp of the angles and situations going on at that time. The main focus of the promotion was on its world champion, Randy Macho Man Savage, and who might dethrone the longstanding titleholder. He was still in a heel character, with no regard for the rules or the support of the fans. His two and a half year battle with Ronnie Garvin had culminated with Garvin freeing Crusher Broomfield from his servitude to the Macho Man, and the promotion needed to focus on other contenders as this feud had become stale with the fans.

Macho Man's former manager, Steve Cooper, was introduced in a role as an ICW referee and occasional wrestler. He said he would focus on keeping the action clean, especially the cheating antics of the Macho Man and Pistol Pez Whatley. These two villains were frequent tag partners in late 1981 against Ronnie Garvin and the Canadian Bumblebee. The Bumblebee angle was originated when Garvin brought a giant box to the television studio to taunt Randy Savage. This box had the initials "C.B." on it and was said to contain the Bumblebee . When Whatley and Savage timidly opened the box, expecting Crusher Broomfield to be in it, they were surprised by a midget dresses up in a bumblebee outfit. They tried to corner the small person in the studio but the faster midget got away. This made the two heels furious, as they looked silly chasing this individual around the studio.

But this was not the last we saw of the giant wooden box in the ICW story line. Near the turn of the year 81, Macho Man was set to introduce his new valet/manager, Ms. Macho Man. He announced on a TV show that the next week his new team member would debut. But in the middle of his speech, Garvin and Leaping Lanny interrupted Macho. Garvin stated he had Savage's new Ms. Macho Man for him. He proceeded to wheel the big wooden box (sometimes referred to as the mystery box) into the TV studio. Thrashing and struggling noises could be heard from within the box. Savage back peddled as Garvin promised Savage would love his new Ms. Macho Man, not knowing what was in the box. As the box was opened for the studio audience it was revealed that Garvin and Lanny had hog-tied pistol Pez and dressed him up as a woman and locked him in the box. This was one of the more humorous situations the fans had seen in a while, as Whatley and Savage looked ridiculous due to Garvin's actions.

On the next show Savage did get to present his new Ms. Macho Man. It was a woman the promotions fans were familiar with, Ms. Brenda Britton. She had acted in the past as Hustler Rick Roger's valet, as she was Roger's real life wife. She did not play a role as a heel character and I don't recall her ever interfering on the world champion's behalf.
More...
If you'd like to discuss the ICW (Poffo) region with other fans, please visit the KM Message Board

KM DVD/VHS Store 4
Click here to purchase DVD or VHS products direct from the official distributors.
KM Replica Masks 4
Click here to purchase pro quality replica wrestling masks of all your favorite old school masked wrestlers.
KM Store 4
The KM Store now features products featuring the GCW logo as well as some other very cool images. To see what's new and to purchase T-Shirts, ball caps, mouse pads and more, click here.
KM Message Board 4
Want to chat with other fans of regional wrestling? This message board has forums for over two dozen promotions. Click here.
KM Belt Gallery 4
This section contains an extensive title belt gallery... images of heavyweight, tag, U.S. and various regional title belts. To view it, click here.
Old School Tape Review 4
Reviews of various PPV's, commercial tapes and regional wrestling TV shows are available in this section. To read more, click here.
Website designed & maintained by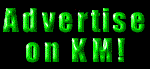 Thanks for visiting!