Regional Territories 4
This section contains monthly articles on over two dozen territories. To relive those wonderful days of old, click here.
Wrestlers 4
Enter this section for bios/profiles of various wrestlers from the regional days. To find more out about your favorite pro wrestler, click here.
Stories 4
This section contains stories from the pros themselves told exclusively to Kayfabe Memories. Want to know more as told from the wrestlers themselves? Click here.
Old School Book Reviews4
Click here to find various book reviews from old school wrestlers.
KM Links 4
For tons of links to old school related sites, click
here
.
KM Micro Wrestlers4
What are Micro Wrestlers? Click here
to find out.
KM Interviews... 4
Click here to read exclusive interviews with stars from the regional territories.
www.kayfabememories.com is © 2004 AtomDesigns. All promotional art, characters, logos and other depictions are © their respective owners. All Rights Reserved.
All contents save Wrestler Stories are © Kayfabe Memories.
Website designed and maintained by AtomDesigns © 2004 . If you experience any problems with this site or have any questions, please contact the Webmaster.
- Steve Webber
As I mentioned last month, many ICW wrestlers went on to bigger and better things after leaving the promotion. Since it wasnít on TV during its full run in my area, Iím sure that there are a few Iím leaving out. There was a core of performers who were with the promotion during most of its run, such as Randy Savage, Leaping Lanny Poffo, The Miser/Angelo Poffo, Pistol Pez Whatley, "Hustler" Rip Rogers, George Weingeroff, and Ronnie Garvin. Others had shorter runs, such as Bob Orton, Jr., Bob Roop, Boris Malenko, and Crusher Broomfield. Iíll try to cover as many of them as possible, even the jobbers.
Randy "Macho Man" Savage- This is one case of the promoterís son getting top billing and actually deserving it. He held the ICW "world" title for most of the promotionís existence, and with the possible exception of Garvin, was its top star. His act wasnít all that different than it was in WWF and WCW; he was "off the wall", did the same elbow drop from the top rope, and still talked like he was constipated. I seem to remember the "ohhhh yeeaahhhh!," but his favorite exclamation at the time was "freak out!" For quite a while, many of his TV appearances were from his house (I have no idea if it was really his house or not). He refused to appear at the studio during this period due to the humiliation suffered at the hands of Garvin and Roop, when they pulled their "sting". Every show would have a segment with Savage and his crew, who consisted of manager Steve Cooper, The Prophet (who never talked or showed his face), and Crusher "I donít like snakes, Randy" Broomfield. His big feud was with Garvin for the ICW world title. When the title was on the line, Garvin was never able to pin him. After Garvin left the promotion, he eventually turned face and dropped the title to Paul Christy. I donít think that many of us who saw him during his tenure in ICW are surprised that he became a superstar.
Ronnie "the One Man Gang" Garvin- Garvin was the biggest name from the group that left Ron Fullerís promotion for ICW. It may be hard for anyone whose exposure to Garvin was limited to his NWA, WWF, and AWA days just how over he was in east Tennessee in the late seventies and early eighties. In a day when good guys were only supposed to cheat when provoked, Garvin broke the rules as much as anyone. Of course, that never mattered to the fans. His interviews were great, and he was a better than average worker in the ring. He held the Southeastern title, but never seemed to have an extended feud with anyone over the belt. He spent most of his time trying to win Savageís title or taking on visitors to the territory (like Ox Baker or Ernie Ladd). He was fond of "exposes," in which he would expose secrets of other wrestlers. The most famous of these was the revelation that Randy Savage had been caught shoplifting. I think he supposedly tried to lift some steaks from a grocery store, but I may be wrong on that. He also liked to bring out old Southeastern footage.
More...
If you'd like to discuss the ICW (Poffo) region with other fans, please visit the KM Message Board

KM DVD/VHS Store 4
Click here to purchase DVD or VHS products direct from the official distributors.
KM Replica Masks 4
Click here to purchase pro quality replica wrestling masks of all your favorite old school masked wrestlers.
KM Store 4
The KM Store now features products featuring the GCW logo as well as some other very cool images. To see what's new and to purchase T-Shirts, ball caps, mouse pads and more, click here.
KM Message Board 4
Want to chat with other fans of regional wrestling? This message board has forums for over two dozen promotions. Click here.
KM Belt Gallery 4
This section contains an extensive title belt gallery... images of heavyweight, tag, U.S. and various regional title belts. To view it, click here.
Old School Tape Review 4
Reviews of various PPV's, commercial tapes and regional wrestling TV shows are available in this section. To read more, click here.
Website designed & maintained by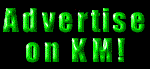 Thanks for visiting!