Regional Territories 4
This section contains monthly articles on over two dozen territories. To relive those wonderful days of old, click here.
Wrestlers 4
Enter this section for bios/profiles of various wrestlers from the regional days. To find more out about your favorite pro wrestler, click here.
Stories 4
This section contains stories from the pros themselves told exclusively to Kayfabe Memories. Want to know more as told from the wrestlers themselves? Click here.
Old School Book Reviews4
Click here to find various book reviews from old school wrestlers.
KM Links 4
For tons of links to old school related sites, click
here
.
KM Micro Wrestlers4
What are Micro Wrestlers? Click here
to find out.
KM Interviews... 4
Click here to read exclusive interviews with stars from the regional territories.
www.kayfabememories.com is © 2004 AtomDesigns. All promotional art, characters, logos and other depictions are © their respective owners. All Rights Reserved.
All contents save Wrestler Stories are © Kayfabe Memories.
Website designed and maintained by AtomDesigns © 2004 . If you experience any problems with this site or have any questions, please contact the Webmaster.
- Eric Westlund
This month's column will focus on ICW wrestling during the time frame of 1982. We will explore a variety of personalities and angles during the middle to the Fall of that calendar year. The group still was promoting the same geographic area it had been utilizing for the past two years. However, an emphasis seemed to be placed on Illinois as an area where a strong fan base might be established, helping both the promoter and the wrestlers. Springfield, Illinois was a town where superb cards were presented monthly for the wrestling public of the area. The Prairie Capital Convention Center was the scene of these events in that vicinity.
Several new entry level and mid level participants came to the promotion in this era. One gentleman who got some ring time but not in a battling sense was Jim Bunning. He was instituted by the promotion as the special trouble-shooting referee for several main event matches during 1982. He also later on in the promotion was called the head of the ICW Board of Directors. He was an older gentleman probably late 50s who I did not recognize from any other established promotion. So as to his background anything I can offer would be conjecture. If anyone has more information on this integral man in the promotion a thread on the message board would be appreciated.
Ron Sexton and Abdullah the Great were two men who debuted mid-year in the organization. Sexton mostly was used as talent enhancement for the heels and Abdullah was granted a small push wrestling in handicapped matches vs. overwhelmed jobbers.
Tony Faulk was a constant fixture on the ICW television and live events. He was touted as a candidate for Rookie of the Year in 1982, but actually had started with the promotion as early as January 1981. In 1981, he mostly wrestled in his hometown of Paducah, Kentucky from what I can determine from match listings of this time frame. Tony was basically a sound technician who would give a good match to most combatants of the organization. He really never was allowed any microphone time, so his in ring ability did all his talking. I remember him battling Angelo Poffo, George Weingeroff, Crusher Broomfield, and even being granted a TV title match against Leaping Lanny.
A new title to the promotion but not independent wrestling leagues was introduced to the fans also in midyear 1982. It was noted by Randy Savage that Thunderbolt Patterson had captured the U.S. Heavyweight Title from the Sheik in Toledo, Ohio right about this time. This set up several nostalgic angles for the group from this title change.
Firstly, this allowed a U.S. vs. World Heavy Weight Championship Match when Thunderbolt got his shots against the Macho Man. This was a good attention getter for the group to promote the match up. The details of this confrontation were relayed in last month's article if one is interested.
In addition to the previous match another interesting scenario was generated. Angelo Poffo had held the U.S. Belt back in the early 1960's this being the pinnacle of his long career. If memories serve me his victory for this title was achieved over Wilber Snyder. Mr. Poffo was given several chances to wrest the belt from Thunderbolt but was never successful.
One detail, which I may have relayed incorrectly in a previous column, was the ICW rookie of the year award. Here are the individuals who captured this decision from the promotion. In 1979 this was awarded to Ric McCord. The next recipient of the Rookie of the Year was Danny Doyle. As far as I can detail this individual actually only stayed with the promotion about seven months, from late 1980 until July of the next year. The next gentleman to be tabbed as having potential for the group was the 1981 winner, Bill Martin. He really never achieved any memorable upsets in his matches, but was taken under the wing of Leaping Lanny that helped propel him to his award.
It is hard to determine why Crusher Broomfield was never considered as a candidate for this recognition from the promotion. More...
If you'd like to discuss the ICW (Poffo) region with other fans, please visit the KM Message Board

KM DVD/VHS Store 4
Click here to purchase DVD or VHS products direct from the official distributors.
KM Replica Masks 4
Click here to purchase pro quality replica wrestling masks of all your favorite old school masked wrestlers.
KM Store 4
The KM Store now features products featuring the GCW logo as well as some other very cool images. To see what's new and to purchase T-Shirts, ball caps, mouse pads and more, click here.
KM Message Board 4
Want to chat with other fans of regional wrestling? This message board has forums for over two dozen promotions. Click here.
KM Belt Gallery 4
This section contains an extensive title belt gallery... images of heavyweight, tag, U.S. and various regional title belts. To view it, click here.
Old School Tape Review 4
Reviews of various PPV's, commercial tapes and regional wrestling TV shows are available in this section. To read more, click here.
Website designed & maintained by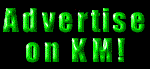 Thanks for visiting!