Regional Territories 4
This section contains monthly articles on over two dozen territories. To relive those wonderful days of old, click here.
Wrestlers 4
Enter this section for bios/profiles of various wrestlers from the regional days. To find more out about your favorite pro wrestler, click here.
Stories 4
This section contains stories from the pros themselves told exclusively to Kayfabe Memories. Want to know more as told from the wrestlers themselves? Click here.
Old School Book Reviews4
Click here to find various book reviews from old school wrestlers.
KM Links 4
For tons of links to old school related sites, click
here
.
KM Micro Wrestlers4
What are Micro Wrestlers? Click here
to find out.
KM Interviews... 4
Click here to read exclusive interviews with stars from the regional territories.
www.kayfabememories.com is © 2004 AtomDesigns. All promotional art, characters, logos and other depictions are © their respective owners. All Rights Reserved.
All contents save Wrestler Stories are © Kayfabe Memories.
Website designed and maintained by AtomDesigns © 2004 . If you experience any problems with this site or have any questions, please contact the Webmaster.
- Eric Westlund
After an extended hiatus, I'm back with another exciting chapter in the saga of Angelo Poffo's ICW wrestling. We were reliving late 1982 with the terrorizing of Ratamyas dominating the airwaves of the ICW. But several other feuds, which had been brewing for years, were also gaining steam as they catapulted to dramatic conclusions.
The leaping Lanny Poffo –Rip Rogers hatred had been a constant in the promotion since its inception. They both laid claims to the US tag team belts when the Convertible Blondes battled Lanny and George Weingeroff for a 5-month period in late 1981. Rip upgraded the quality of his team when they became the "new" Convertible Blondes after the captured the disputed belts in a tournament in Johnson City Tennessee in February 1982. The addition of Pez Whatley seemed to be just what Rip needed to help secure the belts from any team determined to become the focus of the tag team scene in the promotion.
Pez was loud, proud and could hold his own in any kind of foray the team fell into .He had learned various ways to protect the belts from Randy Savage while partnering with The Macho Man in late 1981. The fans loved to see Pez embarrassed after his fall from grace, and this served Ronnie Garvin several opportunities to make Pez reconsider his decision to leave the ranks of the faces.
Ronnie Garvin lacked a strong opponent about this same time and a Pez Whatley –Garvin program was initiated. This was originated in the summer of 82, as Garvin took several partners in attempts to wrest the tag titles from the new Blondes. George Weingeroff, Walter Johnson and Thunderbolt Patterson were all cohorts of Garvin in matches where the belts were up for grabs against the blondes.
Later in the year Pez took on a new persona. In the Poffo's ever-constant attempt to dig at the Jarrett promotion, Pez became King Pez Whatley. He even was granted a court to serve his kingly needs .The court members, of course, had to kiss his feet as a signature of their devotion to the pistol man. Members instituted into the court included Rip Rogers, Big Boy Williams and possibly Fazil Dean. I don't recall too many angles spun off of this unit, as they didn't seem to be given enough airtime to justify their position. This possibly also could have been a result of the TV station change about this same time, which I will touch on later.
Pez also was given the role of accompanying a new ICW wrestler to the ring about this same time. Mike Doggendorf was a monster of man, at 6'6" and the former starting middle linebacker for the University of Kentucky football team when they weren't perennial cellar dwellers from the southeastern conference. He watched the promotion from the sidelines for about an 8-month period before participating in his first bout. Mike is visible sitting beside the audience of the TV studio matches for several videos that are out in the general public.
Evidently, the two had some kind of falling out quickly as matches between the two are featured several weeks later in the same towns.
Several new combatants were given to the wrestling public for their consumption near the end of 1982. Mighty Mouse, a muscular short black wrestler debuted for the group. Johnny Reeves, whom I have no knowledge of, also splashed upon the ICW early bouts. Danny Fargo ,who recently passed away, reemerged in the group after a two year vacation. Kabooki was another man who showed up prominently on the cards I have from the time frame discussed here. He was Rey Urbino, a veteran of the ring who had performed for several decades all across the US .
For no apparent reason, two matches of an intergender nature were presented to the public in late 1982. In Manchester Ky we had a bout between Brenda Britton taking on Tony Faulk. This could only be topped by the Paducah KY attraction of Darlene Chowder vs. Fazil Dean . This match up was likely presented to embarrass Fazil, as he like Pez chose to be the butt of several promotional pranks. Fazil had been "spanked" by Ronnie Garvin in Frankfort Ky when he appeared as the mystery partner of Pez in a highly anticipated main event vs. George Weingeroff and Mr. Garvin. Pez tried to no avail to enter the ring to save his friend, but was hit several times with the leather belt upon getting near the ring apron.
NEXT MONTH:
I will tie up some loose ends and elaborate on information received in researching ICW advertised cards.

KM DVD/VHS Store 4
Click here to purchase DVD or VHS products direct from the official distributors.
KM Replica Masks 4
Click here to purchase pro quality replica wrestling masks of all your favorite old school masked wrestlers.
KM Store 4
The KM Store now features products featuring the GCW logo as well as some other very cool images. To see what's new and to purchase T-Shirts, ball caps, mouse pads and more, click here.
KM Message Board 4
Want to chat with other fans of regional wrestling? This message board has forums for over two dozen promotions. Click here.
KM Belt Gallery 4
This section contains an extensive title belt gallery... images of heavyweight, tag, U.S. and various regional title belts. To view it, click here.
Old School Tape Review 4
Reviews of various PPV's, commercial tapes and regional wrestling TV shows are available in this section. To read more, click here.
Website designed & maintained by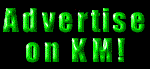 Thanks for visiting!