Regional Territories 4
This section contains monthly articles on over two dozen territories. To relive those wonderful days of old, click here.
Wrestlers 4
Enter this section for bios/profiles of various wrestlers from the regional days. To find more out about your favorite pro wrestler, click here.
Stories 4
This section contains stories from the pros themselves told exclusively to Kayfabe Memories. Want to know more as told from the wrestlers themselves? Click here.
Old School Book Reviews4
Click here to find various book reviews from old school wrestlers.
KM Links 4
For tons of links to old school related sites, click
here
.
KM Micro Wrestlers4
What are Micro Wrestlers? Click here
to find out.
KM Interviews... 4
Click here to read exclusive interviews with stars from the regional territories.
www.kayfabememories.com is © 2004 AtomDesigns. All promotional art, characters, logos and other depictions are © their respective owners. All Rights Reserved.
All contents save Wrestler Stories are © Kayfabe Memories.
Website designed and maintained by AtomDesigns © 2004 . If you experience any problems with this site or have any questions, please contact the Webmaster.
- Eric Westlund
This month we are going way back to the origins of the ICW. The Poffos had been wrestling in Tennessee for promoter Nick Gulas and evidently Angelo derived a plan to go out on his own and have more control of his money and the promotionís activities.
From what I can determine from the ads, April of 1979 were some of the first cards promoted under this ambition. These were jointly run with wrestler/promoter Dale Mann, an associate of the Poffos who also wrestled for Nick Gulas in 1978 but resided in Kentucky. Just how Angelo decided to base his group out of Lexington, I am not sure. According to information provided from a wrestler who worked for the Poffos during this era he was looking for areas where he could get maximum television exposure with a decent population base, which had not been saturated from other existing promotions.
Around Lexington the action was based in Georgetown at the Horse Park Inn. They took over the Sunday night slot from a group of wrestlers who had been performing there regularly. The Poffos grandstanding challenges to the prior promotions wrestlers also was a fixture of the newspaper ads featuring the Poffos new wrestling group. Angelo put up $20,000 against a donut that his men (Randy Savage and Rip Rogers) would beat the other promotionís tag team of Danny Fargo and Bulldog Cliff Lily. This attempt to garner press and attention was a constant theme of the ICW over the first couple of years of its existence. It would be repeated against Jerry Jarrettís NWA faction and also be used against Robert Fullerís Southeastern group.
While some of the talent Poffo started with is extremely familiar to ICW fans, a few names may be surprising to you. Regulars who you will recognize include Rip Rogers, Dale Mann, Lanny Poffo, Debbie Combs, and her mother Cora who grappled as the masked Lady Satan. Some of the intriguing names include Joe Cagle, Mike Dupree, Stony Williams, Rocky Lee, Don Starr, and Chuck Connors. Some other enhancement talent included Vaughn Watson, Chief War Eagle, and a plethora of masked wrestlers. Some of the masked men showcased were Superstar I and II, Mr. Wrestling, and of course The Miser.
One interesting feud showcased in the April matches involves a name most of you would not associate with the ICW. Mr. Wrestling lost a mask vs. mask bout with The Miser in one of the first cards at Georgetown and was unmasked as Don Starr. Starr of course demanded rematches to regain his honor from his unmasking. Just who did this Don Starr eventually go on to wrestle as in other national promotions; a man who claimed Lexington, Kentucky as his home town, Eric Embry. That one kind of shocked me when I was informed of this relationship.
One other interesting trivia was unearthed in my gathering of ads from this time frame. According to folklore and the ICW promotion, Randy Savage upended Lanny for the title of International Heavyweight champ in Halifax, Nova Scotia on March 13, 1979. The ads, which are shown for the first shows of the ICW, still show Lanny as the heavyweight belt holder. His first featured bouts defending the strap are against Rip Rogers, and it appears that the actual transition of the belt to Randy occurred in mid-July of 1979. While I did not personally witness this the bout which caused the title change, it was shown on the one hour TV show and the match went nearly the full show.
The United States tag team belts do not look to be originated during this early phase of the ICW. From what I can determine the belts were concocted once the union of the All-Star group was formed in July of 1979.
One interesting story also was related to me about these early adventures of the ICW Poffo promotion. According to my source, when Angelo devised his plan to start his own upstart group he lacked an essential ingredient: a wrestling ring. Supposedly Angelo volunteer his truck to haul Dale Mannís ring (who he was working with at this juncture) from that nights show to the matches tomorrow. That next morning Angelo and the boys had someone measure all the component parts of the ring and diagram plans for this individual to build one just like it for them. So Dale actually unknowingly contributed to his competitorís entrance into the wrestling marketplace through his gesture to let Angelo bring the ring to the next show!!!
NEXT MONTH:
Some more info about the early ICW

KM DVD/VHS Store 4
Click here to purchase DVD or VHS products direct from the official distributors.
KM Replica Masks 4
Click here to purchase pro quality replica wrestling masks of all your favorite old school masked wrestlers.
KM Store 4
The KM Store now features products featuring the GCW logo as well as some other very cool images. To see what's new and to purchase T-Shirts, ball caps, mouse pads and more, click here.
KM Message Board 4
Want to chat with other fans of regional wrestling? This message board has forums for over two dozen promotions. Click here.
KM Belt Gallery 4
This section contains an extensive title belt gallery... images of heavyweight, tag, U.S. and various regional title belts. To view it, click here.
Old School Tape Review 4
Reviews of various PPV's, commercial tapes and regional wrestling TV shows are available in this section. To read more, click here.
Website designed & maintained by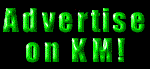 Thanks for visiting!