Regional Territories 4
This section contains monthly articles on over two dozen territories. To relive those wonderful days of old, click here.
Wrestlers 4
Enter this section for bios/profiles of various wrestlers from the regional days. To find more out about your favorite pro wrestler, click here.
Stories 4
This section contains stories from the pros themselves told exclusively to Kayfabe Memories. Want to know more as told from the wrestlers themselves? Click here.
Old School Book Reviews4
Click here to find various book reviews from old school wrestlers.
KM Links 4
For tons of links to old school related sites, click
here
.
KM Micro Wrestlers4
What are Micro Wrestlers? Click here
to find out.
KM Interviews... 4
Click here to read exclusive interviews with stars from the regional territories.
www.kayfabememories.com is © 2004 AtomDesigns. All promotional art, characters, logos and other depictions are © their respective owners. All Rights Reserved.
All contents save Wrestler Stories are © Kayfabe Memories.
Website designed and maintained by AtomDesigns © 2004 . If you experience any problems with this site or have any questions, please contact the Webmaster.
- Steve Webber
ICW Cast of Characters, Part II
Last month I covered the main event and semi-main event performers who were with the promotion for most of its run. This week Iíll cover those who were with the promotion for a shorter time period.
Crusher Broomfield: This 400-plus pound behemoth later made a name for himself as the One Man Gang, a moniker that fans of east Tennessee wrassliní was originally used by Ronnie Garvin. Broomfield, who was initially billed as 7 feet tall and 500 pounds, came to the territory as a member of Randy Savageís entourage. It was a story familiar to anyone who watched Southeastern Championship Wrestling out of Knoxville during its latter days- Randy Savage held Crusherís contract, and it was up to Ronnie Garvin to free him from servitude. Of course it was a repeat of an angle from Southeastern where Boris Malenko held Crusher Blackwellís contract, right down to the "CB" box and 400+ pound Canadian Bumblebee. After a period where he reluctantly attempted to maim and cripple for Savage, his contract was won by Ronnie Garvin. No longer under contract to Savage, he became a full-fledged babyface. I donít remember him in any extended programs with anyone. He had a few matches with Savage, which he tended to lose due to "rookie mistakes." I saw him in a couple of decent live matches, with Ernie Ladd and the Sheik, but his chief asset was his enormous size. His "big olí country boy" persona (although initially billed as being from Chicago, his hometown later became Spartanburg, SC) really didnít seem to go over that well once he broke with Savage. He certainly didnít draw the heat he later drew as One Man Gang in Louisiana.
Bob Orton Jr.: Orton was no stranger to fans in the region, having defected from Ron Fullerís Knoxville group. He was a heel during his entire ICW run, feuding with Bob Roop and others. He left ICW around the same time that Crusher Broomfield arrived. He held the television title for a while, and I believe he also held the Southeastern title at some point. Although he was never a main event star outside the southeast to my knowledge, he was quite successful as both a tag team and singles wrestler in several promotions.
Bob Roop: The former amateur champ and future Kevin Sullivan disciple wrestled as both a heel and face in ICW. He had the dubious distinction of losing the Southeastern title to former Southeastern jobber Tony Peters.
More...
If you'd like to discuss the ICW (Poffo) region with other fans, please visit the KM Message Board

KM DVD/VHS Store 4
Click here to purchase DVD or VHS products direct from the official distributors.
KM Replica Masks 4
Click here to purchase pro quality replica wrestling masks of all your favorite old school masked wrestlers.
KM Store 4
The KM Store now features products featuring the GCW logo as well as some other very cool images. To see what's new and to purchase T-Shirts, ball caps, mouse pads and more, click here.
KM Message Board 4
Want to chat with other fans of regional wrestling? This message board has forums for over two dozen promotions. Click here.
KM Belt Gallery 4
This section contains an extensive title belt gallery... images of heavyweight, tag, U.S. and various regional title belts. To view it, click here.
Old School Tape Review 4
Reviews of various PPV's, commercial tapes and regional wrestling TV shows are available in this section. To read more, click here.
Website designed & maintained by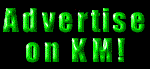 Thanks for visiting!