Regional Territories 4
This section contains monthly articles on over two dozen territories. To relive those wonderful days of old, click here.
Wrestlers 4
Enter this section for bios/profiles of various wrestlers from the regional days. To find more out about your favorite pro wrestler, click here.
Stories 4
This section contains stories from the pros themselves told exclusively to Kayfabe Memories. Want to know more as told from the wrestlers themselves? Click here.
Old School Book Reviews4
Click here to find various book reviews from old school wrestlers.
KM Links 4
For tons of links to old school related sites, click
here
.
KM Micro Wrestlers4
What are Micro Wrestlers? Click here
to find out.
KM Interviews... 4
Click here to read exclusive interviews with stars from the regional territories.
www.kayfabememories.com is © 2004 AtomDesigns. All promotional art, characters, logos and other depictions are © their respective owners. All Rights Reserved.
All contents save Wrestler Stories are © Kayfabe Memories.
Website designed and maintained by AtomDesigns © 2004 . If you experience any problems with this site or have any questions, please contact the Webmaster.
- Steve Webber
ICW ANGLES
Two of my correspondents have brought to my attention two important workers I forgot to mention earlier. The first is Berry O (Orton), the younger brother of Bob Orton, Jr. He was involved in the famous hypodermic incident detailed on the Kayfabe Memories ICW message board. He was involved in a match with Ronnie Garvin when Izzy Slapowitz injected Garvin with an unknown substance. Garvin began to foam at the mouth, and fans no doubt feared for his life. The hypodermic, for those of you not weaned on the southern style of wrasslin', was an old standby. One other worker I forgot to profile was only a jobber in ICW, and as far as I know he only worked a few matches. This worker was a very young, dark-haired Buddy Landel. The only match I've seen involving Buddy in ICW is a squash at the hands of Bob Orton, Jr. Buddy, of course, went on to become a legend in his own right.
ICW took several of Knoxville/Southeastern's top talent, and also took a few of their angles. Following Ox Baker's victory over Randy Savage and Ox's subsequent rampage at the Johnson City Rec. Center, he was told that there was one person he couldn't push around. That person was Ronnie Garvin. Of course any heel who spent much time in ICW would eventually have to face the One Man Gang, just as anyone who went on a rampage in Memphis would eventually have to face the King. During one of Ox's meetings with Garvin danged if Ox's dentures didn't fall out of his mouth. Garvin knew exactly what to do, the same thing having occurred in a match with Professor Boris Malenko in Southeastern a few years earlier (of course the same thing also happened with Malenko and Wahoo McDaniel in Mid-Atlantic in the seventies). After looking at the crowd for approval, Garvin proceeded to crush Ox's dentures into tiny pieces. On the next week's TV show , Garvin came out with a wrapped present for Ox. Ox pulled off the paper to find a can of soup. This drove the crowd wild and enraged Ox. I was fortunate enough to see one of their matches live, and there was something in it for fans of both Garvin and Ox. In a match that featured the first profanity I ever heard from a wrestler in the ring (Ox called Garvin an SOB after being kicked in the family jewels), Garvin managed to come out on top. However, Ox's fans gained a measure of satisfaction after the match when Garvin tried to hit Ox with a chair. The ref grabbed the chair, and while Garvin was exposed Ox took the opportunity to land his patented heart punch. Yes!!! Ox may not have been the best worker in the business, but I thought he played the "Big Mean SOB" role to perfection. One of my prized possessions is an autographed picture of Ox.
More...
If you'd like to discuss the ICW (Poffo) region with other fans, please visit the KM Message Board

KM DVD/VHS Store 4
Click here to purchase DVD or VHS products direct from the official distributors.
KM Replica Masks 4
Click here to purchase pro quality replica wrestling masks of all your favorite old school masked wrestlers.
KM Store 4
The KM Store now features products featuring the GCW logo as well as some other very cool images. To see what's new and to purchase T-Shirts, ball caps, mouse pads and more, click here.
KM Message Board 4
Want to chat with other fans of regional wrestling? This message board has forums for over two dozen promotions. Click here.
KM Belt Gallery 4
This section contains an extensive title belt gallery... images of heavyweight, tag, U.S. and various regional title belts. To view it, click here.
Old School Tape Review 4
Reviews of various PPV's, commercial tapes and regional wrestling TV shows are available in this section. To read more, click here.
Website designed & maintained by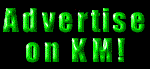 Thanks for visiting!