Regional Territories 4
This section contains monthly articles on over two dozen territories. To relive those wonderful days of old, click here.
Wrestlers 4
Enter this section for bios/profiles of various wrestlers from the regional days. To find more out about your favorite pro wrestler, click here.
Stories 4
This section contains stories from the pros themselves told exclusively to Kayfabe Memories. Want to know more as told from the wrestlers themselves? Click here.
Old School Book Reviews4
Click here to find various book reviews from old school wrestlers.
KM Links 4
For tons of links to old school related sites, click
here
.
KM Micro Wrestlers4
What are Micro Wrestlers? Click here
to find out.
KM Interviews... 4
Click here to read exclusive interviews with stars from the regional territories.
www.kayfabememories.com is © 2004 AtomDesigns. All promotional art, characters, logos and other depictions are © their respective owners. All Rights Reserved.
All contents save Wrestler Stories are © Kayfabe Memories.
Website designed and maintained by AtomDesigns © 2004 . If you experience any problems with this site or have any questions, please contact the Webmaster.
- Eric Westlund
ICW wrestling was the new kid on the wrestling block in 1979 in the Kentucky and Tennessee areas. They had chosen a brash way of attracting existing fans to their brand of action, outright challenges to the other promotions' top stars for matches. They focused on the Knoxville based Fuller group originally, then shifted towards Jerry Jarrett's Memphis clan when Fuller shut down in late 1980. Much of the ICW roster came from these two groups and animosity continued during the ICW run in the area.
Many of the feuds ICW presented for the fans were reruns of battles which had occurred in other times and places. Garvin and Orton Jr. had a great series of battles in the Knoxville region previously in 1977 and 78. Savage had many battles against Pez Whatley in the same Tennessee region for Savage's first singles title, the NWA Mid-American belt. These rekindlings, although a rehash for the fans, showed remarkable chemistry between the combatants. These were made necessary due to the shortage of quantity of talent for the group, a fact which I believe sorely caused a deterioration of the fan base in the 1983 version of the ICW troupe.
New younger talent was to be the answer for Poffo's group to attract a wider fan base. Rick McCord (no relation to Austin Idol/Mike McCord) was tabbed as the ICW Rookie of the Year in 1979. I'm not sure whether this was his actual rookie wrestling season, but his versatile style, combined with youth and good looks, gave Rick the nod in the ICW's decision. A close second was Doug "pride of Alabama" Vines. The voting caused a major ruckus between the two stars, with matches occurring all through the region after the award presentation.
Another person who springboarded to main event status was Hustler Rip Rogers. This lad had also wrestled for Fuller under the ring name of The Disco Kid. He was strictly opening match goods prior to his ICW stint, but certainly matured quickly when presented the opportunity to succeed. He had extended programs with all the faces in the area during the 79-80 time frame. He stole or broke George Weingeroffs' monocles, much to the dismay of the area's fans. Rip also had a program with Lanny Poffo early in 80 where the loser of a match had to wear a T-shirt with "I'm a brat" printed on it. Originally, Lanny wore the shirt for a week or two, however using trickery he was able to turn the tables and make Rip wear it for the remainder of the 6 week challenge. If you have seen video of Lanny causing Rip to lose the match (and thus have to wear the shirt) I was in the TV studio for this taping.
More...
If you'd like to discuss the ICW (Poffo) region with other fans, please visit the KM Message Board

KM DVD/VHS Store 4
Click here to purchase DVD or VHS products direct from the official distributors.
KM Replica Masks 4
Click here to purchase pro quality replica wrestling masks of all your favorite old school masked wrestlers.
KM Store 4
The KM Store now features products featuring the GCW logo as well as some other very cool images. To see what's new and to purchase T-Shirts, ball caps, mouse pads and more, click here.
KM Message Board 4
Want to chat with other fans of regional wrestling? This message board has forums for over two dozen promotions. Click here.
KM Belt Gallery 4
This section contains an extensive title belt gallery... images of heavyweight, tag, U.S. and various regional title belts. To view it, click here.
Old School Tape Review 4
Reviews of various PPV's, commercial tapes and regional wrestling TV shows are available in this section. To read more, click here.
Website designed & maintained by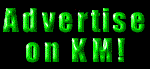 Thanks for visiting!