Regional Territories 4
This section contains monthly articles on over two dozen territories. To relive those wonderful days of old, click here.
Wrestlers 4
Enter this section for bios/profiles of various wrestlers from the regional days. To find more out about your favorite pro wrestler, click here.
Stories 4
This section contains stories from the pros themselves told exclusively to Kayfabe Memories. Want to know more as told from the wrestlers themselves? Click here.
Old School Book Reviews4
Click here to find various book reviews from old school wrestlers.
KM Links 4
For tons of links to old school related sites, click
here
.
KM Micro Wrestlers4
What are Micro Wrestlers? Click here
to find out.
KM Interviews... 4
Click here to read exclusive interviews with stars from the regional territories.
www.kayfabememories.com is © 2004 AtomDesigns. All promotional art, characters, logos and other depictions are © their respective owners. All Rights Reserved.
All contents save Wrestler Stories are © Kayfabe Memories.
Website designed and maintained by AtomDesigns © 2004 . If you experience any problems with this site or have any questions, please contact the Webmaster.
- Max Levy
One of the most beloved and successful men in the history of Mid-South Wrestling was the Junkyard Dog. JYD combined tough wrestling style and attitude with an undeniable charisma. JYD had that intangible factor that drove fans wild. When ďAnother One Bites The DustĒ by Queen came over the sound system the fansí cheers quickly drowned out the music. JYD had wrestled under his given name Sylvester Ritter and also as Leroy Rochester. He had a good deal of success in Tennessee and Calgary, but his run in Mid-South Wrestling was off the charts in comparison. Mid-South promoter Bill Watts has taken criticism in many circles over his views on race, but regardless of his motives or attitudes no one can deny the fact that Junkyard Dog was pushed to a level comparable only to Bobo Brazil. Even then few if any Black wrestlers had ever been pushed as hard and as long as JYD was in a Southern based promotion. Junkyard Dog truly cut across demographic lines with his fan base and in many ways was a pioneer. Fans ultimately loved JYD because he faced down and defeated any heel that tried to run roughshod over Mid-South Wrestling. JYD teamed with many stars during his career such as Andre The Giant, Dusty Rhodes, and Mil Mascaras. JYD always stood at the same level of stardom as his famous partner and was always treated as a major superstar when he ventured to World Class, Georgia, Memphis, and other promotions. Junkyard Dog truly stood as one of the major stars of professional wrestling in the early to mid 1980s. His record in Mid-South is unparalleled. He held the North American Heavyweight Title 4 times, the Mid-South Tag Team Title 8 times with various times with several partners, the Louisiana Heavyweight Title 3 times, and the Mississippi Heavyweight Title 1 time. Thatís one hell of a record. Needless to say JYD faced to many opponents and many intense feuds. Really there are too many cover them all, but here are some of the most memorable.
If one feud made Junkyard Dog it was his legendary war with the Fabulous Freebirds in 1980. The Freebirds were young, arrogant, and at the top of their game. Originally just Michael Hayes and Terry Gordy, Buddy Roberts soon joined to complete the familiar Freebird trio. When the Birds wrestled Buck Robley and JYD, Michael Hayes committed an unthinkable act. He threw hair removal cream into the eyes of Junkyard Dog. JYD went down in excruciating pain and had to be helped out of the arena. The news soon came forth that Junkyard Dog was blind due to the incident. His wrestling career appeared finished.
More...
If you'd like to discuss the Mid-South region with other fans, please visit the KM Message Board

KM DVD/VHS Store 4
Click here to purchase DVD or VHS products direct from the official distributors.
KM Replica Masks 4
Click here to purchase pro quality replica wrestling masks of all your favorite old school masked wrestlers.
KM Store 4
The KM Store now features products featuring the GCW logo as well as some other very cool images. To see what's new and to purchase T-Shirts, ball caps, mouse pads and more, click here.
KM Message Board 4
Want to chat with other fans of regional wrestling? This message board has forums for over two dozen promotions. Click here.
KM Belt Gallery 4
This section contains an extensive title belt gallery... images of heavyweight, tag, U.S. and various regional title belts. To view it, click here.
Old School Tape Review 4
Reviews of various PPV's, commercial tapes and regional wrestling TV shows are available in this section. To read more, click here.
Website designed & maintained by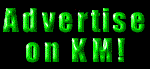 Thanks for visiting!