Regional Territories 4
This section contains monthly articles on over two dozen territories. To relive those wonderful days of old, click here.
Wrestlers 4
Enter this section for bios/profiles of various wrestlers from the regional days. To find more out about your favorite pro wrestler, click here.
Stories 4
This section contains stories from the pros themselves told exclusively to Kayfabe Memories. Want to know more as told from the wrestlers themselves? Click here.
Old School Book Reviews4
Click here to find various book reviews from old school wrestlers.
KM Links 4
For tons of links to old school related sites, click
here
.
KM Micro Wrestlers4
What are Micro Wrestlers? Click here
to find out.
KM Interviews... 4
Click here to read exclusive interviews with stars from the regional territories.
www.kayfabememories.com is © 2004 AtomDesigns. All promotional art, characters, logos and other depictions are © their respective owners. All Rights Reserved.
All contents save Wrestler Stories are © Kayfabe Memories.
Website designed and maintained by AtomDesigns © 2004 . If you experience any problems with this site or have any questions, please contact the Webmaster.
- Max Levy
Rather than focus on a single star or topic, this month we'll be looking several different topics including a transformation in the booking style, an intriguing in ring incident, and some of the unsung wrestlers of the promotion.
Mid-South Goes Memphis
Mid-South had a solid 1983, but the promotion had hit something of a rut during the latter part of the year. Ted DiBiase had left the promotion and returned to Georgia. Hacksaw Jim Duggan was heading out of Mid-South to do a run in Florida. The November 1983 Superdome show drew a highly disappointing 8,000 fans despite a Junkyard Dog vs. Butch Reed headliner and the presence of Dusty Rhodes, The Road Warriors, and Kerry and David Von Erich on the card. Attendance around the territory had taken a dip. Something needed to be done to halt the slide. The Memphis promotion was at its peak drawing huge crowds and TV ratings so Jerry Jarrett and Jerry Lawler came in for a visit. They took a look around and made a suggestion that Bill Watts wisely took and that re energized Mid-South Wrestling.
Jarrett and Lawler felt that Mid-South needed to follow the Memphis formula of spicing up the product. The method required an antagonistic manager, aerial wrestlers who could add a quicker paced style of wrestling to appeal to fans who wanted more than brawling, a youthful look to appeal to kids, and sex appeal to draw in the ladies. Memphis had a surplus of the above and was looking for some larger heavyweights along the lines of those populating Mid-South. The two promotions made a trade. Heading to Memphis were King Kong Bundy, Jim Neidhart, and a young Rick Rude. Heading to Mid-South were The Midnight Express and Jim Cornette who was stuck behind Jimmy Hart in the pecking order as well as The Rock n Roll Express who played second fiddle to The Fabulous Ones, and Terry Taylor. Perhaps the most important acquisition was Bill Dundee.
Bill did not come to Mid-South to wrestle. He came to book. Bill had a knack for not only booking fast paced matches but by drawing incredible heat to the feuds by running Memphis styled angles.
More...
If you'd like to discuss the Mid-South region with other fans, please visit the KM Message Board

KM DVD/VHS Store 4
Click here to purchase DVD or VHS products direct from the official distributors.
KM Replica Masks 4
Click here to purchase pro quality replica wrestling masks of all your favorite old school masked wrestlers.
KM Store 4
The KM Store now features products featuring the GCW logo as well as some other very cool images. To see what's new and to purchase T-Shirts, ball caps, mouse pads and more, click here.
KM Message Board 4
Want to chat with other fans of regional wrestling? This message board has forums for over two dozen promotions. Click here.
KM Belt Gallery 4
This section contains an extensive title belt gallery... images of heavyweight, tag, U.S. and various regional title belts. To view it, click here.
Old School Tape Review 4
Reviews of various PPV's, commercial tapes and regional wrestling TV shows are available in this section. To read more, click here.
Website designed & maintained by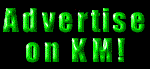 Thanks for visiting!