Regional Territories 4
This section contains monthly articles on over two dozen territories. To relive those wonderful days of old, click here.
Wrestlers 4
Enter this section for bios/profiles of various wrestlers from the regional days. To find more out about your favorite pro wrestler, click here.
Stories 4
This section contains stories from the pros themselves told exclusively to Kayfabe Memories. Want to know more as told from the wrestlers themselves? Click here.
Old School Book Reviews4
Click here to find various book reviews from old school wrestlers.
KM Links 4
For tons of links to old school related sites, click
here
.
KM Micro Wrestlers4
What are Micro Wrestlers? Click here
to find out.
KM Interviews... 4
Click here to read exclusive interviews with stars from the regional territories.
www.kayfabememories.com is © 2004 AtomDesigns. All promotional art, characters, logos and other depictions are © their respective owners. All Rights Reserved.
All contents save Wrestler Stories are © Kayfabe Memories.
Website designed and maintained by AtomDesigns © 2004 . If you experience any problems with this site or have any questions, please contact the Webmaster.
- Sean Rowland
After trying to decide what my second column of Mid-South memories would be about, knowing I had already done a quick overview of the promotion, I thought about taking a look at some of the great stars that called the Mid-South area their home over the years. But, after much consideration, I decided to really hit the ground running and talk about the angle that an awful lot of wrestling experts have called the greatest angle ever. I know as the Mid-South expert I'm prejudiced, but I have to admit that it was one of the best angles I've ever seen. I'm referring to Ted DiBiase's incredible 1985 face turn. I think it shows Mid-South at its finest, and it only took 60 minutes to do! First, though, I want to give everyone a little background on what led up to this angle. So, if I can have a little mood music, please...
DiBiase had been Mid-South's biggest heel for almost three years. He had turned on the Junkyard Dog back in 1982 during a North American title match and had never looked back. That heel turn was totally unexpected and worked extremely well. DiBiase was not only the top heel in the Mid-South area, but also had a long run in Georgia as the lead heel there. He had been out of the Mid-South area for close to a year working in Georgia and Japan. When he returned to Mid-South, he picked up right where he left off by beating Brad Armstrong for the North American Title and getting into the tag-team wars with Steve "Dr. Death" Williams as his partner. DiBiase was so despised, he was instrumental in both Jake Roberts and Bob Sweetan's face turns. The fans hated DiBiase, and pretty much anyone who went up against him was okay with the fans.
Dick Murdoch, on the other hand, was one of the more popular guys in the Mid-South area at the time. Murdoch had come back to Mid-South after a good run with the WWF where he and Adrian Adonis had held the tag-team titles. Murdoch had long been an extremely popular wrestler in the Mid-South area, going back to his feud with Killer Karl Kox in the mid-Seventies. Murdoch had perfected his "Captain Redneck" persona in the Mid-South area in 1981, and had been a hit in Georgia, Florida, and a short run in Southwest Championship Wrestling area. He was a two-fisted tough guy, who probably looked more like his fans than most wrestlers. However, that was both a blessing and a curse, because while his appearance helped his fans to relate to him, it also didn't fit in with the "super sleek muscle man" look that was becoming predominate thanks to Hulk Hogan. It is fortunate that his return to Mid-South was well timed since Watts had begun to push his patriotic angles hard. And who better to combat the foreign invaders unleashed by Skandor Akbar than Captain Redneck? Murdoch came in like a house afire and beat the Nightmare for the North American Title, which made Murdoch the Mid-South area's top champion.
More...
If you'd like to discuss the Mid-South region with other fans, please visit the KM Message Board

KM DVD/VHS Store 4
Click here to purchase DVD or VHS products direct from the official distributors.
KM Replica Masks 4
Click here to purchase pro quality replica wrestling masks of all your favorite old school masked wrestlers.
KM Store 4
The KM Store now features products featuring the GCW logo as well as some other very cool images. To see what's new and to purchase T-Shirts, ball caps, mouse pads and more, click here.
KM Message Board 4
Want to chat with other fans of regional wrestling? This message board has forums for over two dozen promotions. Click here.
KM Belt Gallery 4
This section contains an extensive title belt gallery... images of heavyweight, tag, U.S. and various regional title belts. To view it, click here.
Old School Tape Review 4
Reviews of various PPV's, commercial tapes and regional wrestling TV shows are available in this section. To read more, click here.
Website designed & maintained by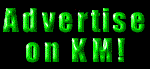 Thanks for visiting!