Regional Territories 4
This section contains monthly articles on over two dozen territories. To relive those wonderful days of old, click here.
Wrestlers 4
Enter this section for bios/profiles of various wrestlers from the regional days. To find more out about your favorite pro wrestler, click here.
Stories 4
This section contains stories from the pros themselves told exclusively to Kayfabe Memories. Want to know more as told from the wrestlers themselves? Click here.
Old School Book Reviews4
Click here to find various book reviews from old school wrestlers.
KM Links 4
For tons of links to old school related sites, click
here
.
KM Micro Wrestlers4
What are Micro Wrestlers? Click here
to find out.
KM Interviews... 4
Click here to read exclusive interviews with stars from the regional territories.
www.kayfabememories.com is © 2004 AtomDesigns. All promotional art, characters, logos and other depictions are © their respective owners. All Rights Reserved.
All contents save Wrestler Stories are © Kayfabe Memories.
Website designed and maintained by AtomDesigns © 2004 . If you experience any problems with this site or have any questions, please contact the Webmaster.
Mid-South Memories
- Max Levy
The Many Humiliations of Jim Cornette
No one can say that Jim Cornette didnít give his all for professional wrestling. During 1984 Jim Cornette was a one-man hurricane in the Mid-South territory. He shot off his mouth and swung a mean tennis racquet. Of course he would have to pay for all this and to say that he went above and beyond the call of duty is an understatement. When The Midnight Express won the Mid-South Tag Team Title Jim and his team brought a cake to celebrate the win. Of course Jim wound up getting hit in the face with the cake by The Rock n Roll Express. Cowboy Bill Watts found the whole thing so amusing that they ran it continuously during the remainder of the TV program. Jim Cornette was not as amused and told Bill Watts so in no uncertain terms taking some cruel shots at Billís son Joel. Watts slapped Jim across the face. The following week Jim Cornette and The Midnight Express delivered a brutal beating to Watts. The Cowboy was bloody, but unbowed. You didnít cross Cowboy Bill Watts without expecting some kind of payback. Payback came via matches in the spring of 1984 pitting Cowboy Bill Watts and Junkyard Dog (once again under the mask of Stagger Lee) against The Midnight Express. When Watts and Stagger got the wins Jim Cornette was stripped to his drawers, diapered and forced to wear a bonnet and suck a pacifier. Watts had said that if Cornette wanted to act like a baby then heíd look like one.
Later on in 1984 Jim Cornette had taken a turn at managing Hercules Hernandez. Officially Herc was Jimís bodyguard, but soon he was defending his managerís honor against Hacksaw Jim Duggan. The battle came down to a bout in New Orleans in the fall of 1984. Hercules faced Duggan with the loser getting his head shaved. Duggan seemed to have an edge with Steve Williams as referee, but Doctor Death threw the bout to Hercules after a devious heel turn. However before Duggan lost a hair, his fellow babyfaces arrived to save the day. They all grabbed Jim Cornette and tried to shave his hair instead. There was one problem. The clippers wouldnít work. It was time to improvise and boy did Jim ever pay the price. The wrestlers shaved Jimís head with disposable razor blades. It worked, but boy did Jim ever feel the pain from that haircut. Bald, Jim took to wearing a mask to hide his embarrassment. Once again Jim Cornette had suffered great humiliation and entertained us all in the process.
Butch and Buddy
Rarely has such an ill matched duo clicked as well as Hacksaw Butch Reed and Nature Boy Buddy Landel. Nevertheless this team ran over Mid-South wrestling like a Mack Truck during 1984. Their contrasts may have been great, but it also may have been the element that made the team click. Reed was a powerhouse and one mean dude with no qualms about backing it up.
More...
If you'd like to discuss the Mid-South region with other fans, please visit the KM Message Board

KM DVD/VHS Store 4
Click here to purchase DVD or VHS products direct from the official distributors.
KM Replica Masks 4
Click here to purchase pro quality replica wrestling masks of all your favorite old school masked wrestlers.
KM Store 4
The KM Store now features products featuring the GCW logo as well as some other very cool images. To see what's new and to purchase T-Shirts, ball caps, mouse pads and more, click here.
KM Message Board 4
Want to chat with other fans of regional wrestling? This message board has forums for over two dozen promotions. Click here.
KM Belt Gallery 4
This section contains an extensive title belt gallery... images of heavyweight, tag, U.S. and various regional title belts. To view it, click here.
Old School Tape Review 4
Reviews of various PPV's, commercial tapes and regional wrestling TV shows are available in this section. To read more, click here.
Website designed & maintained by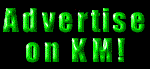 Thanks for visiting!