Regional Territories 4
This section contains monthly articles on over two dozen territories. To relive those wonderful days of old, click here.
Wrestlers 4
Enter this section for bios/profiles of various wrestlers from the regional days. To find more out about your favorite pro wrestler, click here.
Stories 4
This section contains stories from the pros themselves told exclusively to Kayfabe Memories. Want to know more as told from the wrestlers themselves? Click here.
Old School Book Reviews4
Click here to find various book reviews from old school wrestlers.
KM Links 4
For tons of links to old school related sites, click
here
.
KM Micro Wrestlers4
What are Micro Wrestlers? Click here
to find out.
KM Interviews... 4
Click here to read exclusive interviews with stars from the regional territories.
www.kayfabememories.com is © 2004 AtomDesigns. All promotional art, characters, logos and other depictions are © their respective owners. All Rights Reserved.
All contents save Wrestler Stories are © Kayfabe Memories.
Website designed and maintained by AtomDesigns © 2004 . If you experience any problems with this site or have any questions, please contact the Webmaster.
- Scott Williams
I've been staring at a computer screen for longer than I'm accustomed. I am a professional writer, but starting this piece has been an extraordinarily difficult task. Among other things, I am a longtime reader of Max Levy's various writings, and have always admired his passion and enthusiasm. As such, I will not even try to echo his style, but will probably give my own perspective on some of the many topics he covered in this space.
For more than half my life, I have maintained that Mid-South Wrestling was the best televised professional wrestling of all time, and I've had extensive exposure to a number of other territories. Over the years, missing a wrestling show has left me angry, disappointed and indifferent. Mid-South was the only show I was ever actually afraid to miss, because I knew I'd miss something big.
Even today, Mid-South Wrestling is the stuff of legend, the stuff serious tape traders know they have to have. The weird thing is, those of us who lived through that period had little inkling of just how lucky we were. We knew we were watching good stuff, but only in retrospect, and within the context of seeing what everything was like then (and since), is it clear just how good Mid-South was.
The great thing about Mid-South was that the stories that led to the big matches were always surprising, but always made sense. These days, nonsensical turns and swerves abound. They're surprising, too, but often make for disjointed storytelling. As legendary message board poster Crimson Mask has pointed out on more than one occasion, Mid-South head honcho Bill Watts learned about telling a story to a wrestling audience from Eddie Graham, one of the true masters. Looking at Mid-South shows, it's apparent that Watts also absorbed lessons from many of the promoters he worked for as a wrestler - Roy Shire, Vincent J. McMahon and Verne Gagne, among others. Watts, however, took it to another level, in my opinion. He knew how to tell a story in a way that was both logical and would draw the passion of his audience and have them begging for what he planned to deliver.
Case in point - Michael Hayes. In 1980, one of the decade's most famous angles occurred when the Freebirds blinded Junkyard Dog during a tag match with Dog and Buck Robley versus Terry Gordy and Buddy Roberts. The Freebirds made fun of the Dog weekly, as the latter was forced out of action with his new handicap. While Mid-South told sad stories of the Dog missing the chance to see his newborn daughter, Michael Hayes was showing up on TV wearing sunglasses and tapping a blind man's cane, for laughs. After several weeks of this, the Dog convinced officials to let him have Hayes (at the time, the non-wrestling, trash-talking third of the 'Birds) in a dog-collar match, where his "blindness" would not be a factor.
The match headlined a card that set a wrestling attendance record in New Orleans' Superdome. Done today, the same angle never would have worked, because it all would have unfolded over the course of a week. By stringing it out over several weeks, Mid-South had people dying to see Hayes get what was coming to him. A similar situation erupted in 1984, with Jim Cornette and the Last Stampede. Each part of the tale, the initial slap of Cornette by Watts, the responding attack by the Midnight Express, Watts' search for a tag partner, took place on a different week.
More...
If you'd like to discuss the Mid-South region with other fans, please visit the KM Message Board

KM DVD/VHS Store 4
Click here to purchase DVD or VHS products direct from the official distributors.
KM Replica Masks 4
Click here to purchase pro quality replica wrestling masks of all your favorite old school masked wrestlers.
KM Store 4
The KM Store now features products featuring the GCW logo as well as some other very cool images. To see what's new and to purchase T-Shirts, ball caps, mouse pads and more, click here.
KM Message Board 4
Want to chat with other fans of regional wrestling? This message board has forums for over two dozen promotions. Click here.
KM Belt Gallery 4
This section contains an extensive title belt gallery... images of heavyweight, tag, U.S. and various regional title belts. To view it, click here.
Old School Tape Review 4
Reviews of various PPV's, commercial tapes and regional wrestling TV shows are available in this section. To read more, click here.
Website designed & maintained by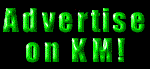 Thanks for visiting!