Regional Territories 4
This section contains monthly articles on over two dozen territories. To relive those wonderful days of old, click here.
Wrestlers 4
Enter this section for bios/profiles of various wrestlers from the regional days. To find more out about your favorite pro wrestler, click here.
Stories 4
This section contains stories from the pros themselves told exclusively to Kayfabe Memories. Want to know more as told from the wrestlers themselves? Click here.
Old School Book Reviews4
Click here to find various book reviews from old school wrestlers.
KM Links 4
For tons of links to old school related sites, click
here
.
KM Micro Wrestlers4
What are Micro Wrestlers? Click here
to find out.
KM Interviews... 4
Click here to read exclusive interviews with stars from the regional territories.
www.kayfabememories.com is © 2004 AtomDesigns. All promotional art, characters, logos and other depictions are © their respective owners. All Rights Reserved.
All contents save Wrestler Stories are © Kayfabe Memories.
Website designed and maintained by AtomDesigns © 2004 . If you experience any problems with this site or have any questions, please contact the Webmaster.
- Scott Williams
When people with Mid-South memories talk about the legendary wrestlers of the region, the usual list of suspects' names comes up -- Bill Watts, Ted DiBiase, Junkyard Dog, Killer Karl Kox, Jim Duggan and various tag teams with the word "express" in their names.

A lot of people overlook "Hacksaw" Butch Reed, a major player who was great on the microphone and in the ring, as a face or heel, a man who tried ably to fill the main event void left by the biggest babyface draw in Mid-South history. This is the first of a two-part look at the history of one of the great, unheralded pro wrestlers of the 1980s.

Bruce Reed, occasionally called "Hacksaw" Reed, had made his biggest mark in the wrestling world in Georgia and Florida, as a fiery, athletic babyface with just a little bit of attitude. In Mid-South, Bruce became permanently known as Butch, and that little bit of attitude turned into nothing but attitude.
Reed joined Mid-South in 1982, as a friend and partner to Junkyard Dog. Dog, as the lead babyface, had endured a series of turns by his best friends. Reed would prove to be no exception.

Reed's first big singles feud was with Hacksaw Jim Duggan, who wanted to be sole owner of the nickname. At the time, Duggan was far from the jolly, flag-waving fan favorite most folks remember. Instead, he was one-third of Ted DiBiase's diabolical Rat Pack, along with DiBiase (who had turned on JYD months earlier) and Matt Borne. In a tournament for the vacant North American title held in 1983 and eventually won by Junkyard Dog (whose alter-ego Stagger Lee had given up the belt), Reed beat Duggan in an early round, but the two Hacksaws would meet again in the tournament.
As Reed faced off against Mr. Olympia, the inevitable ref bump occurred. Duggan ran in, wearing a strange mask/helmet that seemed by accentuate the spear. He used the move on Reed, leaving him easy pickings for Olympia, the tournament's other eventual finalist.

Duggan helping Olympia would prove ironic, because Olympia's allegiances would spur Duggan's turn, which would, in turn, spur Reed's.
Olympia, a longtime babyface and former partner of JYD (see the pattern?), had taken on Skandor Akbar as manager and was teaming with DiBiase, Duggan's Rat Pack buddy. Duggan was not happy about his fellow Rat Packer hooking up with Akbar, who had managed the Iron Sheik. The implication was that Duggan had lost a relative in the botched attempt to rescue the Iranian hostages in 1979. DiBiase promised Duggan he'd split from Akbar, only to (surprise!) turn on him at the earliest opportunity.

So, what does all of this DiBiase-Duggan stuff have to do with Butch Reed? Well, when Mid-South let fans pick a partner for JYD, they picked the freshly betrayed Duggan, not the longtime loyalist Reed.
Reed was not happy about the outcome, and got to thinking. What he came up with breathed new life into his career and gave Mid-South one of its best heels ever. Reed said Dog could have his tag-team with Duggan, because Reed was only worried about one thing.
More...
If you'd like to discuss the Mid-South region with other fans, please visit the KM Message Board

KM DVD/VHS Store 4
Click here to purchase DVD or VHS products direct from the official distributors.
KM Replica Masks 4
Click here to purchase pro quality replica wrestling masks of all your favorite old school masked wrestlers.
KM Store 4
The KM Store now features products featuring the GCW logo as well as some other very cool images. To see what's new and to purchase T-Shirts, ball caps, mouse pads and more, click here.
KM Message Board 4
Want to chat with other fans of regional wrestling? This message board has forums for over two dozen promotions. Click here.
KM Belt Gallery 4
This section contains an extensive title belt gallery... images of heavyweight, tag, U.S. and various regional title belts. To view it, click here.
Old School Tape Review 4
Reviews of various PPV's, commercial tapes and regional wrestling TV shows are available in this section. To read more, click here.
Website designed & maintained by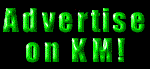 Thanks for visiting!