Regional Territories 4
This section contains monthly articles on over two dozen territories. To relive those wonderful days of old, click here.
Wrestlers 4
Enter this section for bios/profiles of various wrestlers from the regional days. To find more out about your favorite pro wrestler, click here.
Stories 4
This section contains stories from the pros themselves told exclusively to Kayfabe Memories. Want to know more as told from the wrestlers themselves? Click here.
Old School Book Reviews4
Click here to find various book reviews from old school wrestlers.
KM Links 4
For tons of links to old school related sites, click
here
.
KM Micro Wrestlers4
What are Micro Wrestlers? Click here
to find out.
KM Interviews... 4
Click here to read exclusive interviews with stars from the regional territories.
www.kayfabememories.com is © 2004 AtomDesigns. All promotional art, characters, logos and other depictions are © their respective owners. All Rights Reserved.
All contents save Wrestler Stories are © Kayfabe Memories.
Website designed and maintained by AtomDesigns © 2004 . If you experience any problems with this site or have any questions, please contact the Webmaster.
- Scott Williams

By the end of summer 1984, one war was over and another was well underway.



The war underway was the one World Wrestling Federation head Vincent K. McMahon had declared on all the regional promoters who stood between him and national dominance of the wrestling scene.

The Mid-South states made up a particularly brutal battleground. Mid-South shows typically trounced WWF shows in the area when events were held head-to-head in the same area, as was usually the case.

McMahon had been signing top stars from every territory and had his eyes on Mid-South's top dog (pardon the pun) -- The Junkyard Dog. His acquisition of Mid-South's main man effectively ended the two-year war between JYD and his former partner, "Hacksaw" Butch Reed.

JYD was in the middle of a heated feud with Reed in summer 1984, when JYD simply stopped showing up for matches.

Shows where JYD had been advertised were quickly shuffled. One Houston show had promised a cage match between JYD and Butch Reed. With no JYD, Reed ran in on a Hacksaw Duggan-Hercules Hernandez coal miner's glove match, giving Hercules the win. Later, they made the announcement that JYD would not be appearing, and the top babyfaces gathered to see who would face Reed in the cage that night.

Duggan put an end to any debate by demanding the match, which he received and won.



It was one thing to leave a promotion that had made you a star. It was quite another to leave without notice, knowing the promotion had advertised you for a couple of weeks' worth of shows. Mid-South owner Bill Watts buried JYD at every opportunity, showing losses on TV. Watts explained to fans that Butch Reed had simply put too much pressure on the Dog for him to handle, so JYD simply left for a place "where the competition wasn't as tough."

Reed had a short-lived feud with Master G (George Wells), a former partner of Reed's who came to Mid-South to stick up for JYD. It didn't get over, mostly because Wells did not have even a fraction of the unearthly charisma JYD possessed.

Watts was a big believer in the African-American lead babyface who could transcend racial lines. JYD was gone, however. Master G was a flop. Who would be Mid-South's next big hero?

For Mid-South, today's leading villain would become tomorrow's super-hero.

It all started when General Skandor Akbar and Ted DiBiase returned to Mid-South. Akbar had pledged to dominate the area more completely than ever before. The first few weeks showed he wasn't kidding around, as he had "associate" Ted DiBiase, the Missing Link and Killer Khan backing him up.

The latter two didn't stay long in Mid-South, but Akbar had another star in mind. To that end he gave Buddy Landel a Rolex watch and orders to "get the job done."

The next week, while announcing his signing of Hercules Hernandez, Akbar noticed Landel wearing the watch and told him to do the job he had promised.

"You know where that watch is supposed to go," a perturbed Akbar told the Nature Boy.

Landel said he was just keeping it polished and assured Akbar he'd get the job done.

"If the Nature Boy tells you he's going to do something, then take it to the bank, brother," he said.

If I go into great detail here, it's only because this is one of my three all-time favorite angles in Mid-South.

Reed was up next, set to wrestle what appeared to be an uneventful squash match.

More...

If you'd like to discuss the Mid-South region with other fans, please visit the KM Message Board

KM DVD/VHS Store 4
Click here to purchase DVD or VHS products direct from the official distributors.
KM Replica Masks 4
Click here to purchase pro quality replica wrestling masks of all your favorite old school masked wrestlers.
KM Store 4
The KM Store now features products featuring the GCW logo as well as some other very cool images. To see what's new and to purchase T-Shirts, ball caps, mouse pads and more, click here.
KM Message Board 4
Want to chat with other fans of regional wrestling? This message board has forums for over two dozen promotions. Click here.
KM Belt Gallery 4
This section contains an extensive title belt gallery... images of heavyweight, tag, U.S. and various regional title belts. To view it, click here.
Old School Tape Review 4
Reviews of various PPV's, commercial tapes and regional wrestling TV shows are available in this section. To read more, click here.
Website designed & maintained by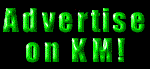 Thanks for visiting!