Regional Territories 4
This section contains monthly articles on over two dozen territories. To relive those wonderful days of old, click here.
Wrestlers 4
Enter this section for bios/profiles of various wrestlers from the regional days. To find more out about your favorite pro wrestler, click here.
Stories 4
This section contains stories from the pros themselves told exclusively to Kayfabe Memories. Want to know more as told from the wrestlers themselves? Click here.
Old School Book Reviews4
Click here to find various book reviews from old school wrestlers.
KM Links 4
For tons of links to old school related sites, click
here
.
KM Micro Wrestlers4
What are Micro Wrestlers? Click here
to find out.
KM Interviews... 4
Click here to read exclusive interviews with stars from the regional territories.
www.kayfabememories.com is © 2004 AtomDesigns. All promotional art, characters, logos and other depictions are © their respective owners. All Rights Reserved.
All contents save Wrestler Stories are © Kayfabe Memories.
Website designed and maintained by AtomDesigns © 2004 . If you experience any problems with this site or have any questions, please contact the Webmaster.
- Scott Williams
The Rat Pack takes the cheese -- Mid-South tag champions Ted DiBiase and Matt Borne
The Louisiana State Fair was in town on Oct. 27, 1982, the day Ted DiBiase and Matt Borne's Mid-South tag title reign began, but there was nothing fair about their win.
That particular episode of Mid-South Wrestling opened with Bill Watts welcoming Houston promoter Paul Boesch to the Mid-South fold (Boesch had just stopped promoting with Southwest Wrestling and was making his first appearance on Mid-South TV). Watts was also welcoming a group of kids to the fair, along with a gorilla, who was apparently a mascot of the state fair.
The air was celebratory, and would be commemorated by a special match -- a no-disqualification match between Junkyard Dog & the masked Mr. Olympia defending the Mid-South tag titles against Ted DiBiase and Hacksaw Duggan, in which the loser of the fall would have to leave Mid-South for 90 days. After a pair of wild melees ending in questionable DQ finishes, Mid-South had apparently decided this match would settle the issue between the two teams.
However, Watts announced that the scheduled match had been changed. Borne would be substituting for Duggan, who DiBiase said was mysteriously out of pocket. Ever the subtle soul, Watts speculated that with Duggan's wild personality, he could well be incarcerated somewhere. As for Borne, DiBiase had flown him in, and Watts wondered if that meant DiBiase was lacking confidence and was willing to sacrifice Borne, who "doesn't wrestle here anyway."
DiBiase still wore the North American title he had won by turning on his former friend JYD and nailing him with the dreaded loaded glove. If DiBiase was the one to be pinned, as it would have been hard for him to honor the requirement of defending the title once every 30 days while sitting out a 90-day departure.
The match began with a flurry, as JYD and Olympia pummeled their heinous foes out of the ring. In the match, DiBiase could not match strength with JYD and found himself on the wrong end of more than one exchange. Tags were frequent and the match went back and forth until DiBiase and Borne got Olympia in trouble. Finally, Olympia made the tag and the crowd exploded. JYD cleaned house, got the object out of DiBiase's glove and began cleaning house before the Rat Pack's nefarious plot was revealed.
The state fair gorilla jumped onto the apron and tore off his mask to reveal Jmi Duggan! Duggan speared JYD, DiBiase got his object back and nailed the Dog with the once-more loaded glove. He got the pin, and the crowd went silent, stunned by the outcome. Watts was despondent. After, the Rat Pack celebrated that the JYD era was over. The trio was now loaded with gold, with DiBiase also holding the North American title and Duggan holding the Louisiana state title. They had a right to be pleased, but probably should have known better than to write off JYD so quickly.
Soon after, DiBiase was scheduled to wrestle S. Lee, when a skinny young man unfurled a banner saying "S. Lee is Stagger Lee." DiBiase demanded, "Big deal! Who is Stagger Lee?" More...
If you'd like to discuss the Mid-South region with other fans, please visit the KM Message Board

KM DVD/VHS Store 4
Click here to purchase DVD or VHS products direct from the official distributors.
KM Replica Masks 4
Click here to purchase pro quality replica wrestling masks of all your favorite old school masked wrestlers.
KM Store 4
The KM Store now features products featuring the GCW logo as well as some other very cool images. To see what's new and to purchase T-Shirts, ball caps, mouse pads and more, click here.
KM Message Board 4
Want to chat with other fans of regional wrestling? This message board has forums for over two dozen promotions. Click here.
KM Belt Gallery 4
This section contains an extensive title belt gallery... images of heavyweight, tag, U.S. and various regional title belts. To view it, click here.
Old School Tape Review 4
Reviews of various PPV's, commercial tapes and regional wrestling TV shows are available in this section. To read more, click here.
Website designed & maintained by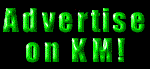 Thanks for visiting!