Regional Territories 4
This section contains monthly articles on over two dozen territories. To relive those wonderful days of old, click here.
Wrestlers 4
Enter this section for bios/profiles of various wrestlers from the regional days. To find more out about your favorite pro wrestler, click here.
Stories 4
This section contains stories from the pros themselves told exclusively to Kayfabe Memories. Want to know more as told from the wrestlers themselves? Click here.
Old School Book Reviews4
Click here to find various book reviews from old school wrestlers.
KM Links 4
For tons of links to old school related sites, click
here
.
KM Micro Wrestlers4
What are Micro Wrestlers? Click here
to find out.
KM Interviews... 4
Click here to read exclusive interviews with stars from the regional territories.
www.kayfabememories.com is © 2004 AtomDesigns. All promotional art, characters, logos and other depictions are © their respective owners. All Rights Reserved.
All contents save Wrestler Stories are © Kayfabe Memories.
Website designed and maintained by AtomDesigns © 2004 . If you experience any problems with this site or have any questions, please contact the Webmaster.
- Scott Williams
Akbar or Cornette? Cornette or Akbar? Many excellent managers campaigned in Mid-South Wrestling. However, with respect to Rock Hunter, Michael Hayes, Gary Hart, Sir Oliver Humperdink and Ernie Ladd, two stand out in Mid-South. Two managers caused more hatred among Mid-South fans and blazed their signatures across the territory. Skandor Akbar and Jim Cornette were, with all due respect to the other managers listed above, the top two managers in Mid-South history.
But which was number one? I was at a loss to crown one of these fine gentlemen as the top manager in Mid-South history, until I managed to reach statistical professor Otto. M. Basil, younger brother of famed sports psychologist Sidney M. Basil (whose psychological profiles of wrestlers you've no doubt read in such fine publications as "Pro Wrestling Illustrated" and "Inside Wrestling").
Professor Basil rates as such:
1. Physicality
No contest. Akbar was a former North American heavyweight champion, and a very good pro wrestler in the 1970s. This translated well for Akbar the manager, who would issue blustery challenges to any and every foe. Cornette's whole gimmick was that he was too wimpy to get in the ring himself. He would never call someone out for a physical challenge with him, but instead used his mouth to lure opponents out so they could receive a Midnight Express beating.
Score:
Akbar: 10
Cornette: 1
2. Stable of talent
Cornette managed what was arguably the best tag-team in Mid-South history, Dennis Condrey and Bobby Eaton, plus he guided Hercules Hernandez for a few months. Where the Midnight Express was concerned, Cornette was a constant and vice versa. You never saw one without the other. It was always "Cornette and the Midnight Express." I don't know that there was another manager (maybe Bobby Heenan with Nick Bockwinkel in the AWA) who was so identified with one wrestler or team. Cornette also worked in the corner of the team of Steve Williams and Cornette bodyguard Hercules Hernandez a few times and came back to Mid-South TV for one shot guiding the Guerreros against hated foes the Rock & Roll Express.
Akbar managed a stable of wrestlers that rotated fairly often, but he boasted some incredible talent over the years. In Mid-South, his charges included Kamala, The Missing Link, The Samoans, Buddy Landel, The Iron Sheik, One Man Gang, Kareem Muhammed, "Sheik" Hercules Hernandez, Mr. Olympia, Killer Khan and El Corsario, plus numerous others. Plus, he had "associate" Ted DiBiase and occasionally stood in the corner of Steve Williams when Williams teamed with one of his men.
This one's close, with Cornette getting points for consistency, but Akbar winning out for breadth of talent.
Score:
Akbar: 10
Cornette: 7
3. Dastardly deeds
Where to begin? Akbar set fire to Hacksaw Duggan, Ricky Morton and Mike Graham, nearly ending Duggan's career, maiming Morton and driving Graham from Mid-South a mere week after Graham's debut. He put bounties on Duggan, Bill Watts, Junkyard Dog and many others.
Cornette orchestrated the tarring and feathering of Magnum T.A., ran in on a Rock & Roll Express match in drag to hit Ricky Morton with a loaded purse and whacked pretty much the entire roster of babyfaces with a tennis racquet at one time or another. In 1984, Mid-South instituted a $10,000 fine for any use of chairs, tennis rackets, chains or boards. Cornette set up the Fantastics at a contract signing that ended in a series of brutal chair shots and laughed later about how little the fine meant to his wealthy self.
More...
If you'd like to discuss the Mid-South region with other fans, please visit the KM Message Board

KM DVD/VHS Store 4
Click here to purchase DVD or VHS products direct from the official distributors.
KM Replica Masks 4
Click here to purchase pro quality replica wrestling masks of all your favorite old school masked wrestlers.
KM Store 4
The KM Store now features products featuring the GCW logo as well as some other very cool images. To see what's new and to purchase T-Shirts, ball caps, mouse pads and more, click here.
KM Message Board 4
Want to chat with other fans of regional wrestling? This message board has forums for over two dozen promotions. Click here.
KM Belt Gallery 4
This section contains an extensive title belt gallery... images of heavyweight, tag, U.S. and various regional title belts. To view it, click here.
Old School Tape Review 4
Reviews of various PPV's, commercial tapes and regional wrestling TV shows are available in this section. To read more, click here.
Website designed & maintained by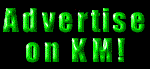 Thanks for visiting!