Regional Territories 4
This section contains monthly articles on over two dozen territories. To relive those wonderful days of old, click here.
Wrestlers 4
Enter this section for bios/profiles of various wrestlers from the regional days. To find more out about your favorite pro wrestler, click here.
Stories 4
This section contains stories from the pros themselves told exclusively to Kayfabe Memories. Want to know more as told from the wrestlers themselves? Click here.
Old School Book Reviews4
Click here to find various book reviews from old school wrestlers.
KM Links 4
For tons of links to old school related sites, click
here
.
KM Micro Wrestlers4
What are Micro Wrestlers? Click here
to find out.
KM Interviews... 4
Click here to read exclusive interviews with stars from the regional territories.
www.kayfabememories.com is © 2004 AtomDesigns. All promotional art, characters, logos and other depictions are © their respective owners. All Rights Reserved.
All contents save Wrestler Stories are © Kayfabe Memories.
Website designed and maintained by AtomDesigns © 2004 . If you experience any problems with this site or have any questions, please contact the Webmaster.
- Scott Williams
Racquets all loaded with horseshoes and chains,
Gloves that are loaded to bring a man pain,
Steel chairs that knock a man straight from the ring,
These are a few of my favorite things ...
Foreign objects have been a staple of wrestling for decades in numerous territories, but no one knew quite how to get as much heat or mileage out of them as Bill Watts and Mid-South Wrestling, nearly to the point of overuse. Mid-South's board of directors apparently agreed, as as they tried to ban the most common objects when things were getting out of hand.
At one time or another, it seems like every heel had a loaded something, but a few really stand out.
TENNIS, ANYONE?
One of the most notorious objects in Mid-South was the tennis racquet of Jim Cornette, manager of the Midnight Express. Many matches involving the Express ended with Cornette whacking one of his team's opponents in the back, knocking the wrestler out.
At one point during their 1984 reign of terror, Bill Watts got a Cornette racquet and opened it. The question had been, "How could a tennis racquet cause that much damage?" The answer was that the racquet was loaded! A horseshoe was in the middle of the netting, kept in place by chains wrapped around it.
Cornette also used ether-soaked rags and bags containing washers (purported to be gold coins), among other things, but the tennis racquet will always be the one most associated with him.
LOADED QUESTIONS
In Mid-South, injuries or disabilities could lead to months or years of ill-gotten wins. Mid-South owner Bill Watts was certainly not the first to use the rehabilitative device as an illegal weapon, but his might have been the region that got the most mileage out of them.
In 1985, Steve "Dr. Death" Williams was wrestling "Hacksaw" Jim Duggan in one of many grudge matches the two had over the past and next few months.
At one point, Williams ended up wrapping his arm around the ringpost. Soon after, he showed up with a protective arm brace, to help with the "stress fracture" he had suffered in the Duggan match. Soon enough, its purpose became apparent, and Dr. Death's clothesline (applies with the injured arm) suddenly became deadly, once an "adjustment" of the arm occurred.
Another star who turned weakness into strength was the mysterious Grappler. The silver-masked man debuted in 1981, with a doctor's note explaining that he had to wear an orthopedic wrestling boot with a thicker sole on one foot, because one of his legs was shorter than the other. Sure enough, when Grappler would get into trouble, he would tap his foot forcefully (which apparently unlocked some mysterious object). He would then launch a deadly kick. Of course, no one ever proved the Grappler loaded his boot.
Loading seemed to be a popular activity, especially among masked men. Mr. Wrestling II used a loaded kneepad during his brief 1984 heel stint, and the Nightmare loaded his mask more than once.
The loaded object that had the most impact over the longest period of time in Mid-South, however, was the loaded glove of Ted DiBiase. The glove made its first appearance on the injured hand of a babyface DiBiase, who found himself challenging his best friend Junkyard Dog for the North American title in 1982.
After a clean match, the action got a little heavy and Dog fell out of the ring. Instead of helping his friend back in, as Dog had done for him earlier, DiBiase turned his back to the referee and adjusted the glove, as if moving something inside it. When Dog came in, DiBiase nailed him with a punch that leveled the Dog, and gave DiBiase the three count and the title.
More...
If you'd like to discuss the Mid-South region with other fans, please visit the KM Message Board

KM DVD/VHS Store 4
Click here to purchase DVD or VHS products direct from the official distributors.
KM Replica Masks 4
Click here to purchase pro quality replica wrestling masks of all your favorite old school masked wrestlers.
KM Store 4
The KM Store now features products featuring the GCW logo as well as some other very cool images. To see what's new and to purchase T-Shirts, ball caps, mouse pads and more, click here.
KM Message Board 4
Want to chat with other fans of regional wrestling? This message board has forums for over two dozen promotions. Click here.
KM Belt Gallery 4
This section contains an extensive title belt gallery... images of heavyweight, tag, U.S. and various regional title belts. To view it, click here.
Old School Tape Review 4
Reviews of various PPV's, commercial tapes and regional wrestling TV shows are available in this section. To read more, click here.
Website designed & maintained by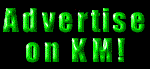 Thanks for visiting!