Regional Territories 4
This section contains monthly articles on over two dozen territories. To relive those wonderful days of old, click here.
Wrestlers 4
Enter this section for bios/profiles of various wrestlers from the regional days. To find more out about your favorite pro wrestler, click here.
Stories 4
This section contains stories from the pros themselves told exclusively to Kayfabe Memories. Want to know more as told from the wrestlers themselves? Click here.
Old School Book Reviews4
Click here to find various book reviews from old school wrestlers.
KM Links 4
For tons of links to old school related sites, click
here
.
KM Micro Wrestlers4
What are Micro Wrestlers? Click here
to find out.
KM Interviews... 4
Click here to read exclusive interviews with stars from the regional territories.
www.kayfabememories.com is © 2004 AtomDesigns. All promotional art, characters, logos and other depictions are © their respective owners. All Rights Reserved.
All contents save Wrestler Stories are © Kayfabe Memories.
Website designed and maintained by AtomDesigns © 2004 . If you experience any problems with this site or have any questions, please contact the Webmaster.
- Scott Williams

February is African-American History Month, and time to reflect upon the black stars who helped make Mid-South Wrestling the greatest territory of them all (that's right, Florida fan, put that in your juicer and see how it tastes!).

Truly, pro wrestling has much to be proud of in its treatment of African Americans. Remember the racial rainbow that shared in the triumph of the first black world's heavyweight champion around the time Hammerin' Hank was chasing down Ruth? How about all the great black wrestlers who carried and anchored promotions across this great land of ours? Or the way those wrestlers were treated with dignity, without having their race pointed to?

OK, so none of that happened. Black wrestlers in wrestling have historically been portrayed as primitive savages or ghetto street thugs, all with hard heads and a love for dancing in public. Most territories also never gave an African American a chance to headline on a regular basis. Mid-South did.

No one will confuse Mid-South boss Bill Watts with a card-carrying member of the American Civil Liberties Union anytime in the near future, but he decided in 1980 to build his company around a black athlete who had a great build, a unique gift of gab and off-the-charts charisma.

The man was Sylvester Ritter, whom Watts turned into The Junkyard Dog.

Watts did not put African Americans on top of his cards because of any liberal leanings. He knew a sizable portion of his audience was black, and he also had looked around and saw that other sports were dominated by black athletes. The fact that black wrestlers weren't dominating wrestling cards exposed the business, in his mind.

JYD transcended race and had a veritable rainbow of fans in Mid-South, from 1980 until his final departure in 1984.

One of JYD's earliest feuds in Mid-South was with Ernie Ladd and Ladd's protege, Bad Bad Leroy Brown.

Ladd, who might be the first black wrestler to play a strong heel role in the 1960s, was coming off a feud with Ray Candy, and the two drew what at the time was a record gate for Mid-South at the Superdome.

The feud did pretty well, but JYD's next major battle was the one that made him larger than life to fans in the Mid-South area.

It all started with a tag title match involving JYD and Buck Robley against the Freebirds (Terry Gordy and Buddy Roberts).

One thing seemed clear -- someone was going home bald.

Freebird Michael Hayes had come up with a special hair removal cream, and planned to use it on one of the Birds' foes that night.

As tended to happen in Mid-South, things got out of hand, Hayes ended up in the ring, and the cream ended up in JYD's eyes.

Soon after, it was announced the Dog had been permanently blinded and would never wrestle again. The Freebirds were so remorseful that they walked around in dark glasses, tapping canes.

Hayes soon learned regret, however, as he found himself booked against the blind Dog in the one match where the sight advantage would be minimal -- the dog collar match.

After thrashing Hayes, JYD announced his sight was coming back, and a hero was born.

Over the next few years, JYD overcame odds time and again. His friends, like Ted DiBiase, Butch Reed, Mr. Olympia, and Mr. Wrestling II, turned on him one by one, over the years, but the Dog always came out on top in the end.

In the end, what might have killed the Dog was the stinging indictment of the man who had created his persona.

More...

If you'd like to discuss the Mid-South region with other fans, please visit the KM Message Board

KM DVD/VHS Store 4
Click here to purchase DVD or VHS products direct from the official distributors.
KM Replica Masks 4
Click here to purchase pro quality replica wrestling masks of all your favorite old school masked wrestlers.
KM Store 4
The KM Store now features products featuring the GCW logo as well as some other very cool images. To see what's new and to purchase T-Shirts, ball caps, mouse pads and more, click here.
KM Message Board 4
Want to chat with other fans of regional wrestling? This message board has forums for over two dozen promotions. Click here.
KM Belt Gallery 4
This section contains an extensive title belt gallery... images of heavyweight, tag, U.S. and various regional title belts. To view it, click here.
Old School Tape Review 4
Reviews of various PPV's, commercial tapes and regional wrestling TV shows are available in this section. To read more, click here.
Website designed & maintained by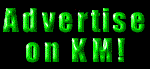 Thanks for visiting!