Regional Territories 4
This section contains monthly articles on over two dozen territories. To relive those wonderful days of old, click here.
Wrestlers 4
Enter this section for bios/profiles of various wrestlers from the regional days. To find more out about your favorite pro wrestler, click here.
Stories 4
This section contains stories from the pros themselves told exclusively to Kayfabe Memories. Want to know more as told from the wrestlers themselves? Click here.
Old School Book Reviews4
Click here to find various book reviews from old school wrestlers.
KM Links 4
For tons of links to old school related sites, click
here
.
KM Micro Wrestlers4
What are Micro Wrestlers? Click here
to find out.
KM Interviews... 4
Click here to read exclusive interviews with stars from the regional territories.
www.kayfabememories.com is © 2004 AtomDesigns. All promotional art, characters, logos and other depictions are © their respective owners. All Rights Reserved.
All contents save Wrestler Stories are © Kayfabe Memories.
Website designed and maintained by AtomDesigns © 2004 . If you experience any problems with this site or have any questions, please contact the Webmaster.
- Scott Williams
Ted DiBiase vs. Hacksaw Duggan, revisited: The Big Cheese Strikes Back
It was Fall 1984, and a lot of was going on in Mid-South. Hacksaw Duggan was feuding with Jim Cornette, Hercules Hernandez and Steve "Dr Death Williams." Butch Reed was dealing with Master G, and Magnum TA was fending off Ernie Ladd's challenge for the North American title.
One week, the show opened with Jim Ross and a very unusual co-host -- the long absent Skandor Akbar. Akbar announced he was back and mentioned Hacksaw Duggan by name, but even more ominous was this short sentence: "Ted will be here next week."
Ted, of course, was Ted DiBiase, the clean-cut scientific wrestler who became a barbaric mercenary in 1982 when he turned on his best friend, the Junkyard Dog. He formed and served as "the Big Cheese" of the "Rat Pack" with Duggan and Matt Borne, but that unit fell apart when Borne left the Mid-South area and DiBiase turned on Duggan, who was repulsed by his former friend's allegiance to the anti-American Akbar.
Duggan and DiBiase were truly opposite numbers. Duggan was a brawler with a sense of fair play and a proud patriot. DiBiase was a brilliant technical wrestler who cheated whenever he could and pledged allegiance only to the mighty dollar.
Duggan eventually won the war, driving DiBiase out of Mid-South in Fall 1983 after a final no-DQ grudge match. DiBiase had said he would leave if he lost, and for once, the devious one actually kept his word and spent the next 12 months terrorizing Georgia rings. Meanwhile, Duggan occupied himself with feuds against the Soviet super-team of Nikolai Volkoff and Krusher Khruschev, followed by a battle with Jim Cornette bodyguard Hercules Hernandez.
On the same episode in which the returning Akbar ominously promised "Ted" would return, longtime rival hacksaw Duggan was looking to settle another score with another long-time friend who had turned against him -- Steve "Dr. Death" Williams.
Williams had turned on Duggan months earlier, while serving as special referee in a match between Duggan and Hernandez. Even after Williams had earlier shown his selfish tendencies by refusing to give to new TV champion Terry Taylor the medal Williams had stolen from former champ Krusher Khruschev (see "The Kurious Kase of Krusher Khruschev"), Duggan kept him as a friend. His reward was treachery.
Now, the two were the farthest thing possible from being friends. Williams had taken to using a football helmet as a weapon, and Duggan brought one of his own, challenging Williams to go "right now," before Williams and tag partner Hercules Hernandez took on hopeless, pathetic losers Tim Horton and Shawn Michaels.
Alas, for the first time in weeks, Williams had forgotten his helmet. Who could doubt his sincerity? "I-- I forgot the helmet!"
The two agreed to take their frustrations out on each other next week, in a football helmet match.
The next week's show started with the promise of excitement. The Louisiana State Fair was in town, and as Bill Watts pointed out, something always seemed to happen when the fair was in town.
The buildup started with a Williams interview, as Dr. Death promised to bury Duggan "so deep, they're going to need a shovel to dig you out."
Duggan also had a prerecorded interview, in which he noted the he had played in the NFL, whereas Doc had only played in the USFL.
So, the match was set. But what about DiBiase, whose debut was also set for the show highlighted by the football helmet match. A prematch interview with Skandor Akbar had Akbar saying DiBiase would be at the TV studio, but was "running a little late." More...
If you'd like to discuss the Mid-South region with other fans, please visit the KM Message Board

KM DVD/VHS Store 4
Click here to purchase DVD or VHS products direct from the official distributors.
KM Replica Masks 4
Click here to purchase pro quality replica wrestling masks of all your favorite old school masked wrestlers.
KM Store 4
The KM Store now features products featuring the GCW logo as well as some other very cool images. To see what's new and to purchase T-Shirts, ball caps, mouse pads and more, click here.
KM Message Board 4
Want to chat with other fans of regional wrestling? This message board has forums for over two dozen promotions. Click here.
KM Belt Gallery 4
This section contains an extensive title belt gallery... images of heavyweight, tag, U.S. and various regional title belts. To view it, click here.
Old School Tape Review 4
Reviews of various PPV's, commercial tapes and regional wrestling TV shows are available in this section. To read more, click here.
Website designed & maintained by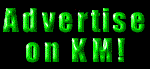 Thanks for visiting!