Regional Territories 4
This section contains monthly articles on over two dozen territories. To relive those wonderful days of old, click here.
Wrestlers 4
Enter this section for bios/profiles of various wrestlers from the regional days. To find more out about your favorite pro wrestler, click here.
Stories 4
This section contains stories from the pros themselves told exclusively to Kayfabe Memories. Want to know more as told from the wrestlers themselves? Click here.
Old School Book Reviews4
Click here to find various book reviews from old school wrestlers.
KM Links 4
For tons of links to old school related sites, click
here
.
KM Micro Wrestlers4
What are Micro Wrestlers? Click here
to find out.
KM Interviews... 4
Click here to read exclusive interviews with stars from the regional territories.
www.kayfabememories.com is © 2004 AtomDesigns. All promotional art, characters, logos and other depictions are © their respective owners. All Rights Reserved.
All contents save Wrestler Stories are © Kayfabe Memories.
Website designed and maintained by AtomDesigns © 2004 . If you experience any problems with this site or have any questions, please contact the Webmaster.
- Scott Williams
A Kayfabe Memory
I miscounted by a month. I had a story that I wanted to tell, but needed to wrap up the DiBiase-Duggan feud as well. Next month is my last Mid-South column, but it's also the Mid-South portion of what I think is the first KM crossover.
So, in the interest of the four or five readers (don't laugh -- I figure that's 60 to 75 percent of my KM readership) who were left hanging over the outcome of the second phase of the Ted DiBiase-Hacksaw Duggan feud, here's the Pro Wrestling Digest version.
The two traded wins at house shows before Duggan scored a series of wins that led to Duggan challenging for DiBiase's North American title. DiBiase squirmed through with title intact, but soon lost it to Terry Taylor.
In the meantime, DiBiase had brought Duggan to the point of no return, after smashing his car windshield with a baseball bat after losing a "best-dressed man" contest to the popular Hacksaw.
Finally, in April 1985, the feud culminated in a steel cage match, with a coal miner's glove on a 10-pole, street fight rules and both men wearing tuxedos. Duggan won, forcing DiBiase out of Mid-South for 30, per the terms of the match's final stipulation.
Anyway, I only skipped that story, so I could tell you this one.
About nine months after the wrap-up of the DiBiase-Duggan feud, Mid-South Wrestling was undergoing a radical change. DiBiase, long the most despicable heel in the territory, became a hero in the wake of his valiant performance against NWA world champion Ric Flair, following a vicious attack upon his person by Dick Murdoch.
Butch Reed was gone. For awhile, it looked like Jim Duggan would also depart. Duggan did leave for 30 days after dropping a series of unofficial loser-leaves matches with Buzz Sawyer in December 1985.
However, longtime favorite Terry Taylor was back, after a stint on TBS for Jim Crockett Promotions. Jake Roberts' feud with Dick Slater was just taking off, and after the attack by Murdoch, DiBiase and tag partner Steve "Dr Death" Williams had abruptly become the most popular tandem in Mid-South.
This was the atmosphere when I went to the Sam Houston Coliseum for the first wrestling show of January 1986. The night was capped off by a two-ring-battle royal, an annual tradition in Houston.
This year's edition was won by the returning Taylor, with some help from DiBiase. Masked Superstar and Dick Murdoch were working him over in the battle royal, having already given DiBiase a brainbuster on a chair after Murdoch and the Superstar lost a match on the show to DiBiase and Williams.
DiBiase staggered out to ringside, took out Murdoch and enabled Taylor to toss the Superstar to claim victory.
But wait -- DiBiase had been announced as not participating in the battle royal, meaning his interference rendered Taylor's win moot. The $25,000 in prize money remained unclaimed, and it would go to the winner of another battle royal, to be held two weeks later. In this one, called a "bunkhouse battle royal," participants could wear anything they wanted into the ring. Due to the brutality of the match, it would not be televised.
As a longtime fan of Steve "Dr. Death" Williams, I was certain he would wear his full football gear and would block, tackle and headbutt his way to victory. I had never looked forward to an upcoming wrestling event with quite as much anticipation. It was the feeling you can only know if your favorite wrestler turned heel years earlier, and you still couldn't quite bring yourself to boo for him, and now that he was turning back into a full-fledged hero, you could cheer him on in wide company as he scored what was sure to be a big victory. More...
If you'd like to discuss the Mid-South region with other fans, please visit the KM Message Board

KM DVD/VHS Store 4
Click here to purchase DVD or VHS products direct from the official distributors.
KM Replica Masks 4
Click here to purchase pro quality replica wrestling masks of all your favorite old school masked wrestlers.
KM Store 4
The KM Store now features products featuring the GCW logo as well as some other very cool images. To see what's new and to purchase T-Shirts, ball caps, mouse pads and more, click here.
KM Message Board 4
Want to chat with other fans of regional wrestling? This message board has forums for over two dozen promotions. Click here.
KM Belt Gallery 4
This section contains an extensive title belt gallery... images of heavyweight, tag, U.S. and various regional title belts. To view it, click here.
Old School Tape Review 4
Reviews of various PPV's, commercial tapes and regional wrestling TV shows are available in this section. To read more, click here.
Website designed & maintained by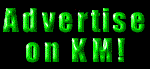 Thanks for visiting!