Regional Territories 4
This section contains monthly articles on over two dozen territories. To relive those wonderful days of old, click here.
Wrestlers 4
Enter this section for bios/profiles of various wrestlers from the regional days. To find more out about your favorite pro wrestler, click here.
Stories 4
This section contains stories from the pros themselves told exclusively to Kayfabe Memories. Want to know more as told from the wrestlers themselves? Click here.
Old School Book Reviews4
Click here to find various book reviews from old school wrestlers.
KM Links 4
For tons of links to old school related sites, click
here
.
KM Micro Wrestlers4
What are Micro Wrestlers? Click here
to find out.
KM Interviews... 4
Click here to read exclusive interviews with stars from the regional territories.
www.kayfabememories.com is © 2004 AtomDesigns. All promotional art, characters, logos and other depictions are © their respective owners. All Rights Reserved.
All contents save Wrestler Stories are © Kayfabe Memories.
Website designed and maintained by AtomDesigns © 2004 . If you experience any problems with this site or have any questions, please contact the Webmaster.
- Jason Hess
I feel as if I have taken a gigantic leap into a "great (un) known." While I have written about and have been familiar with Mid-South Wrestling as a part of the Houston territory, until now, I have never realized how much ground one can cover when writing about a territory as unique as Mid-South Wrestling.
I have had the fortune of having many come before me as the writer of this territory. Sean Rowland re-awakened my interest in a feud that I can't believe I ever forgot: Ted DiBiase vs. Dick Murdoch. Max Levy has such technical precision in his writing that I can seriously only hope to one day achieve. And, my good friend Scott Williams is a virtual treasure chest of Mid-South information and anecdotes.
To try and imitate these three men would only tarnish what they have written for us. However, as you and I get to know each other here in the Mid-South territory, you will indelibly see the influences of Mssrs. Rowland, Levy and Williams, as I hope to deliver the same excellence they brought to this territory.
An Introduction:
My name is Jason Hess, and I have lived in the Southern part of the United States all of my 30 years on planet Earth. Born in the city of the Mid-South TV tapings, Shreveport, Louisiana, in 1973, my family moved to another hot bed of Mid-South action, Houston, Texas, in 1975. Aside from a 2.5 year stay in Norfolk, Virginia, I have spent the rest of my time in Houston. Because of my residing in Houston, I have had the special privilege of seeing Mid-South as my first exposure to professional wrestling.
As a 9 year old boy whose parents had just divorced and mom had remarried, I was kind of in a turmoil (well, at least as much of a turmoil that a 9 year old can be in), and was looking for something to take away some of my pain. I happened to be up later than usual on a Saturday night, and flipped past KHTV Channel 39. I was instantly hypnotized by what I saw. The Junkyard Dog was moving and grooving his way to another victory, and I was instantly drawn in by what I witnessed. From that first day, I was hooked….primarily on Mid-South Wrestling.
When I became aware of other territories, and their availability on my television set, I still felt much like Scott Williams did when he voiced in his introductory Mid-South column, "I have maintained that Mid-South Wrestling was the best televised professional wrestling of all time." I can further echo Williams when he stated,"Mid-South was the only show I was ever actually afraid to miss, because I knew I'd miss something big." Boy, wasn't that the truth!! I would actually count down the minutes before a Saturday night viewing of Mid-South, especially if we were out…to make sure we "had enough time" to get home for the entire show!
All my parents needed to do to get me to comply, obey, or just do whatever was threaten to take my beloved Mid-South away from me. When grades would dip, or chores would slip, a swift reminder of potential lost privileges on a Saturday night would do the trick to snap me back into fighting shape.
I am quite thankful for tape trading now, as my "Mid-South Memories" have once again been rekindled. Viewing that footage made me a kid again. While we can endlessly debate the line where being a total mark ends and a smart mark/smark begins, one thing rings true for me personally: When I began to collect Mid-South tapes, I again became a mark. A mark for storytelling. A mark for logic. A mark for basic, solid ring action. A mark for the drama that could be squeezed out of a title chase, or a wrestler coming into his own right before my very eyes. I became a mark "renewed" due to the privilege of viewing Mid-South Wrestling again.
So many memories from the glory years of Mid-South flood my mind now, that I am a little unsure as to where to start. From the legendary Freebirds-JYD "hair-cream" angle of 1980 which drew a record crowd to the New Orleans Superdome (one record I believe still stands for pro wrestling), to Hacksaw Duggan costing the babyfaces a victory due to his "gorilla" costume, to the Magnum T.A.-Mr. Wrestling 2 "coach-student saga," to the "Last Stampede" of Bill Watts, to the bitter feuds involving the Dog with Ted DiBiase, the memories are just as vivid now as they were years ago. More...
If you'd like to discuss the Mid-South region with other fans, please visit the KM Message Board

KM DVD/VHS Store 4
Click here to purchase DVD or VHS products direct from the official distributors.
KM Replica Masks 4
Click here to purchase pro quality replica wrestling masks of all your favorite old school masked wrestlers.
KM Store 4
The KM Store now features products featuring the GCW logo as well as some other very cool images. To see what's new and to purchase T-Shirts, ball caps, mouse pads and more, click here.
KM Message Board 4
Want to chat with other fans of regional wrestling? This message board has forums for over two dozen promotions. Click here.
KM Belt Gallery 4
This section contains an extensive title belt gallery... images of heavyweight, tag, U.S. and various regional title belts. To view it, click here.
Old School Tape Review 4
Reviews of various PPV's, commercial tapes and regional wrestling TV shows are available in this section. To read more, click here.
Website designed & maintained by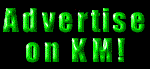 Thanks for visiting!