Regional Territories 4
This section contains monthly articles on over two dozen territories. To relive those wonderful days of old, click here.
Wrestlers 4
Enter this section for bios/profiles of various wrestlers from the regional days. To find more out about your favorite pro wrestler, click here.
Stories 4
This section contains stories from the pros themselves told exclusively to Kayfabe Memories. Want to know more as told from the wrestlers themselves? Click here.
Old School Book Reviews4
Click here to find various book reviews from old school wrestlers.
KM Links 4
For tons of links to old school related sites, click
here
.
KM Micro Wrestlers4
What are Micro Wrestlers? Click here
to find out.
KM Interviews... 4
Click here to read exclusive interviews with stars from the regional territories.
www.kayfabememories.com is © 2004 AtomDesigns. All promotional art, characters, logos and other depictions are © their respective owners. All Rights Reserved.
All contents save Wrestler Stories are © Kayfabe Memories.
Website designed and maintained by AtomDesigns © 2004 . If you experience any problems with this site or have any questions, please contact the Webmaster.
- Jason Hess
If there is one thing that always characterized Mid-South Wrestling, it would have to be the angles. Sure, the action was always great, and the announcing superb. But to many, including myself, it was the angles that drew us in and hooked us. Looking back, the angles made us want to go to our local arena and see the aftermath in person.
As it has been stated by many, both here on this website and message board, and by others within and without the professional wrestling industry, Bill Watts had a knack for creating compelling television that would hook the viewer in. Watts was a great storyteller, and almost always had near-perfect logic behind everything he did as a booker-matchmaker. While one could pick any year of Mid-South's history to vividly illustrate Watt's precision as an educator to what fans "wanted to see," we will start our journey here by looking at some angles from the year 1983.
We are picking 1983, primarily for one reason: It was the calm before the storm. It was the last real year of true territorial wrestling (and one can make the case that the last year of that was anywhere from 1976-1982, depending on your criteria for making that claim) before the now-legendary "war of '84." Of course, everything would change for pro wrestling as an industry starting in October (again, depending on the criteria used, one could easily say that the changes had already been made, but the full effect was actualized until early 1984) 1983, with the real signs of a national juggernaut starting with Vince McMahon Jr. and the WWF.
But, at the time, wrestling was still largely territorial, and for that reason we now turn our attention to the angles of 1983.
Turns that made our heads spin:
In particular, two turns captured the attention loud and clear of Mid-South wrestling fans in 1983. Both were done during roughly the same period, with one to become one of the most loved babyfaces in Mid-South history. The other; to become one of the most hated and talented lead heels Mid-South would ever see.
Hacksaw Jim Duggan:
Before his monumental face turn, Duggan was a card carrying member of the "Rat Pack," consisting of Ted DiBiase and Matt Borne.
Duggan was instrumental in helping the duo defeat many top stars, including a memorable angle where once dressed in a gorilla suit, Duggan KO'd a prone Junkyard Dog to lead to a Rat Pack victory.
However, eventually it would come out that DiBiase had been negotiating with Skandor Akbar, not as a manager, but as a "business associate." Now, although Duggan had played fast and loose with the rules, and had hurt longtime hero Junkyard Dog, there was one thing he simply did not do - He didn't do business with foreigners who hated the U.S. After some tension between Duggan and DiBiase, the pair split in dramatic fashion, leaving Duggan as a super over babyface, both because DiBiase was so hated. and that Duggan had "taken a stand" for his country.
The two would feud all over the territory, until one fateful night at the Irish McNeil's Boys Club television tapings in Shreveport. Everything finally came to blows, and DiBiase told Duggan that if he lost to Duggan, he would leave the Mid-South. Despite the fact that DiBiase and crew tried to injure Junkyard Dog, Duggan's friend, in a previous match so they could have a tactical advantage, JYD was able to assist his friend in victory, overcoming the odds both "physically," and numerically. DIBiase was gone...for a while, and Duggan's star was on the quick path for ascension to the top of the babyface ladder (something he would assume in full command by August 1984, a position he would hold until leaving for the WWF in early 1987.)
Hacksaw Butch Reed:
Going into 1983, Bruce/Butch Reed had been a babyface in Florida and Georgia. He started his Mid-South career much the same until the vote heard round the Mid-South occurred.
Junkyard Dog was needing some help in the tag team division, fighting off multiple wars at the same time. The fans would have the final say as to who JYD's partner would be. In a close decision, Duggan, a newer babyface would win out over Reed, the longtime friend. and "second fiddle."
More...
If you'd like to discuss the Mid-South region with other fans, please visit the KM Message Board

KM DVD/VHS Store 4
Click here to purchase DVD or VHS products direct from the official distributors.
KM Replica Masks 4
Click here to purchase pro quality replica wrestling masks of all your favorite old school masked wrestlers.
KM Store 4
The KM Store now features products featuring the GCW logo as well as some other very cool images. To see what's new and to purchase T-Shirts, ball caps, mouse pads and more, click here.
KM Message Board 4
Want to chat with other fans of regional wrestling? This message board has forums for over two dozen promotions. Click here.
KM Belt Gallery 4
This section contains an extensive title belt gallery... images of heavyweight, tag, U.S. and various regional title belts. To view it, click here.
Old School Tape Review 4
Reviews of various PPV's, commercial tapes and regional wrestling TV shows are available in this section. To read more, click here.
Website designed & maintained by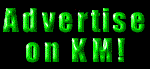 Thanks for visiting!