Regional Territories 4
This section contains monthly articles on over two dozen territories. To relive those wonderful days of old, click here.
Wrestlers 4
Enter this section for bios/profiles of various wrestlers from the regional days. To find more out about your favorite pro wrestler, click here.
Stories 4
This section contains stories from the pros themselves told exclusively to Kayfabe Memories. Want to know more as told from the wrestlers themselves? Click here.
Old School Book Reviews4
Click here to find various book reviews from old school wrestlers.
KM Links 4
For tons of links to old school related sites, click
here
.
KM Micro Wrestlers4
What are Micro Wrestlers? Click here
to find out.
KM Interviews... 4
Click here to read exclusive interviews with stars from the regional territories.
www.kayfabememories.com is © 2004 AtomDesigns. All promotional art, characters, logos and other depictions are © their respective owners. All Rights Reserved.
All contents save Wrestler Stories are © Kayfabe Memories.
Website designed and maintained by AtomDesigns © 2004 . If you experience any problems with this site or have any questions, please contact the Webmaster.
- Jason Hess
When one looks back at the territorial days of wrestling, especially in it's waning days, each territory had one or two performers, usually babyfaces, that were that area's version of a mainstay….a kind "king of the area." Skeptical? Check this out:
-World Class: The Von Erichs
-Florida: Dusty Rhodes
-WWF: Bruno Sammartino
-Memphis: Jerry Lawler
-AWA: Verne Gagne
-Alabama: Bob Armstrong
-Mid-Atlantic: Ric Flair
-St. Louis: Harley Race
The trend was no different for Mid-South Wrestling. During a four year run from 1979-1983, there was no other star that shined as brightly, as the star of the Junkyard Dog. And in this edition of Mid-South Memories, we will take a look at the year JYD had in 1983…both in and out of the ring.
Sylvester Ritter was born in the early 1950's, and played college football. He got into wrestling in the mid-late 1970's, and actually had his first claim to fame as a heel in Canada, going by the moniker "Big Daddy" Ritter. When he arrived in Mid-South, Bill Watts saw box office gold. A new attitude, and a new name….the Junkyard Dog, and it was off to the races….races to the bank.
To top off Dog's new persona, he would come to the ring with a heavy chain attached at his neck by what else…a "dog" collar. Also, Dog came out to Queen's "Another One Bites the Dust," instantly signifying that the Dog was coming for action. (Later on, JYD would also mix in Atomic Dog by George Clinton as well….)
Junkyard Dog had seen many a war in his time as Mid-South's most popular wrestler. He had seen his career nearly "ended" by the legendary Freebird hair cream. He had seen the best man at his wedding, Ted DiBiase, "turn" against him for the North American title. And, by 1983, Dog was "gone" from Mid-South.
Why are we sticking with 1983? Allow me to explain, referencing last month's column.
"We are picking 1983, primarily for one reason: It was the calm before the storm. It was the last real year of true territorial wrestling (and one can make the case that the last year of that was anywhere from 1976-1982, depending on your criteria for making that claim) before the now-legendary "war of '84." Of course, everything would change for pro wrestling as an industry starting in October (again, depending on the criteria used, one could easily say that the changes had already been made, but the full effect was actualized until early 1984) 1983, with the real signs of a national juggernaut starting with Vince McMahon Jr. and the WWF."
1983, quite simply, was our last glimpse of how the "old" system worked. So for that reason, we turn our attention to JYD's performance in the last full year of territorial wrestling.
January-April 1983:
Junkyard Dog started out 1983 actually being away from the Mid-South area….at least in theory. After losing the infamous "gorilla suit" loser leaves town tag team match, JYD was forced out of Mid-South for a period of 90 days. However, a "friend" from the Dog's past soon showed up….the masked Stagger Lee. Lee quickly defeated Ted DiBiase for the North America title during a Superdome show on November 25, 1982. Lee was heavily rumored to be JYD, but all the heels just couldn't get the evidence (i.e. a picture of Lee's mask off with JYD underneath) to prove that he was. In all seriousness, like the Midnight Rider angle in Florida, it seemed like everyone EXCEPT the Mid-South Board of Directors knew that Stagger Lee was really the Dog. It was great from a fan's perspective…for it felt like we were in on a secret that the "others" weren't allowed in on.
However, when Dog's suspension was lifted in February 1983, Stagger Lee mysteriously disappeared, in the process, vacating the North American championship.
More...
If you'd like to discuss the Mid-South region with other fans, please visit the KM Message Board

KM DVD/VHS Store 4
Click here to purchase DVD or VHS products direct from the official distributors.
KM Replica Masks 4
Click here to purchase pro quality replica wrestling masks of all your favorite old school masked wrestlers.
KM Store 4
The KM Store now features products featuring the GCW logo as well as some other very cool images. To see what's new and to purchase T-Shirts, ball caps, mouse pads and more, click here.
KM Message Board 4
Want to chat with other fans of regional wrestling? This message board has forums for over two dozen promotions. Click here.
KM Belt Gallery 4
This section contains an extensive title belt gallery... images of heavyweight, tag, U.S. and various regional title belts. To view it, click here.
Old School Tape Review 4
Reviews of various PPV's, commercial tapes and regional wrestling TV shows are available in this section. To read more, click here.
Website designed & maintained by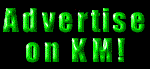 Thanks for visiting!