Regional Territories 4
This section contains monthly articles on over two dozen territories. To relive those wonderful days of old, click here.
Wrestlers 4
Enter this section for bios/profiles of various wrestlers from the regional days. To find more out about your favorite pro wrestler, click here.
Stories 4
This section contains stories from the pros themselves told exclusively to Kayfabe Memories. Want to know more as told from the wrestlers themselves? Click here.
Old School Book Reviews4
Click here to find various book reviews from old school wrestlers.
KM Links 4
For tons of links to old school related sites, click
here
.
KM Micro Wrestlers4
What are Micro Wrestlers? Click here
to find out.
KM Interviews... 4
Click here to read exclusive interviews with stars from the regional territories.
www.kayfabememories.com is © 2004 AtomDesigns. All promotional art, characters, logos and other depictions are © their respective owners. All Rights Reserved.
All contents save Wrestler Stories are © Kayfabe Memories.
Website designed and maintained by AtomDesigns © 2004 . If you experience any problems with this site or have any questions, please contact the Webmaster.
- Jason Hess
It's a new year, with new possibilities, and my sincerest wish and hope is that in the short time 2004 has been here, you the reader would have had a joyous time so far. I further hope that all of the Kayfabe family had a happy holiday season, and look forward to a peaceful and prosperous year.
As the holidays fade into our rear view mirror, I would like to recall one of many positives that happened to me during the latter part of December. I had an opportunity to watch some tapes of Mid-South Wrestling from various parts in the 1980's. While I had originally planned to talk about the end of 1983 and beginning of 1984 (which I will return to next month), I just had to write about my own thoughts on various angles, and wrestlers from that time.
Bob Roop: I saw some tapes of Roop both wrestling, and doing commentary with "fashion plate" Boyd Pierce. A disclaimer here at this point: I had only seen Bob Roop before this past holiday season in a 1984 Georgia tape, and in some Florida tapes where he had become Maya Singh. All that to say: I had both never known why the fondness for Roop from some folks I talk to, and I had never seen Roop in his element as a "scientific" heel. Roop was great in getting over his angle with babyfaces Ted DiBiase and Junkyard Dog. Roop was a solid performer in the ring, and his shoulder-breaker could make one wince even 22 years later. Everything Roop did in the ring was believable, and his commentary was at times even complimentary to the baby face side. I am now convinced that Roop was greatly underrated, but was used to a good way during his tenure in Mid-South. Roop would later beat Orndorff in a taped fist match at the May 1982 Super Dome show.
Paul Orndorff: Much has been known, written, and said about this man, who throughout his career has had an incredible physique. Again, I had previously only heard about his Mid-South forays before this past holiday season. His feud with Ted DiBiase, and team with Roop and Bob Orton were both excellent. Orndorff was as usual, in fantastic shape. His mannerisms were great as a cocky heel who could usually back up what he said. Him and DiBiase had simply a fantastic feud, and both men could really go in the ring. One great moment was when Orndorff and Roop "devised" the counter for DiBiase's figure four leglock. It was played off as legitimate rather than a cowardly heel type of tactic. While that may not work now, it worked then. The fans hated Orndorff and Roop even more for figuring out a legit way to possibly best their hero. Furthermore, you could tell that Orndorff, while a heel, could also make a very good, believable baby face at any time, which he later would be in Georgia. Orndorff went to Georgia having lost a North American title match against….his former partner Roop, as he was downed in a taped fist match at the May 1982 Super Dome show. Orndorff would leave a three time North American Champion.
Ted DiBiase: Having grown up with DiBiase already a heel, I never saw him in his original face role before turning on JYD in 1982. He was very mild and calm during his interviews and his commentary with Boyd Pierce. Yet, in the ring, at just 27 years old, DiBiase was just awesome. During a match with cult legend Mike Boyette (referred as Mike Boyer…which for all I know may be his real name), made more known for his 1987 loss streak in the UWF, DiBiase turned a potential blown spot into a unique variation of his powerslam. He didn't skip a beat, and showed why he was garnering a national reputation as a great worker. Even though mild-mannered, DiBiase was able to rally the fans behind him in his battles with Roop and Orndorff. Even knowing that his turn against JYD would be "soon," I was able to see how good DiBiase was at the baby face role, although some would say his best work was to come as a heel.
The Imagination of Booking: It was seemingly a throwaway match, simply to feature the use of midget wrestlers. However, in the summer of 1985, a match between Bill Dundee-Little Tokyo vs. Wendell Cooley-Little Coco was used in an entertaining…and actually believable way to further an issue between Bobby Fulton and Bill Dundee….leading to Dundee and partner Dutch Mantell against the Fantastics. During the match, both Cooley and the referee were bumped from the ring. Dundee then did the ultimate heelish thing…….he bodyslammed and elbow dropped Coco!!! That brought out the Fantastics to attack Dundee….and place Coco on top of the Superstar for the PINFALL!!! Now, if that wasn't enough to further the issue, the week after, Dundee was wrestling a preliminary guy. More...
If you'd like to discuss the Mid-South region with other fans, please visit the KM Message Board

KM DVD/VHS Store 4
Click here to purchase DVD or VHS products direct from the official distributors.
KM Replica Masks 4
Click here to purchase pro quality replica wrestling masks of all your favorite old school masked wrestlers.
KM Store 4
The KM Store now features products featuring the GCW logo as well as some other very cool images. To see what's new and to purchase T-Shirts, ball caps, mouse pads and more, click here.
KM Message Board 4
Want to chat with other fans of regional wrestling? This message board has forums for over two dozen promotions. Click here.
KM Belt Gallery 4
This section contains an extensive title belt gallery... images of heavyweight, tag, U.S. and various regional title belts. To view it, click here.
Old School Tape Review 4
Reviews of various PPV's, commercial tapes and regional wrestling TV shows are available in this section. To read more, click here.
Website designed & maintained by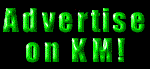 Thanks for visiting!