Regional Territories 4
This section contains monthly articles on over two dozen territories. To relive those wonderful days of old, click here.
Wrestlers 4
Enter this section for bios/profiles of various wrestlers from the regional days. To find more out about your favorite pro wrestler, click here.
Stories 4
This section contains stories from the pros themselves told exclusively to Kayfabe Memories. Want to know more as told from the wrestlers themselves? Click here.
Old School Book Reviews4
Click here to find various book reviews from old school wrestlers.
KM Links 4
For tons of links to old school related sites, click
here
.
KM Micro Wrestlers4
What are Micro Wrestlers? Click here
to find out.
KM Interviews... 4
Click here to read exclusive interviews with stars from the regional territories.
www.kayfabememories.com is © 2004 AtomDesigns. All promotional art, characters, logos and other depictions are © their respective owners. All Rights Reserved.
All contents save Wrestler Stories are © Kayfabe Memories.
Website designed and maintained by AtomDesigns © 2004 . If you experience any problems with this site or have any questions, please contact the Webmaster.
- Jason Hess
I can scarcely believe that it is already mid-February of 2004!! While we are sailing along in this new year, we are also sailing along in our look at the history and legendary action provided by Mid-South Wrestling. As we return to our series on 1983, we will focus on a time of transition. Late 1983 saw a huge influx of talent that would prove over time to provide some memorable highlights…and gate receipts.
A Sputtering Juggernaut:
Near the end of 1983, Mid-South was the territory where "big men" ruled the day. With such men as Junkyard Dog, Hacksaw Duggan, Kamala, Butch Reed, Jim Neidhart, King Kong Bundy, Nikolai Volkoff, and the emerging Steve Williams, Mid-South was a "big man's" paradise. While there were some smaller wrestlers such as Ted DIbiase, Mr. Wrestling 2, and Magnum TA, the monsters or semi-monsters ruled the roost.
For the summer and fall months, Mid-South kept on going, like the juggernaut it was. Duggan turned face, leading him to become one of the most popular stars in Mid-South history. JYD, despite his noticeable weight gain, was still the man to most Mid-South fans, and had the gate records to back it up. His feud with newly turned heel Reed, made for some impressive showings around the Mid-South territory, with sellouts in nearly every major city, and a crowd in excess of 20,000 fans for a July 1983 bout at the crown jewel of Mid-South buildings: the New Orleans Superdome.
However, by the winter months of 1983, the juggernaut began to sputter. Cards began to draw less. The oil crunch was still a few months away. And, even as late as 1983, the holidays were traditionally the greatest drawing days of the year for most promotions. As a case in point, the feud between JYD and Reed was still going great guns on television. The two were to meet again for the North American title just days before Thanksgiving at the Superdome. The two men, who months earlier had drawn over 20,000 would not draw even half that number. Despite having stars such as Dusty Rhodes, Kerry and David Von Erich, and the Road Warriors make guest appearances to augment the gate, (the Von Erich's especially, due to World Class having their zenith year in popularity) the November 19, 1983 Superdome show drew around 8,000 fans.
While 8,000 fans is no laugh off number, and would have sold out their regular New Orleans stop, the downtown Municipal Auditorium, this was the Superdome……on a holiday season. The gate was alarming.
Also alarming for its gate condition was Mid-South's biggest city as far as population, the bayou city of Houston. Near the end of 1983, business had fallen to near-panic levels. One December card in Houston drew only 3,000 fans….to a 10,000 seat Sam Houston Coliseum. Allow me to quote from an article relating to Houston from the Houston Wrestling section of Kayfabe Memories:
"Although it was the largest city that Mid-South regularly ran, Houston was like most towns in that the majority of their matches came as a result of the Mid-South television program. Like most other territories, feuds were begun from what happened on the television show, with house shows occasionally providing more fuel to the fire. Many times the house show footage would come from places like the Municipal Auditorium in New Orleans, or the Convention Center in Tulsa. Some did come from Houston, such as footage that made the Ted DiBiase-Hacksaw Duggan feud so hot in 1983. When a feud would run its course, or have the blow off, there would be a small lull in the action as the cards were re-shuffled for new feuds.
So although Houston did have some of its own action (like Mil Mascaras challenging for the AWA title, Gino Hernandez vs. Tully Blanchard, etc.), most of the action was derived from the television programs. Bill Watts had plenty of steak, but not much sizzle. The main feuds were the big guys. There was no other type of babyface, or heel that made a real impact for a while that wasn't cut from this mold. Because of the emphasis on that style, fans began to grow tired of similar looking feuds and matches."
Crowds were down, which meant gate receipts were down. And when receipts are down, payoffs are down. Houston promoter Paul Boesch actually scaled ticket prices down instead of up during the holidays to encourage ticket buying. Facing an uphill climb, Bill Watts began to make some deals, deals that would yield some amazing returns. More...
If you'd like to discuss the Mid-South region with other fans, please visit the KM Message Board

KM DVD/VHS Store 4
Click here to purchase DVD or VHS products direct from the official distributors.
KM Replica Masks 4
Click here to purchase pro quality replica wrestling masks of all your favorite old school masked wrestlers.
KM Store 4
The KM Store now features products featuring the GCW logo as well as some other very cool images. To see what's new and to purchase T-Shirts, ball caps, mouse pads and more, click here.
KM Message Board 4
Want to chat with other fans of regional wrestling? This message board has forums for over two dozen promotions. Click here.
KM Belt Gallery 4
This section contains an extensive title belt gallery... images of heavyweight, tag, U.S. and various regional title belts. To view it, click here.
Old School Tape Review 4
Reviews of various PPV's, commercial tapes and regional wrestling TV shows are available in this section. To read more, click here.
Website designed & maintained by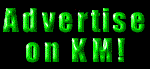 Thanks for visiting!