Regional Territories 4
This section contains monthly articles on over two dozen territories. To relive those wonderful days of old, click here.
Wrestlers 4
Enter this section for bios/profiles of various wrestlers from the regional days. To find more out about your favorite pro wrestler, click here.
Stories 4
This section contains stories from the pros themselves told exclusively to Kayfabe Memories. Want to know more as told from the wrestlers themselves? Click here.
Old School Book Reviews4
Click here to find various book reviews from old school wrestlers.
KM Links 4
For tons of links to old school related sites, click
here
.
KM Micro Wrestlers4
What are Micro Wrestlers? Click here
to find out.
KM Interviews... 4
Click here to read exclusive interviews with stars from the regional territories.
www.kayfabememories.com is © 2004 AtomDesigns. All promotional art, characters, logos and other depictions are © their respective owners. All Rights Reserved.
All contents save Wrestler Stories are © Kayfabe Memories.
Website designed and maintained by AtomDesigns © 2004 . If you experience any problems with this site or have any questions, please contact the Webmaster.
- Sean Rowland
When last we saw the North American Title, it was in the possession of one Ted DiBiase, who had just completed a totally unexpected heel turn against The Junkyard Dog. DiBiase had taken the title away from the Dog in June of 1982. This was the start of a very intense feud between the two former friends. DiBiase had his "Rat Pack" cronies, Matt Borne and Hacksaw Duggan on his side and JYD had Mr. Olympia, Tony Atlas, and Mr. Wrestling II helping him. At one point, DiBiase and company actually caused the Dog to be pinned in a tag-team match because of Duggan's outside interference. As a result of this, JYD and Mr. Olympia lost the Mid-South Tag-Team Titles, and JYD had to leave the Mid-South area for 90 days. No one could believe it. The Dog was the biggest attraction in the area. There was no way the Mid-South area could go 90 days without him. Of course, it wouldn't have to. Shortly after the Dog left town, a new masked man named Stagger Lee appeared on the scene. Strange thing about Stagger Lee was that without his red and green mask and bodysuit, he would have looked an awful lot like The Junkyard Dog. You don't think that it might have actually been JYD under a mask, do you? Well, if you did, you should probably be booking for WCW right now. Of course it was The Junkyard Dog. And, I was actually fortunate enough to be on hand in the Superdome on Thanksgiving night, 1982 when Stagger Lee pinned Ted DiBiase to walk out the new North American Heavyweight Champion. Actually, DiBiase did pull The Dog's…er…I mean Stagger's mask off, but the footage mysteriously vanished before it could be run on Mid-South TV the next week. Damn, I miss this hokey old stuff.
Anyway, since JYD and Stagger Lee couldn't be in the same place at the same time (Well I guess technically, since Einstein proved that time isn't linear, they could have been, but it would have given even Einstein a headache trying to book that one!) the Title was declared vacant when the Dog returned from his suspension in February of 1983. A tournament was held shortly thereafter, and a newly turned heel, Mr. Olympia pinned the Dog. This was a controversial finish, since Olympia used a loaded boot, and the referee, who had been knocked loopy, actually counted JYD down while he was lying on his stomach! A rematch between the Dog and Olympia was held in April of 1983, and this time, The Junkyard Dog walked away the undisputed Champion.
Things went pretty well for the Dog until another friend of his got jealous. This time it was Butch Reed who turned on the Dog. Reed was bitter over the fact that JYD chose the newly turned face, Hacksaw Duggan as his partner against Ted DiBiase and Skandor Akbar's Army.
More...
If you'd like to discuss the Mid-South region with other fans, please visit the KM Message Board

KM DVD/VHS Store 4
Click here to purchase DVD or VHS products direct from the official distributors.
KM Replica Masks 4
Click here to purchase pro quality replica wrestling masks of all your favorite old school masked wrestlers.
KM Store 4
The KM Store now features products featuring the GCW logo as well as some other very cool images. To see what's new and to purchase T-Shirts, ball caps, mouse pads and more, click here.
KM Message Board 4
Want to chat with other fans of regional wrestling? This message board has forums for over two dozen promotions. Click here.
KM Belt Gallery 4
This section contains an extensive title belt gallery... images of heavyweight, tag, U.S. and various regional title belts. To view it, click here.
Old School Tape Review 4
Reviews of various PPV's, commercial tapes and regional wrestling TV shows are available in this section. To read more, click here.
Website designed & maintained by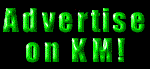 Thanks for visiting!