Regional Territories 4
This section contains monthly articles on over two dozen territories. To relive those wonderful days of old, click here.
Wrestlers 4
Enter this section for bios/profiles of various wrestlers from the regional days. To find more out about your favorite pro wrestler, click here.
Stories 4
This section contains stories from the pros themselves told exclusively to Kayfabe Memories. Want to know more as told from the wrestlers themselves? Click here.
Old School Book Reviews4
Click here to find various book reviews from old school wrestlers.
KM Links 4
For tons of links to old school related sites, click
here
.
KM Micro Wrestlers4
What are Micro Wrestlers? Click here
to find out.
KM Interviews... 4
Click here to read exclusive interviews with stars from the regional territories.
www.kayfabememories.com is © 2004 AtomDesigns. All promotional art, characters, logos and other depictions are © their respective owners. All Rights Reserved.
All contents save Wrestler Stories are © Kayfabe Memories.
Website designed and maintained by AtomDesigns © 2004 . If you experience any problems with this site or have any questions, please contact the Webmaster.
- Jason Hess
Just a week and a half ago, a milestone went by in wrestling history that actually has a tie in with our column this month. Thursday, May 6th 2004 is the 20th anniversary of the legendary Kerry Von Erich vs. Ric Flair NWA World Title match and change at the first David Von Erich Memorial Parade of Champions at Texas Stadium in Irving. While the card itself is now overshadowed by most long time fans for the way in which it was presented, as a 10 year old boy, that day was seemingly destined to live forever in my mind as the zenith of World Class Wrestling. Sadly, it was.
How does this have anything to do with Mid-South Wrestling? Well, at the beginning of 1984, Mid-South and World Class were trading talent to work their area house shows. While "Hacksaw" Butch Reed would work some spot shows for WCCW the whole year of 1984, including a Texas Stadium match against Chic Donovan, Mid-South got the heavy end of the exchange, as we will soon see.
Re-igniting a Territorial Fire:
As stated last article, Bill Watts used the red hot, on-fire World Class territory in some of his major cities (mainly Oklahoma, but all over the region) to spark interest and to raise crowds. Watts used mainly the burgeoning feud between Chris Adams and Sunshine against Jimmy Garvin and Precious to help spark interest and gate receipts. With singles matches, mixed tag matches, and other specialty matches with the four, fans began to flock back to the arenas to see the evil Garvin and Precious get their comeuppance.
Furthermore, Watts would use the Von Erich brothers in special appearances in cities like Tulsa, New Orleans, and Houston to revive crowds in those key cities. As we mentioned last article, Watts would use his guest talent very wisely, booking the undercard with matches that would spark a return interest, which they began to do. Combined with what was to come, Mid-South was about to go up in a blaze of glory, as the territory was about to be set on fire.
A "Superstar" books some Super angles
With the "Memphis Invasion" of Mid-South now heading into full swing, area fans became acclimated to numerous new stars. Pairing Jim Cornette in his first "star" role as a manager with Dennis Condrey and Bobby Eaton was a stroke of genius by Watts and new Mid-South booker, "Superstar" Bill Dundee. Cornette wasted no time in getting over to an insane level, provoking fans in a way not seen since the heyday of the Freebirds in the early 80's. The perfect foils for Cornette and his men would be the Rock-n-Roll Express, Ricky Morton and Robert Gibson.
As noted last article, these men were largely playing second fiddle to more established talent during their stay in Memphis, with Cornette second to legendary Jimmy Hart, and Morton-Gibson to the Fabulous Ones in particular. Cornette and his men began to work up the ranks to a title shot against reigning champions, Mr. Wrestling 2 and Magnum TA, while Morton and Gibson took on the Russian duo of Nikolai Volkoff and sympathizer Krusher Khruschev.
Adding to this mix was Terry Taylor, who was making a name for himself as an All-American babyface, helping Morton and Gibson in their battles against the Russians. The push given to the smaller guys was made more helpful when considering that for a little while, Hacksaw Duggan left the Mid-South area to work in the Florida area, as a heel against Dusty Rhodes.
Wheels were set into motion for one of the largest angles in Mid-South history, using the two Express' feud to set up an alternate feud that would bring Mid-South the largest drawing week in their history.
The Midnight Express had captured the tag belts on March 13, 1984 from Magnum TA and Mr. Wrestling 2, when the former champs lost a match in Lafayette that did many things:
-It cemented Mr. Wrestling 2's growing heel turn, as he abandoned TA to take 10 lashes all by himself. More...

KM DVD/VHS Store 4
Click here to purchase DVD or VHS products direct from the official distributors.
KM Replica Masks 4
Click here to purchase pro quality replica wrestling masks of all your favorite old school masked wrestlers.
KM Store 4
The KM Store now features products featuring the GCW logo as well as some other very cool images. To see what's new and to purchase T-Shirts, ball caps, mouse pads and more, click here.
KM Message Board 4
Want to chat with other fans of regional wrestling? This message board has forums for over two dozen promotions. Click here.
KM Belt Gallery 4
This section contains an extensive title belt gallery... images of heavyweight, tag, U.S. and various regional title belts. To view it, click here.
Old School Tape Review 4
Reviews of various PPV's, commercial tapes and regional wrestling TV shows are available in this section. To read more, click here.
Website designed & maintained by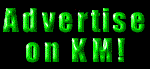 Thanks for visiting!